Yamaha in India has had a very fruitful run with the R15 and FZ both having their own distinctive set of strengths which has served it well till now. The 2014 Yamaha FZ was displayed at the 2014 Auto Expo earlier this year, validating talks of the FZ finally getting a much awaited and needed makeover.
The FZ is a product which returns some serious sales figures to the Japanese manufacturers and with tough competition expected from the a series of launches from Bajaj and Hero later this year. It is time that Yamaha equips its own veteran with enough to hold their ground. The test motorcycle of FZ has been spied with minimum camouflage, prompting speculation of a festive launch of the same.
Updated on 27th June 2014
Yamaha may launch the 2014 Yamaha FZ and FZ-S on the 30th of June 2014. Yamaha has invited the media to and event on the said date and we can confirm that it will be a product launch. The only product that Yamaha could be launching on the day apart from the FZ is the YZF-R25, but that seems a bit unlikely.
Stay tuned for more news.
Updated on 16th June 2014
Though the prices of 2014 Yamaha FZ are yet to be announced -the current FZ series is Priced at Rs.72,000 to 75,000- we expect a hike of a few thousand rupees in the updated model.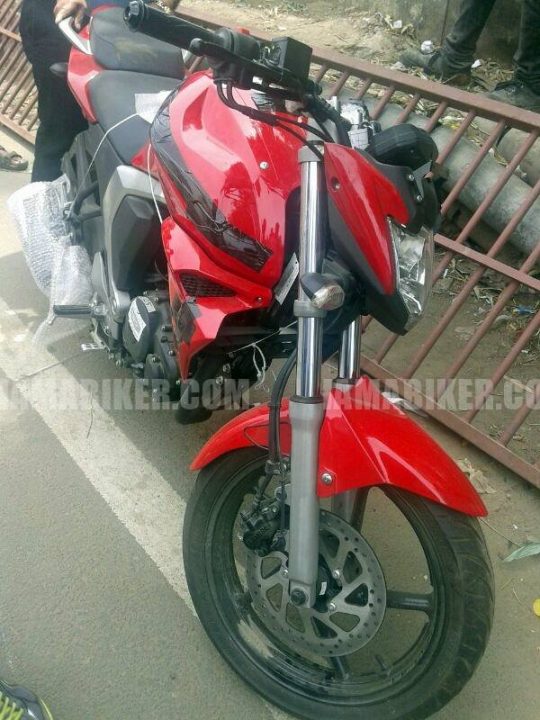 What To Expect:
Here is a list of all the features and tweaks that you can expect in the upcoming 2014 FZ based on the FZ showcased in the Auto-Expo and the Spy-shots:
Split seats
A new tailpiece complete with revised grab rail, taillight and license plate enclosure.
A tyre-hugging splatter guard
Revised exhaust end can.
A completely new headlamp design
Body colored inserts
Shape of the pseudo-fuel tank remains the same, but its positioning is a little lower.
New fenders with air-intakes.
The 153 cc air-cooled engine however remains unchanged –though a few tweaks here and there are expected- mated with the 5-speed transmission, producing 14 Ps and 13.6 Nm of torque, while giving a fuel efficiency of 40-45 Kmpl.
Yamaha is know for its product quality and maybe its this reason that the FZ and R15 still stand tall in a crowded Indian two-wheeler market without trying too hard. The updated naked street fighter is something worth waiting for and will surely add to the options available to prospective buyers this festive season.
Image courtesy: Iamabiker