Updated on 12th August 2014
The design of the 2015 Land Rover Defender has been freezed and will replace the current (ageing) Defender model after its production ends by the end of 2015.
The Defender gained popularity because it was a tough off-and on-road vehicle which was simple in terms of design inside-out. It was also very affordable and was easy to maintain, the later year models were not that cheap but the legacy of simple construction and easy maintenance continued.
In 2012, Land Rover showcased the DC100 and the DC100 Sport Concepts and though it was praised by many because it carried over the simplicity from the Defender, many Land Rover enthusiasts found the design a bit too garish. The company has taken this mixed reaction into account and has changed the design to make it more acceptable. The company hopes that around 50,000 units of the new model will be sold annually across markets and needs to get more people to like the new design. It is expected that a close-to-production concept will be showcased before the new model is launched. Company officials are deliberating if the new model should be launched a while after the older model is discontinued by the end of 2015, this would ensure that people will get used to the new car and sales will not be affected.
News Source: Autocar.co.uk
Updated on 27th January 2012
Do you remember the Land Rover DC100 concept car that was showcased at the 2012 Auto Expo? Well here is an interesting news on the same. As being reported by Autocar.co.uk, Land Rover is planning to build the 2015 Land Rover Defender SUV at Tata's manufacturing headquarters in Pune. Most probably the models to be sold in European markets will be sent back to Britain where the final assembly will take place, and is termed as "reverse CKD operation" as per the firm.
This does not come as a surprise since the British major currently produces the Land Rover Freelander in India and exports it to other Asian markets. Revealed by Tata Chairman, Ratan Tata, the plan will solve two purpose:
Firstly it will lower down manufacturing costs of the model so as to sell the same at affordable prices in Europe and
Locate a Defender facility close to important markets like Asia-Pacific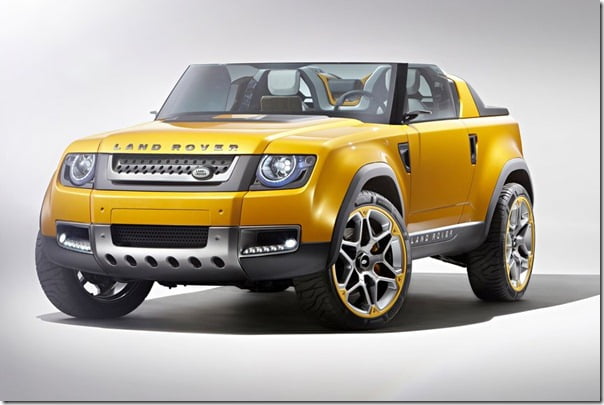 image – Land Rover Defender Concept
Most importantly the overall styling of the car will be inspired from the DC100, although areas like wheels, lights, grilles and interiors will get a makeover in order to look more adaptable. The 2015 Defender will have body-on-frame construction and is likely to use the updated and lightened T5 ladder chassis, currently used for Discovery and Sport. Interestingly if Pune plant is adopted for Defender's manufacturing, the car could be sharing major suspension and chassis parts with Tata Aria crossover.
Source credit – AC UK