What is it? 
Your regular Diesel-powered Figo with some added 'masala' to spice up things a bit. Now, we've always liked the latest-generation Figo for its punchy Diesel engine, well-sorted suspension, fairly comfortable cabin and an attractive price tag. Thanks to these attributes, the Figo ends up delivering a good mix of practicality and driver-involvement. However, the Figo hasn't exactly set sales charts on fire. No wonder then, that, Ford India has decided to create some buzz around the Figo twins by launching the 'Sports' models.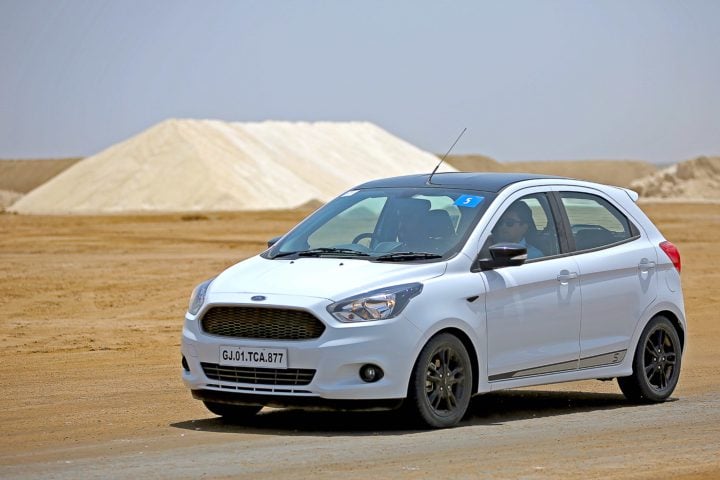 Also See – Ford Aspire S | Ford Figo Review | Ford Figo Cross 
This isn't the first time Ford India has stickered the 'S' suffix to one of its mass market nameplates. Regulars here would remember the last generation Fiesta S, a souped-up version based on the 1.6 Petrol engine variant of Ford's erstwhile C-segmenter. Akin to the Fiesta S, the new Figo S carries a set of visual updates along with a tweaked suspension. Surprisingly, however, Ford India has thought it only apt to not offer the 'S' package on the decidedly exciting 1.5 TiVCT petrol engine variant. So, basically, you can buy the new 2017 Ford Figo S with either a 1.2-litre Petrol engine or a 1.5-litre Diesel engine, which isn't really a bad thing if you consider the high performance and decent fuel efficiency the oil burner offers. We drove the Diesel-powered Figo S recently and here's our 2017 Ford Figo S test drive review.
Looks the Same? 
No, not really. While the basic design remains untouched, there's definitely enough to give this car a decidedly sporty touch. First off, you get a black roof (there's an option of a white roof with other body colours), which is in turn complemented by black ORVM caps. A closer look reveals a new black-painted honeycomb mesh grille and smoked-effect for the headlamps. Also, in true 'Sports' spirit, black-painted parts replace all the chrome bits you find on the regular Figo. The car also gets a rather discreet set of body graphics. A major highlight is the introduction of new black-painted 15-inch alloy wheels that come shod with 195/55-spec Apollo Alnacs. Rear-end remains largely unchanged, save for a roof spoiler and bumper graphics.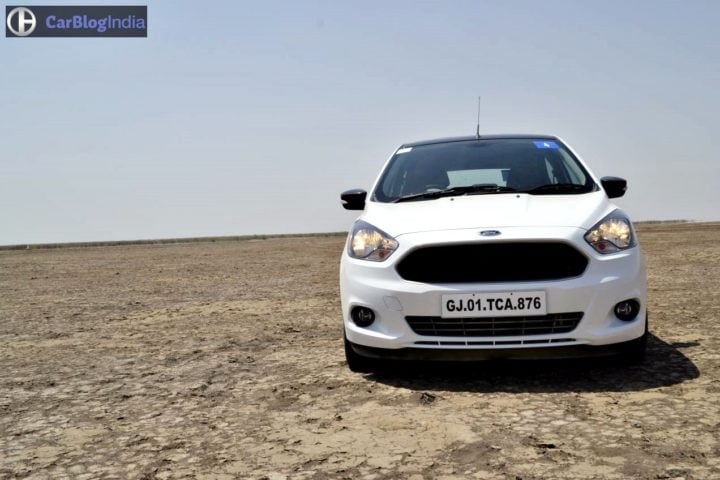 The cabin gets some minor changes, too. You get red stitching on the leather-wrapped steering wheel and gear lever. You also get new piano black inserts instead of the faux silver trim on the regular model. Apart from this, the Figo S comes with all the features you get on the Titanium variant, which means the excellent SYNC unit remains conspicuous by its absence on the Sports model.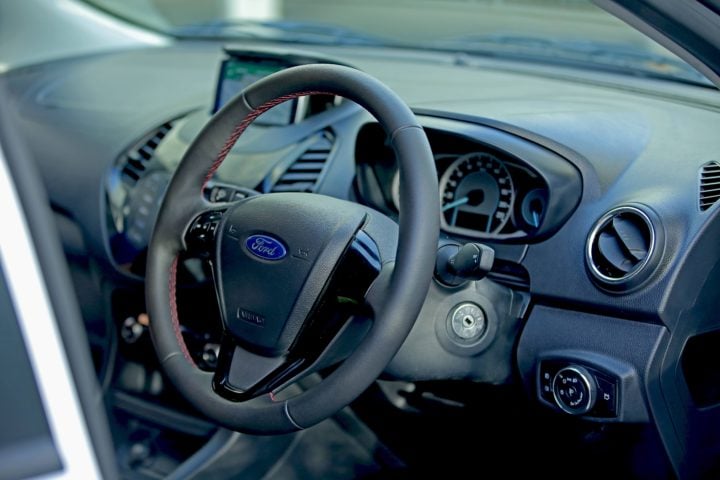 On the Go
Like we said, we drove the Diesel-powered Figo S, which means it comes with a 1.5-litre Turbocharged Diesel engine that outputs 100 BHP-215 Nm. There are no engine updates for the Figo S, which means on-road performance is much like that of the regular Figo. This Diesel engine is a fairly responsive unit that offers a healthy mid-range. Turbo spools up north of 1,500 RPM and the engine revs freely till its 5,000 RPM redline. Much like the regular model, the Diesel-sipping Figo S is a spirited performer. The car is quick to reach triple digit speeds and can cruise at north of 120-130 KMPH without breaking a sweat. We easily hit a speedo-indicated 170 KMPH before the car ran out of steam.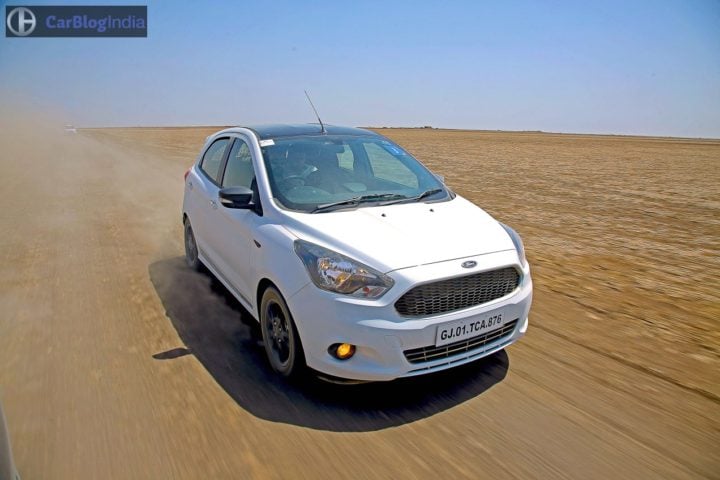 While there's no difference in the engine performance, the suspension does get a set of minor updates. First off, the engineers at Ford India lowered the car by 10 mm. However, the advent of bigger wheels meant the overall ride height reduced only by roughly 6 mm. While we did manage to scrap the underbelly of the car on some of the speed-humps, the car felt more stable and confident at high speeds. The springs are now stiffer and the steering feels a wee bit sharper. Mind you, there's no drastic change with the way this car handles, but the Figo S sure feels better planted and more chuckable. Thanks to the new tires, even the grip levels have gone higher.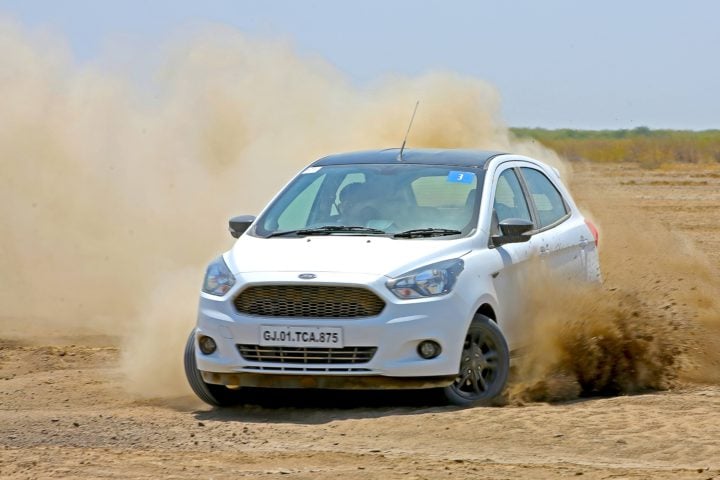 Should I Buy One?
On sale for Rs 7,21 Lakh (ex-showroom), the new 2017 Ford Figo S Diesel is roughly Rs 50,000 costlier than the Titanium spec of your regular Figo D. At this price point, the new Figo Sports edition is priced much lower than the performance-oriented variants of all B-segment hatchbacks. Moreover, the Figo S, especially in its Diesel-sipping avatar, ends up offering a good balance between performance and low running costs. True, there's no real power update to speak of, but we're happy Ford has done enough to make the car slightly more fun in the corners. And of course, you get all the go faster bits, like a honeycomb grille and a roof spoiler, to announce this car's performance credentials. With so much more to offer, the Figo S Diesel, in our opinion, more than justifies the premium of 50 grands it commands over the regular model. What do you think?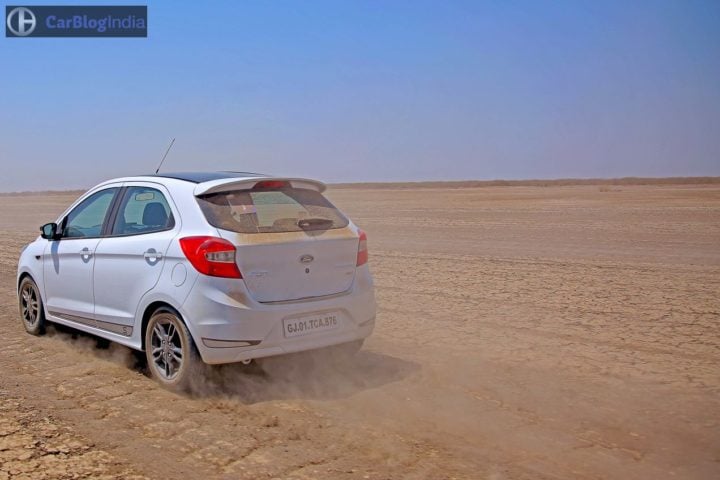 2017 Ford Figo S Test Drive Review – Price
| | |
| --- | --- |
| 1.2 Petrol | Rs 6.31 Lakh |
| 1.5 Diesel | Rs 7.21 Lakh |
The new 2017 Ford Figo S (Sports) is available with a 1.2 Petrol and a 1.5 Diesel engine option. While the Petrol model costs Rs 6.31 lakh, the Diesel engine model has a sticker price of Rs 7.21 Lakh.
2017 Ford Figo S Test Drive Review – Specifications
| | | |
| --- | --- | --- |
| Engine Type | 1.2 L Petrol | 1.5 L Diesel |
| Power | 86.8 bhp | 98.6 bhp |
| Torque | 112 Nm | 215 Nm |
| Transmission | 5-speed manual | 5-speed manual |
| Mileage | 18.12 kpl | 24.29 kpl |
2017 Ford Figo S Test Drive Review – Images
So, what do you say about our 2017 Ford Figo S Test Drive review? Stay tuned to CarBlogIndia for more posts like the 2017 Ford Figo S Test Drive Review we have here.
Editor Rating

Rated 4 stars

Excellent
---
2017 Ford Figo S

Reviewed by:

Published on:

Last modified:
---