We started at 7 AM in the morning from near the Bengaluru Airport towards Hyderabad highway to test drive the new 2018 Honda Amaze. It was the media drive event organized by Honda Car India where we were invited to try out their latest offering. We test drove all four variants of the
2018 Honda Amaze
viz. 2018 Amaze Petrol CVT automatic, 2018 Amaze Diesel CVT automatic, 2018 Amaze Diesel manual and petrol manual one by one for an hour each. In this post, we share with you our experience with these cars in this 2018 Honda Amaze Review. Let us get started.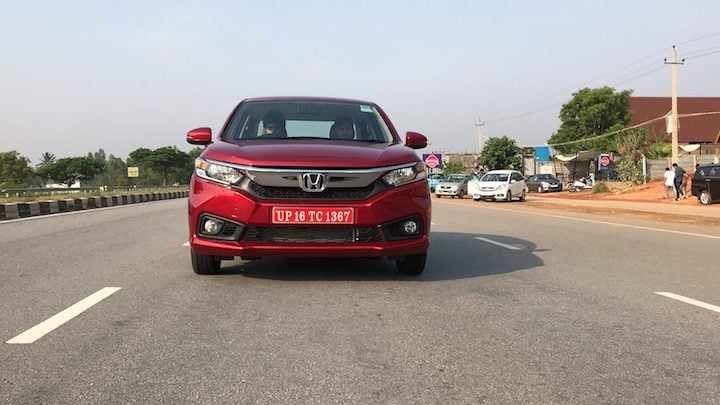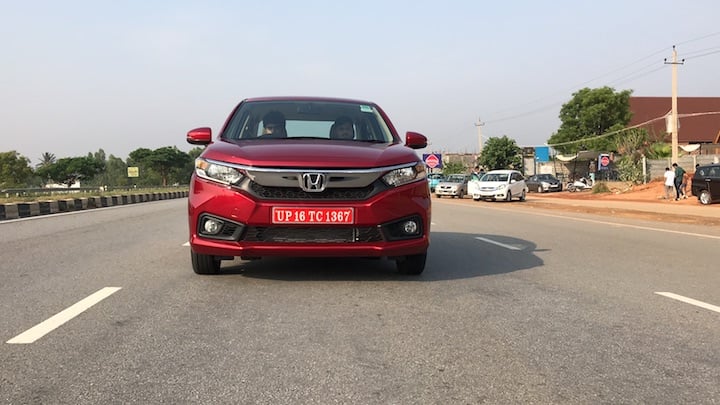 2018 Honda Amaze Exteriors Review
On the outside, the second generation Amaze is an all-new car. The platform is new, the design is new, the bumper, side body lines, rear etc. all is new. The only two things which is similar to the older car are the Name and the fact that this is a sub-4-meter compact sedan.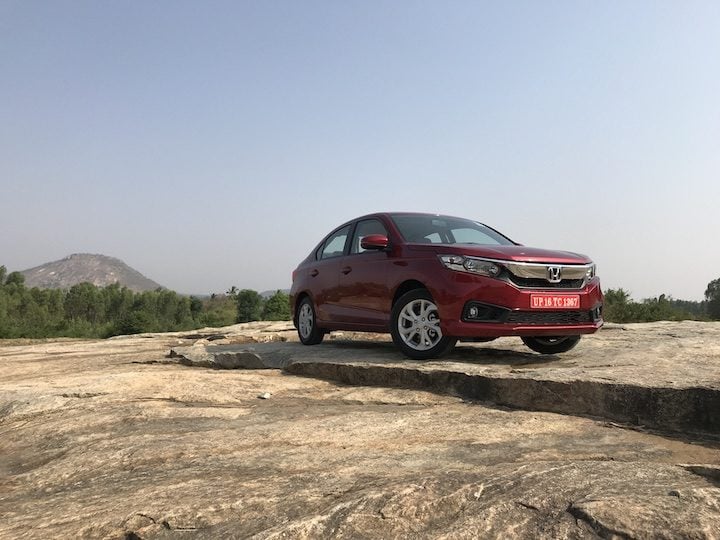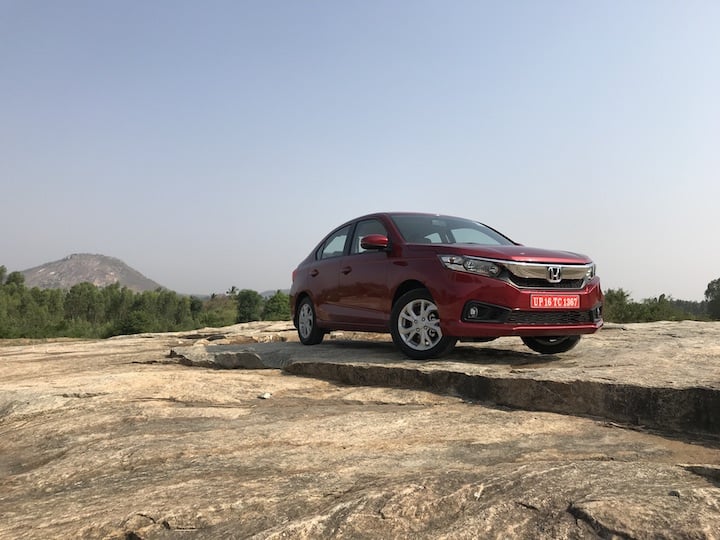 The front looks quite aggressive and modern with a bold grille which seems inspired by the mightier sedan Honda City and the other new Honda Car models. The headlamps are large, grille design is bold and sporty, there are pronounced body lines and elements which make it butch and attractive.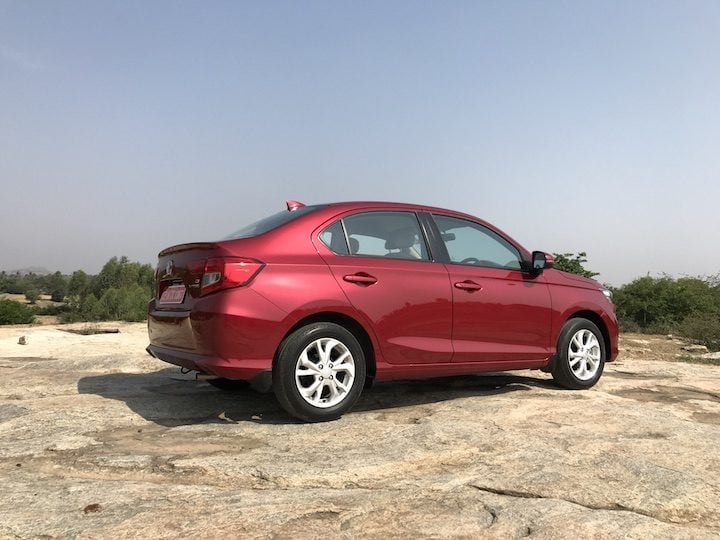 On the side as well, the car remains sporty with new and larger 15-inch alloy wheels with, shoulder lines and side sweeping headlamps and tail lamps.
The rear is also easily recognizable Honda design which has a reflection of the W-RV design. Large bumper, high mounted stop lamp and shark-fin antenna make it look upmarket.
Overall, from the outside, the Amaze is a looker.
2018 Honda Amaze Interiors Review
Get inside the New 2018 Amaze and it greets you with a pleasing and upmarket interior design. It looks sophisticated and feature-rich. It offers a lot of convenience and safety features including climate control system, touchscreen infotainment system (only on higher trims), dual SRS airbags, ABS, EBD, to name a few. The sear design is also very good and comfortable. The front seats hug you well and provide good comfort. The under-thigh support, however, can be improved as I found the seat size to be slightly smaller for my liking. The air conditioning performance is very good.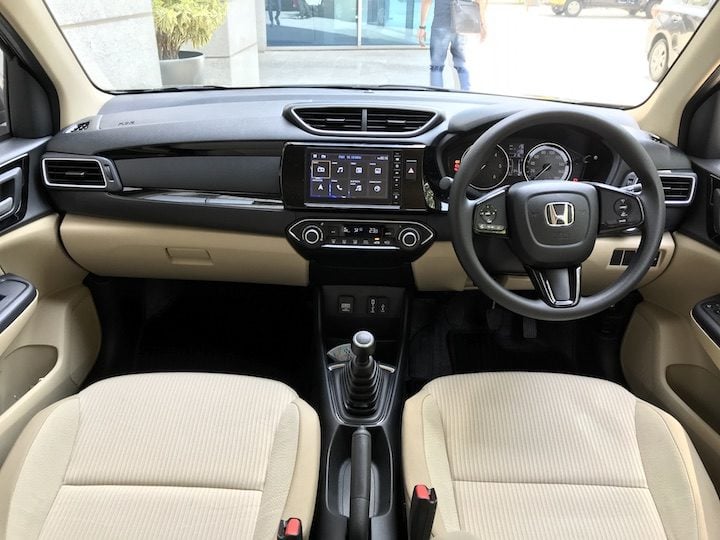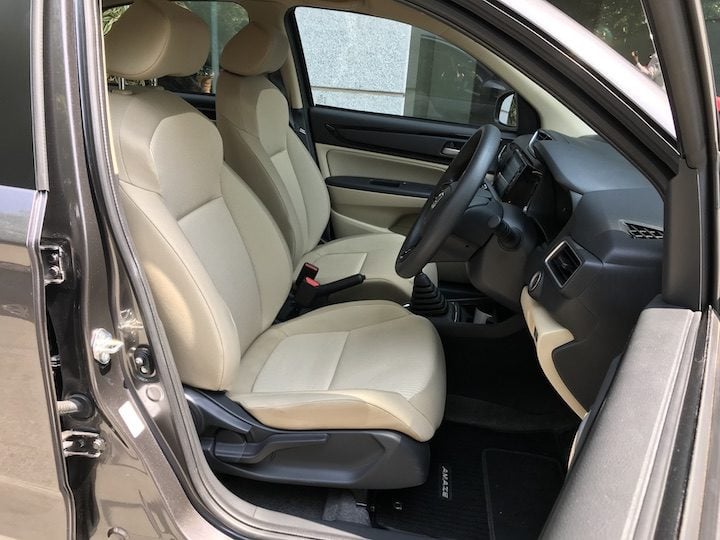 The rear seats also offer comfortable seats with large legroom which is probably among the best in the segment, but the shoulder room is best suited for 2 Adults and 1 kid in the rear seat. If you try to seat 3 adults, it may feel a bit cramped. Also, for tall people (6 feet or more), the headroom at the rear seat may be a concern as the gap between the head and the ceiling of the car is not very large.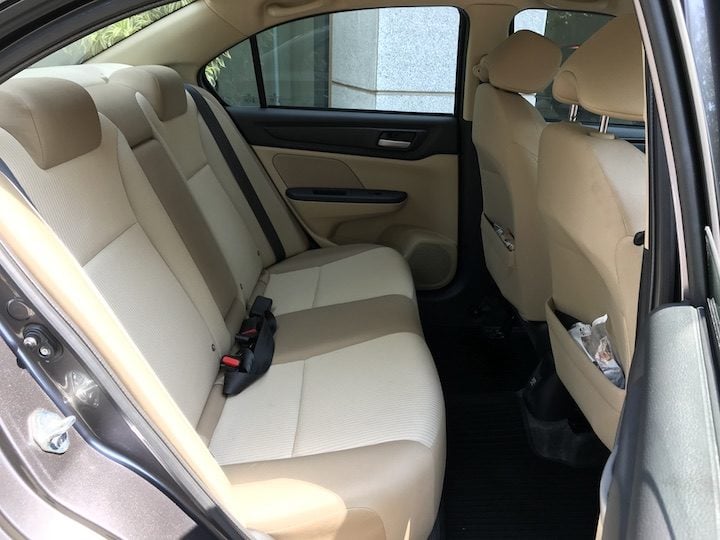 There are plenty of storage spaces around the cabin. There is a foldable armrest in the rear seat as well, but there are no rear-AC vents even on the top end variant of the new 2018 Honda Amaze.
2018 Honda Amaze Ride, Handling & Braking Review
The suspension setup on the new 2018 Honda Amaze is very impressive. It has a wide platform, decent size of tyres, good suspension, neither too soft and nor too hard, good steering feedback and a pliant ride. All these are characteristics which make this car handle beautifully on highways at high speeds while cornering and while braking. The brakes are also with a good bite. I am very impressed with the way this car handles. It also rides comfortably on bad roads. It is a fun to drive car in terms of handling manners.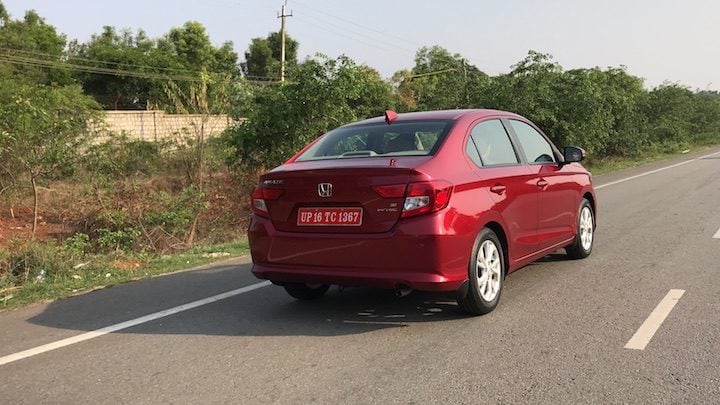 2018 Honda Amaze Engine Performance Review
Now, this is where it gets interesting. The 2018 Honda Amaze comes with 4 different engine and transmission combinations- a petrol manual, a petrol automatic, a diesel manual and a diesel automatic variant. There is a 5-speed manual gearbox or a CVT gearbox option on offer with both diesel and petrol and we drove all 4 variants. Below is our review of these 4 variants.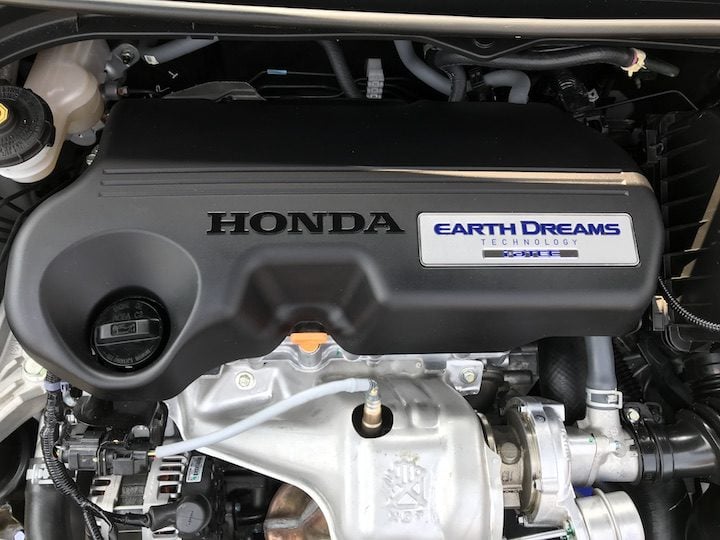 Amaze Petrol Manual Transmission
The petrol engine of the 2018 Honda Amaze produces a peak power of 90 PS and peak torque of 110 Nm. The MT variant is mated to a 5-speed manual gearbox. Driving this car, we found that it is a very relaxed engine to drive. The rev band is wide and the power is delivered in a very linear fashion. To get some punch out of this engine, you need to rev it to higher RPM and there it tends to get a bit noisy. If you are driving in a relaxed manner, it is relatively quiet. It is very good for in-city use and on highways, it may feel a bit underpowered, but you can easily get the required punch by downshifting a gear or two.
Amaze Petrol CVT Automatic Transmission
The petrol CVT version gets the same engine power and torque as manual version, but it is mated to a CVT automatic gearbox instead of a manual. Now since it is a CVT and the engine is not too large, it exhibits similar pattern compared to the manual. It feels relaxed and quite as long as you are driving it in a sedate and relaxed manner, but as soon as you try to push it (say for a overtake), it revs loudly and with a very slight lag (as is the case with most CVTs) it starts to pull the car well. The rubberband effect of CVT is there, but it is not too bad. The car is definitely very relaxed and comfortable at city speeds (uo to 60 KMPH), but at highway speeds (upwards of 80 KMPH), you may find it slightly strained. There is an S mode (sports mode) in the gearbox which makes the car upshift with a light more delay improving the acceleration performance (but it will impact fuel economy). Overall, it is a great choice for a city commuter.
Amaze Diesel Manual Transmission
The diesel manual transmission variant of the 2018 Honda Amaze is the best among all 4 as per my personal experience. It produces 100 PS of peak power and an impressive 200 Nm of torque. It redlines around 4000 RPM but throughout the rev band, it feels quite beefy and powerful. It pulls effortlessly and feels very eager and enthusiastic to drive. Guess what, besides being the most powerful among the 4 variants, it also has the best-rated mileage of 27.4 KMPL (ARAI), which means you can expect a real-world mileage of around 20 KMPL to 22 KMPL in a regular city and highway mixed usage. The diesel manual variant feels great to drive and does justice to the impressive handling and braking performance of this car. It is punchy and enthusiastic. If you need to overtake a vehicle, most of the times, you won't need to downshift, as there is plenty of torque to pull it just with a slightly more force on the accelerator pedal (which is not the case with the petrol variants).
Amaze Diesel CVT Automatic Transmission
Interestingly, Honda has reduced the power and torque of the diesel CVT variant of the 2018 Honda Amaze. As told to us by the Honda officials, it has been done keeping in mind the torque character of a diesel engine and Indian driving habits. This variant has 20% less power and torque compared to the diesel manual variant at 80 PS of peak power and 160 Nm of peak torque. But when we drove the car, we did not observe any major downside of this reduction in power and torque. The car was able to pull easily, accelerate well and keep up with the traffic pace at highway speeds. The S mode is also provided on the gearbox to make it shift with a little bit more delay over normal D mode, which makes the bit more responsive to the throttle. Here also, like the petrol, you will get some rubberband effect. Also, it gets a bit noisy if you put your foot down on the accelerator, but it is not unusual, most cars get noisy if you do it with them. The fact that it is a CVT, one needs to get used to the way it accelerates and once you get there, it feels very easy to drive. This variant is best suited for a daily commuter who has to drive long distances in congested traffic. It will not only save on fuel bills but also will provide a stress-free driving experience because he/she does not have to operate the clutch in stop-and-go traffic conditions.
2018 Honda Amaze Review Verdict
Summing it up, 2018 Honda Amaze is a very impressive package considering it offers attractive looks, decent space, a wide choice of engine and transmission options, good fuel economy and lots of features. The prices are not revealed yet, but we expect the pricing to be between Rs. 6 lakhs for the base petrol variant and go up to Rs. 10 Lakhs for the top of the line variants.
2018 Honda Amaze Review Pros:
Exterior Design
Good Handling
Legroom
Luggage Room
Engine & Transmission Options
Convenience Features
Safety Features
High Fuel Economy
Good HVAC performance
2018 Honda Amaze Review Cons:
Engine noise in petrol variants
Headroom at the rear seat
No rear AC Vents
2018 Honda Amaze Review Video
---
2018 Honda Amaze Review

Reviewed by:

Published on:

Last modified:
---