Do you think that the Rs. 8 Lakh to 12 Lakh sedan segment has become extremely competitive as well as prominent in India? Are you considering to buy a car in this price segment and are considering the options like Maruti Ciaz, Honda City, Hyundai Verna and Toyota Yaris? If yes, then do read this review till the end as here we bring you a complete 2018 Maruti Ciaz Review.
In this review, we will cover all the important aspects about the new 2018 Maruti Ciaz sedan like the exterior design, interiors and features, engine performance, ride, handling, mileage and everything you need to know if you are considering to buy the new Ciaz. So let us start with our review!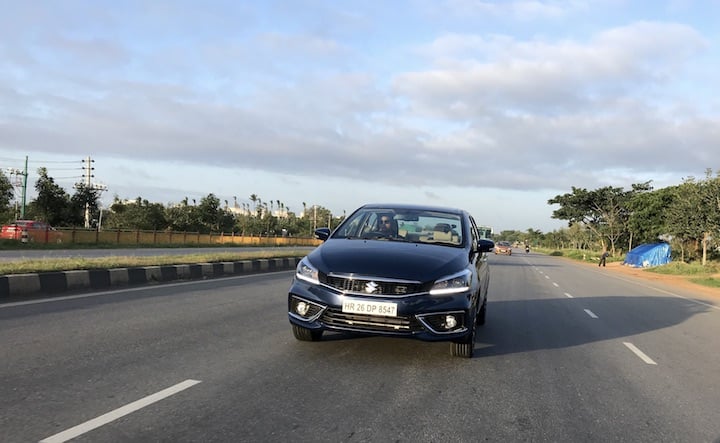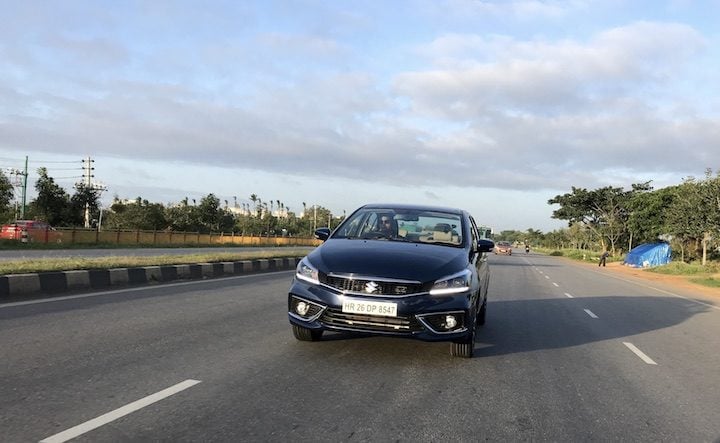 Maruti Suzuki Nexa has recently launched the new 2018 Maruti Ciaz and it comes with many changes over the previous generation model. Some of the key highlights are- improved exterior styling, change in interiors design, more power and performance and also an improved smart hybrid system which is now available in both petrol and diesel versions as standard.
2018 Maruti Ciaz Review- Exteriors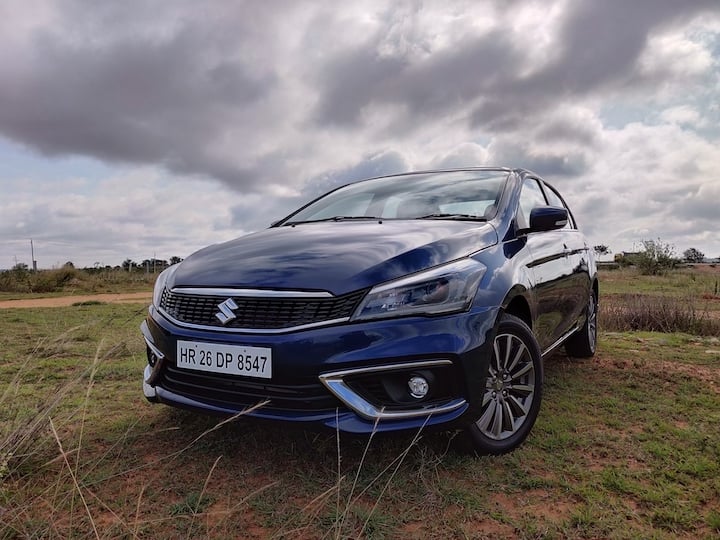 On the exteriors, 2018 Maruti Maruti Ciaz has improved on the styling. At font, the car gets a new grille, new bumper design and a lot of chrome treatment. On the side, there are new allow wheels, less pronounced wheel arches and a dash of chrome around the windows. The rear also gets redesigned bumper with larger tail lamp cluster, which looks more aggressive and stylish. The rear too gets its share of chrome with horizontal slats and garnish around the rear bumper reflectors.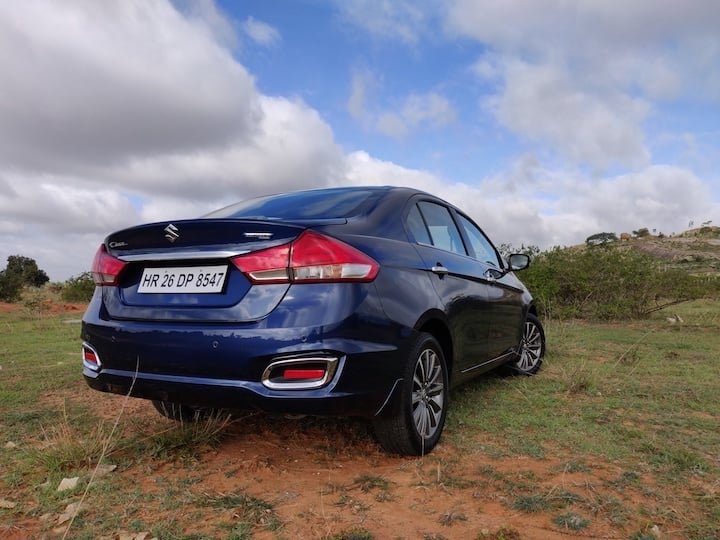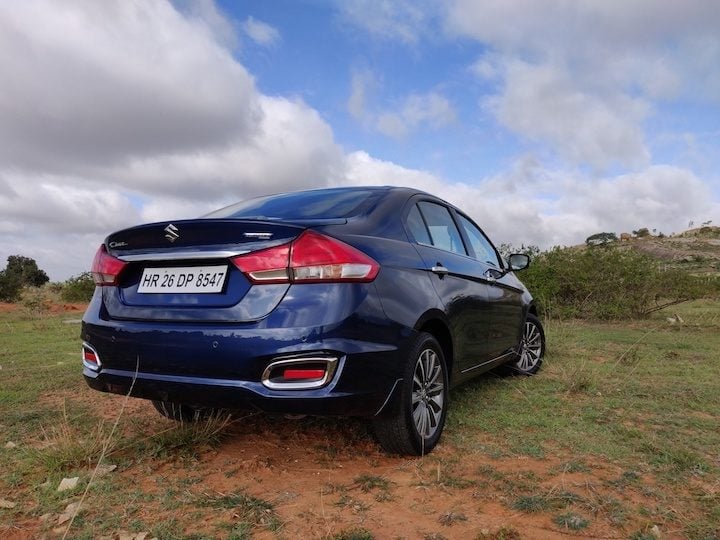 There are many elements which make it look premium like LED projector headlamps, LED fog-lamps, sleek body lines to name a few. Overall, the exteriors look smart, sharp and mature.
Also read: Maruti Ciaz 2018 Vs Old Ciaz -What's The Difference?
2018 Maruti Ciaz Review- Interiors & Features
On the inside, the 2018 Maruti Ciaz looks very premium. The design of the car is very airy and spacious on the inside. There are plenty of chrome, silver and faux wood inserts all around the dashboard to make it look premium and stand out. The steering too gets chrome inserts.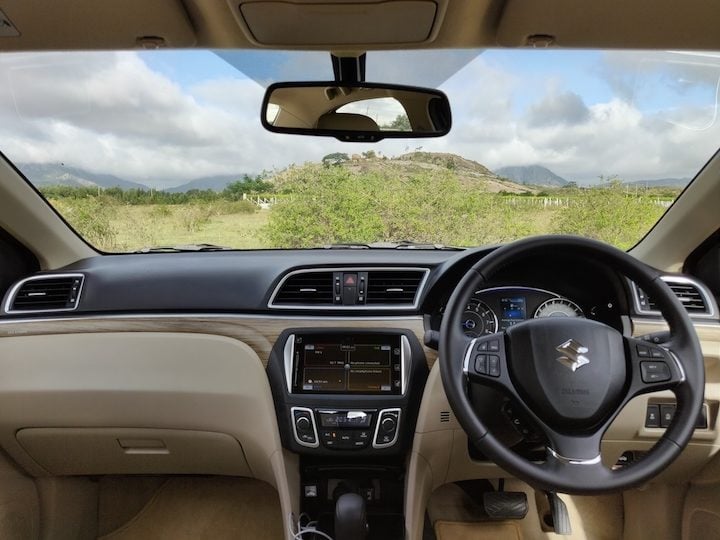 Seats are also quite comfortable and well cushioned. The only gripe with the seats is that the under-thigh support seems insufficient especially for tall people. Some may not even notice it. The rear seat is also a very comfortable place to be in. It has adjustable head-restrains, foldable armrest, rear AC vent with a 12 Volt socket below it. Plenty of storage spaces and cubby holes all around the cabin. Large bottle holder spaces in all 4 doors, large window openings and beige colour to improve the feel of space even more inside the car.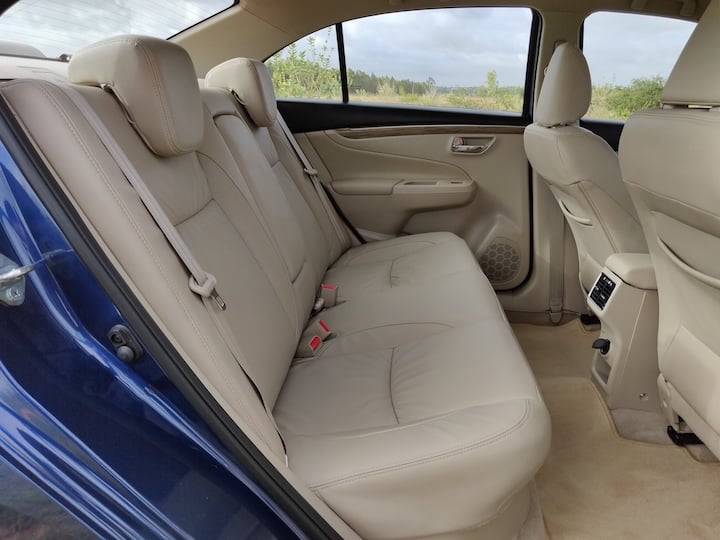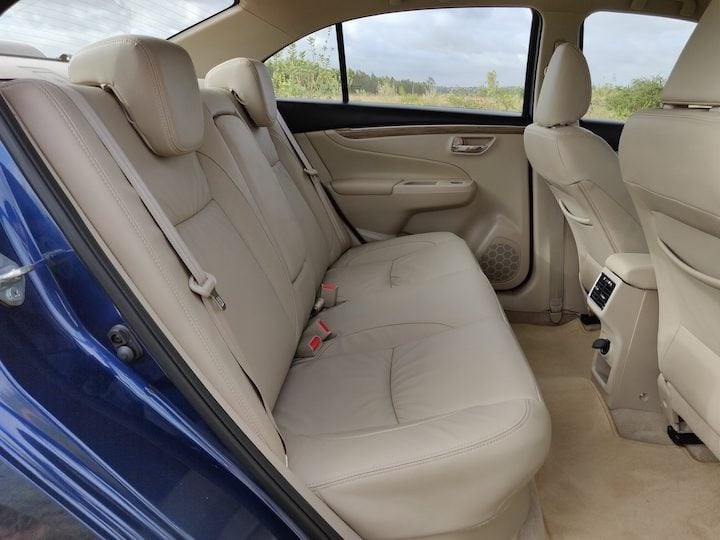 The air conditioning is very effective too. There is an automatic climate control system for a better temperature control in the cabin. The infotainment system comes with a touchscreen unit with voice commands, Android Auto, Apple car play, navigation and many such useful features. The quality of the speakers is average, but they get very loud.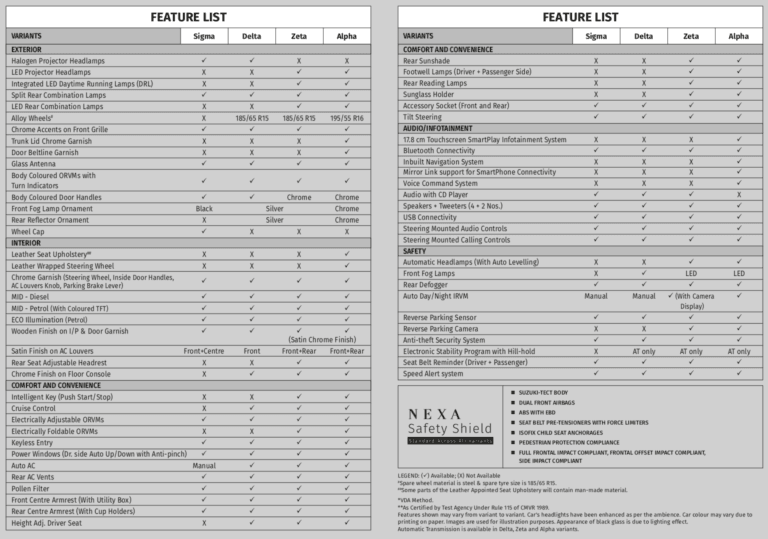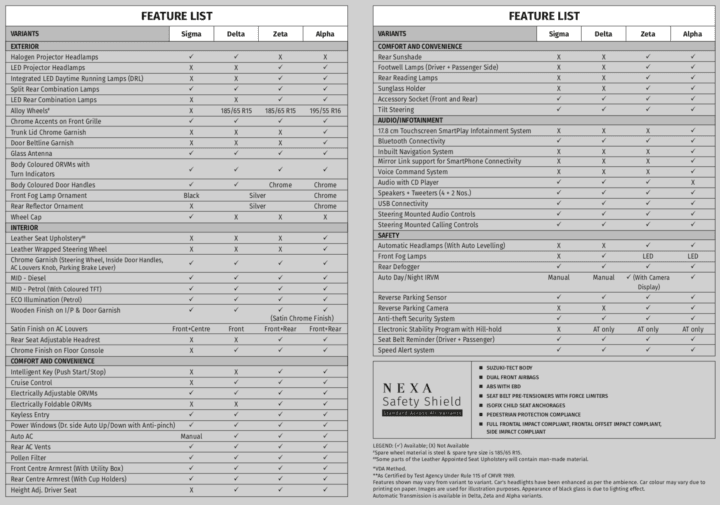 Overall, the interiors are plush, comfortable and the car feels quite spacious and features loaded on the inside.
Also read: 2018 Maruti Ciaz Detailed Feature List & Variant Wise Price List
2018 Maruti Ciaz Review- Engine, Transmission, Performance and Mileage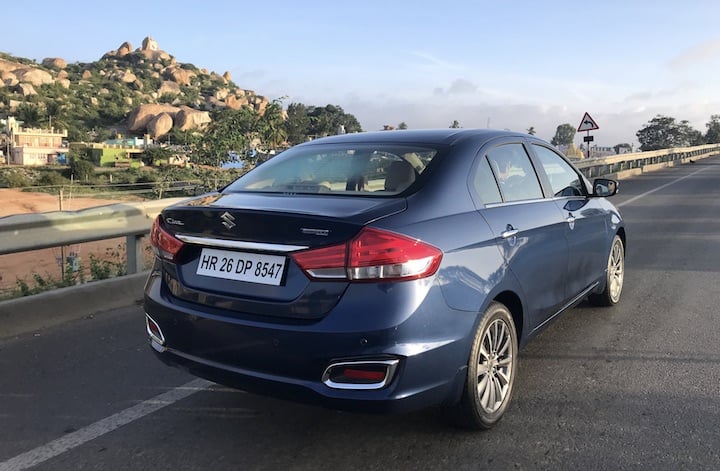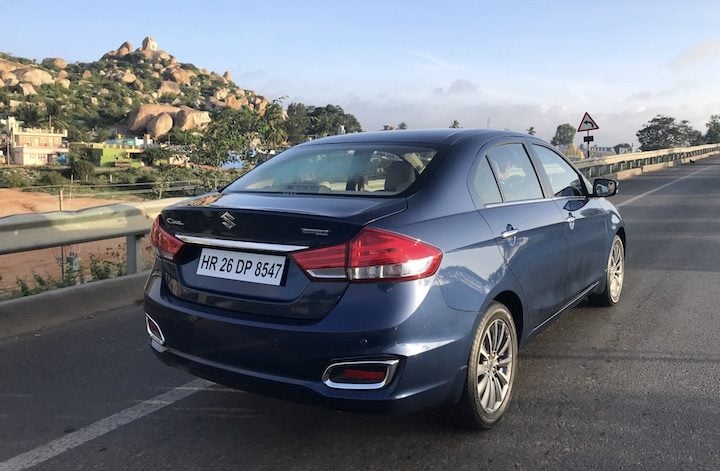 2018 Maruti Ciaz comes with a new 1.5-litre petrol engine with a smart hybrid drivetrain system. This engine delivers a peak power of 103 BHP and peak torque of 138 Nm. It comes with a choice of 5-speed manual transmission or a 4-speed automatic transmission. The diesel engine variant comes with a 1.3-litre DDIS 200 motor with 200 Nm of torque and 88 BHP of peak power. It comes mated to a 5 Speed Manual gearbox.
We drove the 2018 Maruti Petrol Automatic and Manual transmission variants and found them both to be quite strong in terms of performance. The petrol engine is quite rev-happy and does deliver an agile performance. With the manual transmission gearbox, the car is a lot of fun to drive, but in city traffic, the lower end torque makes you downshift frequently when the car slows down. The Hybrid technology comes in handy and keeps the car peppy when picking up from lower speeds without making the fuel mileage drop much. If you are an enthusiast driver, the manual variant makes a good sense. However, if you like more punch, the diesel version is more fun and gives you better low-end torque for more effortless driving in city traffic as it needs less frequent gear changes compared to petrol in terms of downshifting in slow traffic.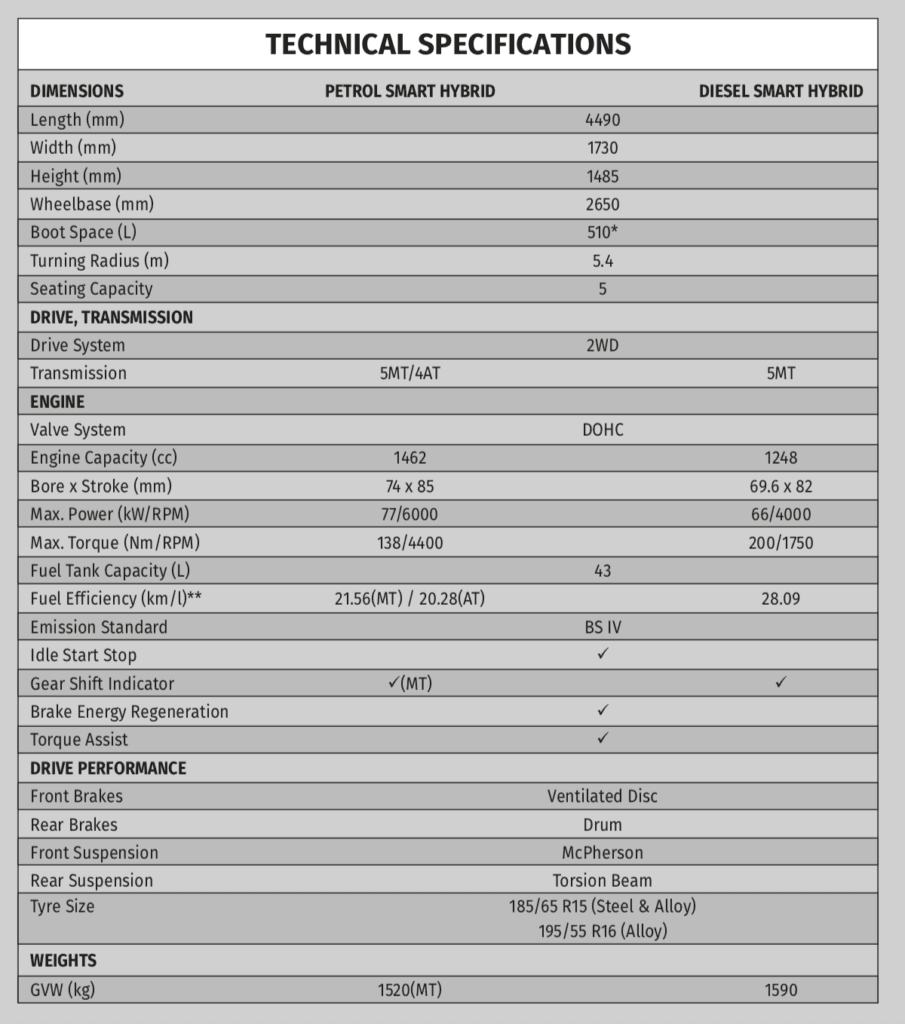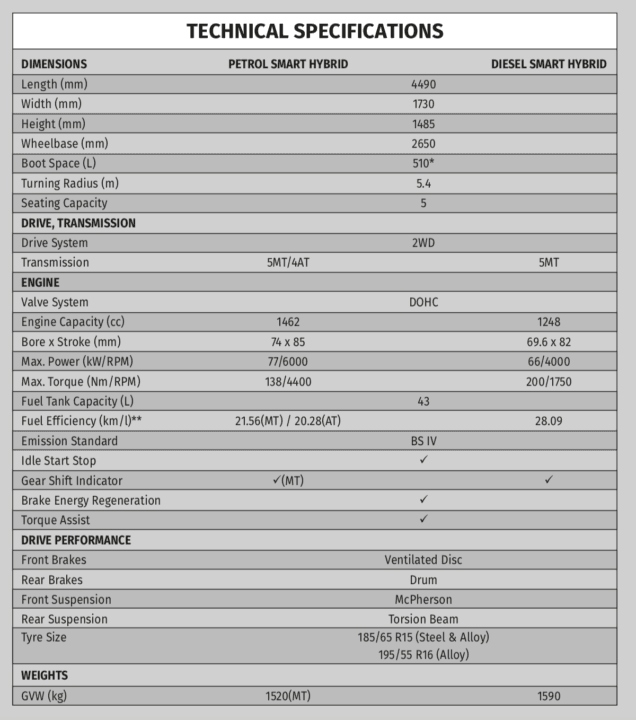 Talking on the 2018 Maruti Ciaz Petrol Automatic, the car gets a 4-speed gearbox, which on paper may sound dull, but in reality, it is quite good too. I am also pleasantly surprised by its driveability and performance with the petrol motor. The gearing seems quite tall and does an excellent job to keep the car in power-band most of the times. Put your foot down on the accelerator and the car feels eager to pull, maybe downshift a gear or two to give you the sudden push you expect from this car. Overtaking is the only scenario where you might find it a bit imperfect as the downshift may take a second or two after which you can pull ahead of the vehicle you are trying to overtake. In most other scenarios, the automatic transmission works effortlessly and delivers strong power. We noticed that on our highway run of the car for around 50 Km, we got a mileage between 15-18 KMPL with the automatic gearbox, which is very impressive.
Overall, the Ciaz is very fun to drive car with a very impressive mileage for its size category.
2018 Maruti Ciaz Review- Ride and Handling
The ride quality of the Ciaz has been quite good, but with the 2018 Maruti Ciaz, it has improved even more. The car feels very comfortable even on bad roads. The ride quality is excellent at both front and rear seats. The suspension has been tweaked for adding more comfort and it is quite evident in reality when you drive this car or sit on the rear seat.
The handling is also good, but the steering feedback has some scope for improvement. The braking is sharp and on-point. Overall, the new Ciaz suspension does impress us.
2018 Maruti Ciaz Video Review
2018 Maruti Ciaz Review- Verdict
2018 Maruti Ciaz seems to have cracked the code when it comes to making a great overall package for Indian consumers. This car has stylish exteriors, spacious interiors, lots of features, powerful and efficient hybrid drivetrains, high mileage and a comfortable suspension setup. Above all this, Maruti Ciaz has very aggressive pricing too which makes it a car which will surely attract a lot of attention. If you are a customer who seeks high value for money, low maintenance and high fuel mileage the 2018 Ciaz is definitely a good fit for your needs.
What are your thoughts? Do let us know in the comments section below.
2018 Maruti Ciaz Review- Image Gallery