The 7.0-inch touchscreen infotainment unit found in Toyota Fortuner and Innova will be replaced with a larger unit. It will get more apps and provide improved sensitivity.
The Japanese manufacturer, Toyota, successfully runs its two products that are Fortuner and Innova which are the best selling in their segment. Both the vehicles are well received by the Indian market and they are known for the low cost of maintenance and good aftermarket sales.
However, when it comes to technology, both Toyota Fortuner and Innova follow an old design, like for starters the small touchscreen infotainment unit. The unit is such that it does not match with the premiumness of the cars.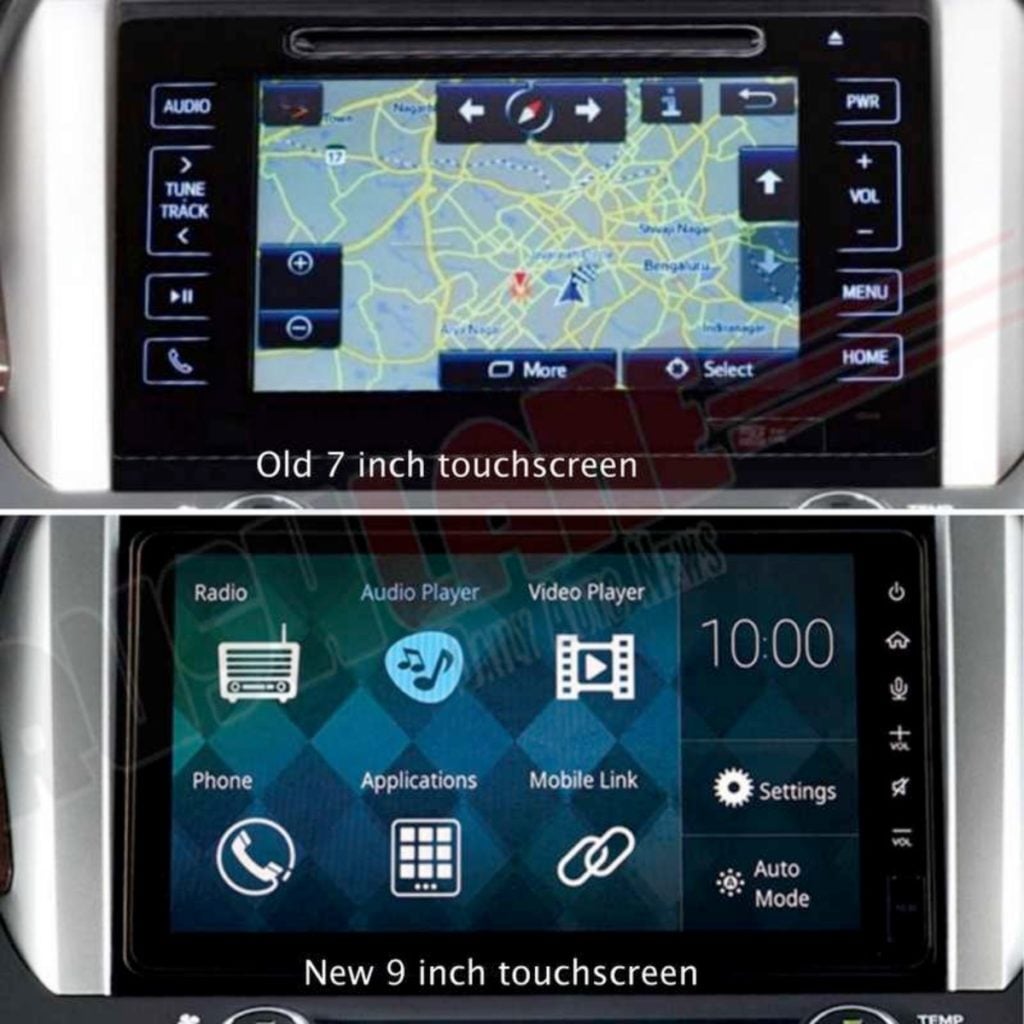 So in order to improve the weak point, the 2019 Fortuner and Innova, the company now provides a large touchscreen system which also gets improved touch panel. Earlier, it came with a 7.0-unit and now the 9.0-inch system gets more features and apps. Connectivity features like Apple CarPlay and Android Auto are also offered.
Also Read: Toyota Innova Crysta Might Ditch The Diesel Engine For A Petrol Hybrid
What's changed is the removal of manual buttons on either side which was found in the earlier unit and the CD slot to make room for the new 9.0-inch unit. The new system gets the AUX-in at the bottom right along with volume up and down buttons.
As of now, this larger touchscreen is available in Malaysia and prices of Fortuner remains unchanged with this new update. But for the Innova, it receives a hike of Rs 34,000. It is expected that the manufacturers bring this feature in the Indian market too ahead of Festive season where the sales are usually higher.
In other news, with the upcoming BS6 emission norms, both Toyota vehicles can expect a price hike by up to 15-20% which equals to Rs 5 lakh for Fortuner and Rs 3 lakh for Innova. Since diesel engines involve more technology to convert the particulate to BS6 form, the company urges to fleet operators for advanced purchases.
Also Read: Toyota Fortuner & Innova BS6 To Receive A Price Hike By Up To Rs 5 Lakh
Also, Toyota is working on a petrol hybrid version for Innova. Reports also suggest that the next-gen Innova might ditch the diesel engine for a petrol hybrid. This is done to make reduce the high cost of production of BS6 vehicles and also help in curbing pollution. "Diesel engine option for the next replacement of Innova seems off the cards right now. Toyota will develop the next generation of the Innova with the petrol hybrid system and given the stricter emission and fuel efficiency norms this strategy makes perfect sense".