Here is a rare clip where you can see the accident involving 2020 Mahindra Thar and a Maruti Omni, the latter being completely rolled over.
Mahindra is going to launch the new generation Thar in India very soon, mostly in a couple of weeks. It is still in testing mode as we can often see a random spy shot of it covered in camouflage, coming up on the internet. Here is a clip where you can see the new and camouflaged Thar involved in an accident.
This Thar was probably on its usual testing rounds where it involved in an accident with a Maruti Omni. It happened during the night and it was heavily raining. While there might seem very less damage to the Thar, the Maruti Omni rolled over. The latter seems to have taken more damage than the SUV.
Also Read: 4 Mahindra Cars Discontinued Due To BS6 Norms – Details
We are not sure how the accident was caused. Seems like the Maruti Omni was in a wrong lane or either of them was overtaking and then the accident took place. Because you can see that the Thar is damaged on the right side as well as the left side. If you look from the back, it is bent towards the right side.
As for the SUV, its front portion has received some damage and the headlamps have been broken. The front fender on the passenger side has also received some damage. The bonnet can also be seen a bit raised and crumpled. The tyres on the driver side have bursted, mostly due to the impact of the crash.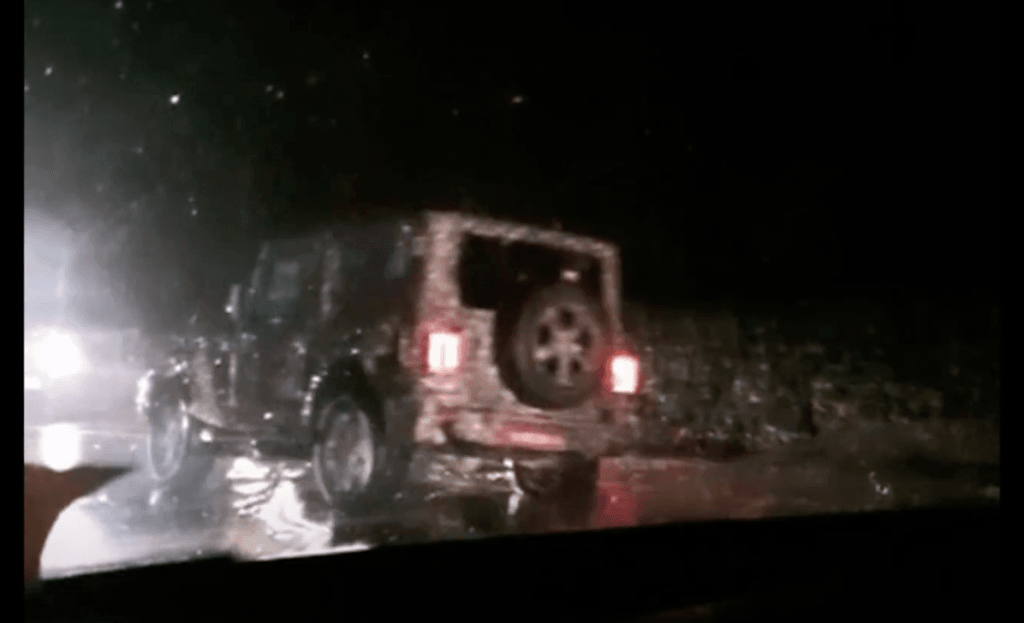 The new Thar is said to be sturdier, safer and built on a completely new platform. The shape also has received a major transformation as to comply in the safety regulations that came last year. Another effect of this new platform is that the SUV is considerably lighter and is expected to be more agile when it comes to off-roading.
Also Read: Mahindra XUV500 Is The Cheapest SUV Among MG Hector And Tata Harrier
The new Thar will get 2.0 Litre petrol and diesel engines with the options of a manual gearbox as well as an automatic gearbox. With that, it will get many new features to give a completely modern look. We expect the prices of Thar to start off at around Rs 10 Lakhs with the top-end variant nearly 3 Lakhs costlier.