Maruti Suzuki claims that the Celerio is India's most fuel-efficient car. Let us test that bold claim by the largest carmaker in the country by putting the hatchback to work.
There has been much talk about the mileage of the Maruti Celerio, both in the manual and automatic variants. The hatchback recently received its generational update and the thing that stands out is how easy it will be on your pocket. Maruti is popular for making vehicles with low maintenance costs and high fuel economy. That has made it the largest carmaker in the country by churning out large volumes. The mileage test of the Celerio in the manual disguise has been uploaded on YouTube. It must be mentioned that this is not the figure that is given on the instrument cluster but attained from the tank-to-tank method. It gives more accurate results.
Also read: Maruti Celerio VXi Detailed on Tape – Most Value for Money Model?
Maruti Celerio Manual Mileage Test
The YouTuber starts the video from a petrol pump where he gets the Celerio's tank full. He, then, sets the trip meter to 0. Then he goes on to drive the hatchback for a while in varied road conditions. This includes highways and rural roads with no roads. Although he doesn't mention what is the proportion of time that he travelled on either. By the looks of it, the most distance was converted on the proper highway. In all, the total distance covered was around 95 km. The YouTuber then went on to fill the tank of the Celerio completely again. After a bit of number crunching the mileage came out to be around 23.1 km/l. This is more accurate as the distance travelled and the petrol used are exact. Also worth mentioning here is that it was not just all highways but a combination of highway and off-roads. The mileage test of the manual Maruti Celerio is quite impressive.
Also read: New Maruti Celerio Back Seat Test – Is It Good for 3?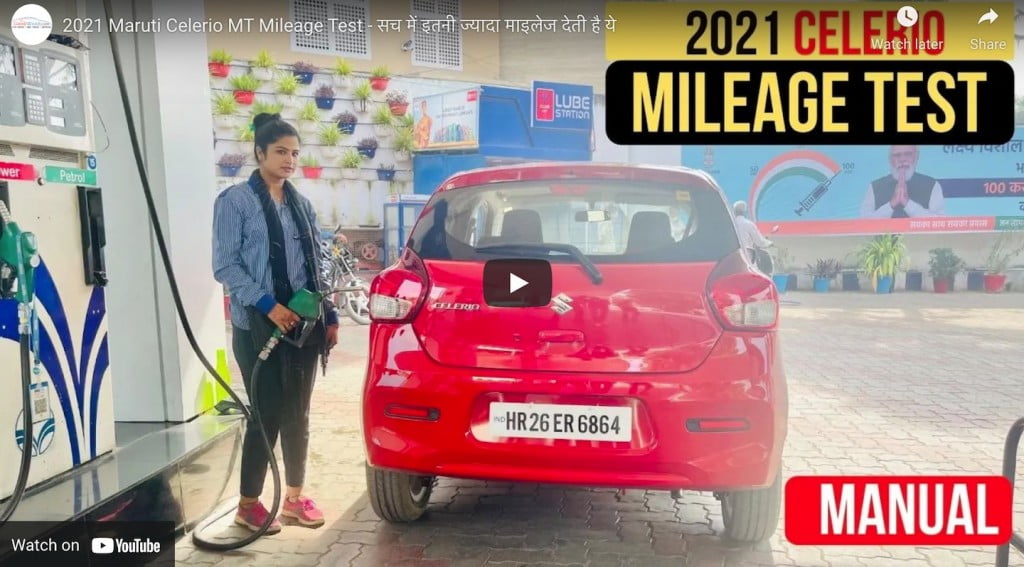 Specs
Under the hood, there is a new 1.0-litre petrol engine that makes 67 hp and 90 Nm. This is a K10C unit that replaces the earlier unit but like the engine powering the older model, this one's too available with 5-speed MT and AMT. Also, the new-gen Celerio is the best mileage petrol car in India with the VXI AGS version offering a stellar 26.68 kmpl officially. The prices of the Celerio range between Rs 4.99 lakh and Rs 6.94 lakh, ex-showroom. The rivals include the likes of Hyundai Santro and Renault Kwid.
Also read: Not Most Fuel Efficient Petrol, Maruti Celerio Was Most Efficient Diesel Car Once!
Join our official telegram channel for free latest updates and follow us on Google News here.