The 2023 Ford Endeavour has been all over the internet lately and this electrified concept version of the Lightning SUV is a yet another addition to it.
The digital automobile designers have come up with a future-proof concept Lightning e-SUV version of the all-new 2023 Ford Endeavour (Everest). Ever since it debuted in the international market, people in India have been excited about Ford bringing it to our shores as the new Endeavour. Whether or not that would become a reality remains to be seen. Until then, we shall feast our eyes on this electrified version of it.
You may also like: 2023 Ford Endeavour a Toyota Land Cruiser Prado Killer? – Foreign Media
You may also like: 2023 Ford Endeavour Raptor Edition is Purely Droolworthy
Ford Endeavour Lightning e-SUV
The front fascia of the electric SUV gives away its eco-friendly credentials with a massive closed out grille area. The shape of the grille and LED headlamps and the chrome inserts between the headlights remains the same. The panel used to shut out the grille is grooved like you would find on a number of electric SUVs. The fog lamps have also been flattened out in favour of a smooth design. The bumper has been reshaped a bit and the electric nature of the SUV becomes apparent. On the sides, the regular alloys have been replaced by turbine-styled modern alloys accentuating the side profile. The dual-tone blue and grey on the ORVMs looks modern and the charging cap on the front fender replacing the vent neatly hides the charging socket.
All in all, the massive SUV might well be called the Lightning electric SUV based on the F-150 Lightning electric truck that is on sale in the U.S. The electric versions of almost all the new vehicles are bound to launch with them. The future of mobility is electric and it is the inevitable trend. Ford has been working tirelessly on transforming its range of SUVs and pickup trucks into electric vehicles with ambitious aims for the mid-decade.
You may also like: 2022 Ford Endeavour Road Presence Check- Taller Than Toyota Fortuner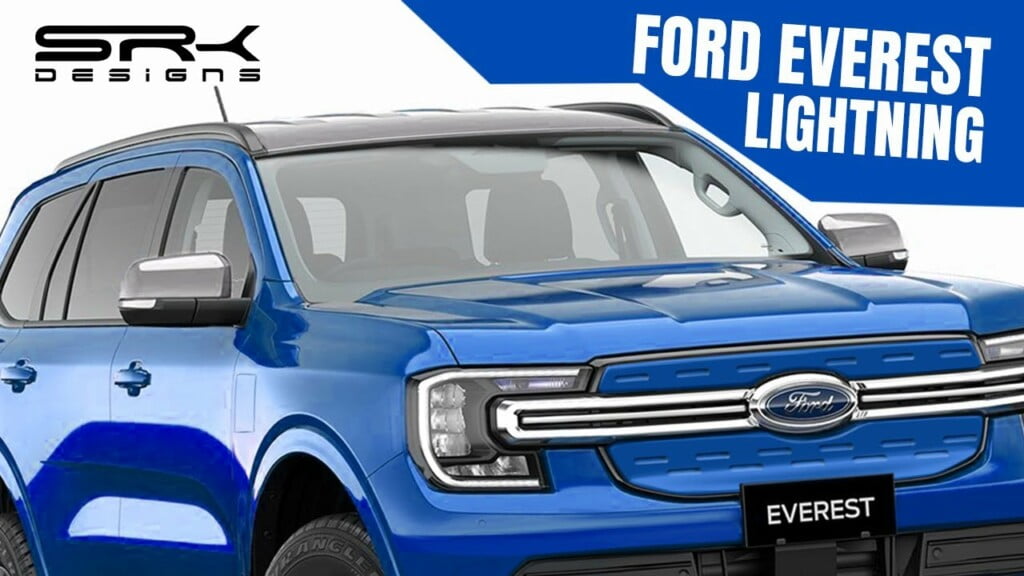 You may also like: New Ford Endeavour First Walkaround Video Is Out
Specs – 2023 Ford Endeavour (Everest)
The international model's powertrain options include a 3.0-litre V6 turbo diesel, a 2.0-litre turbo diesel and a 2.3-litre EcoBoost petrol, depending on which international market is receiving this model. The choice of transmissions includes either a 6-speed manual or a 10-speed automatic. There is plenty of off-roading kit available to ensure that it could tread any terrain.
Join our official telegram channel for free latest updates and follow us on Google News here.