2020 Honda City will get a generation update with a completely fresh design, BS6 compliant engines and a lot of new features.
Honda was going to unveil the new generation 2020 City on 17th March. Coronavirus outbreak has now delayed the unveil and launch, both. Most likely, we might see the new City by the end of next month or in early May.
In India, we will be getting the fifth generation of Honda City. While it uses the same platform, the new City will be bigger than the existing one. The same engines will be used but will now be BS6 compliant. There will be a major change related to the petrol engine getting a mild-hybrid technology, sometime in the future.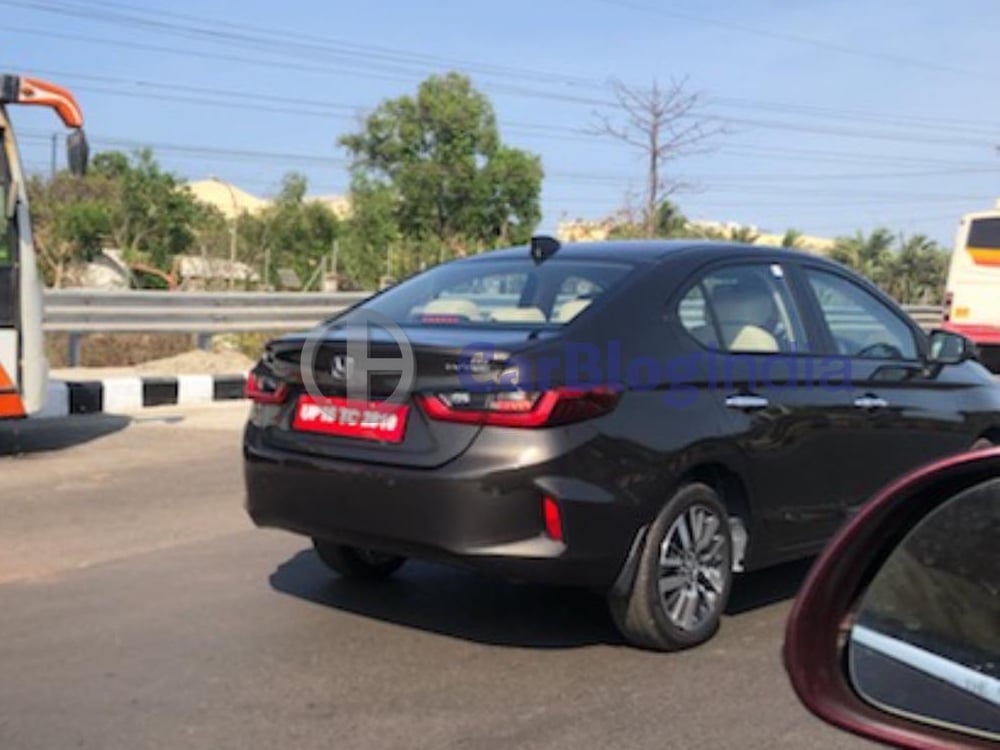 The new City will get its existing 1.5 Litre petrol i-VTEC and 1.5 Litre i-DTEC diesel engine. The petrol engine will be capable of producing 118 BHP and 145 Nm of peak torque. The diesel engine will produce 100 PS and 200 Nm of peak torque.
Also Read: 2020 Hyundai Verna Vs 2020 Honda City – Price, Launch Date And Details
The new City is 4.55 metres long, 1.75 metres wide and 1.49 metres tall. It is slightly bigger than the outgoing version. This could mean that the new City will be more spacious than its rivals as well. It will compete with the likes of Hyundai Verna, Maruti Ciaz, Volkswagen Vento, Skoda Rapid and Toyota Yaris.
So, here are 7 features that the new 2020 Honda City will offer more than the Maruti Ciaz:
1 . Automatic LED Projector Headlamps
City will come with LED projector headlamps on the top-spec trims. On the top-end trims itself, the sedan will also be offered with automatic day/night headlamps. A handy feature for people who usually forget to switch off their headlight.
2. Electric Sunroof
In this segment, Verna and City are the only ones offering an electric sunroof and will continue to do so. Sunroof are not that popular in India because of our climatic conditions. However, younger buyers often consider the availability of an electric sunroof.
3. Diesel Engine With An Automatic Gearbox
This is not a feature per se, but an important highlight over Maruti Ciaz. The latter may have one of the most fuel efficient petrol engines in its segment, but the need for a diesel engine is felt. The new City will get a 1.5 Litre diesel engine and that too with a CVT gearbox. Not every diesel car comes with an automatic gearbox.


4. Hill Start Assist
If you are climbing a slope and after releasing the clutch, the car is going backwards the Hill Start Assist feature kicks in. The system automatically assists the car in going up at a limited speed. The new City will offer this but we are not sure if on manual gearbox too.
5. Ventilated Seats
The new City will get Ventilated seats which is a very underrated feature. In a humid country like India, by switching on the ventilated seats, your entire seat starts getting cooler. This feature was introduced in the budget segment by none other than Hyundai.
6. Six Airbags
Working more on the safety issues, the new City will get six airbags on the top-spec variant. It will include dual front airbags as standard with additional side and curtain airbags.
7. Vehicle Stability Control
VSC is used to prevent the wheel slip while cornering or taking a sudden turn at high speed. This feature indicates that maybe, the new City will get some Sports quotient with it. The current one is more elegant or classy rather than sporty.