This image brings forth shocking results after an accident between Ford EcoSport and Hyundai Santro. You might have seen many images of such unfortunate incidents but this image shows something really surprising. The EcoSport is generally known for its tough build quality and strong body. The Santro, on the other hand, is an entry-level product from Hyundai in the Indian market. There should be no comparison between the two, right? Well, the image suggests otherwise. Here are the details of the entire incident and you can be assured of the results. The images and comments were posted on Facebook.
Also read: Ford EcoSport and Figo Family Could Discontinue In Spite of Updates!
EcoSport and Santro Accident Results
The image shows the impacted Santro on the left and the EcoSport on the right. The impact looks quite strong. Interestingly enough, the side door of the Santro looks quite damaged along with the front right fender. The impact didn't reach either to the rear door or to the bonnet. However, looking at the Ford EcoSport, the story seems quite different. The entire front end of the compact SUV is damaged. It looks like the front end of the EcoSport hit a wall. The bonnet has been reduced to crumpled pieces and the bumper is nowhere to be seen. The impact has reached the chassis, which is quite shocking, to say the least. These damages look very different from what most people would've imagined.
Also read: Yet Another Case of DEFECTED BS6 Ford EcoSport Comes to Light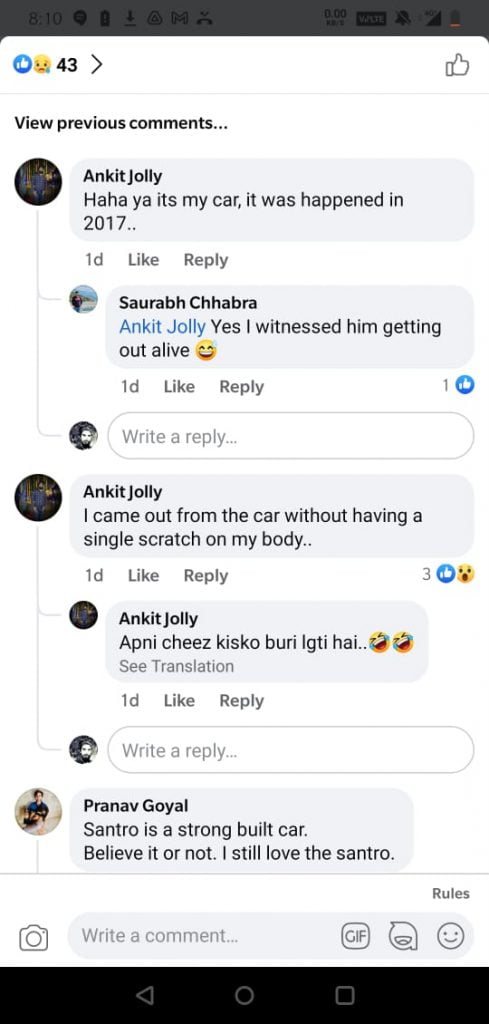 Ford EcoSport
These days, Ford is struggling to stay afloat in our market and the EcoSport is causing a ton of problems for the American carmaker due to constant DPF complaints from the customers. Ford has not been able to find a reasonable solution to the diesel EcoSport. This is getting bad press for Ford. The issue started occurring on the BS6 compliant diesel powertrain. The facelifted Ford EcoSport has been doing testing recently. The launch may well be around the corner. However, it remains to be seen if Ford manages to resolve these issues in that model.
Also read: 2021 Ford EcoSport Facelift Spied Sans Camo – Do You Like It?
Ford is also trying to sell one of its two manufacturing units in India. The reason for this is the low sales figures month after month. There are no new products in the pipeline ever since the Joint Venture with Mahindra and Mahindra fell through. The production capacity of the carmaker is way higher than the demand at the moment.
Also read: WATCH Ford EcoSport Go Off-Road & Race Kia Sonet, Maruti Brezza – VIDEO
Join our official telegram channel for free latest updates and follow us on Google News here.