It has now been confirmed that the Ford EcoSport, Endeavour and Figo family will be discontinued from the Indian market. This is happening in spite of the recent update that Figo received. Also, the EcoSport facelift has been spotted testing multiple times now and the launch is just around the corner. But still, the operations of Ford will come to an end in India. There are plenty of reasons behind it. The rumours of Ford exiting in India have been doing rounds for quite some time now. After it happens, the existing customers don't necessarily need to worry as Ford will continue providing services for its products in India for at least 15 years after the exit. Let us take a look in detail at the reasons why Ford EcoSport and Figo family will discontinue in our market.
Also read: Is BS6 Ford EcoSport Diesel Less Powerful Than BS4 Model?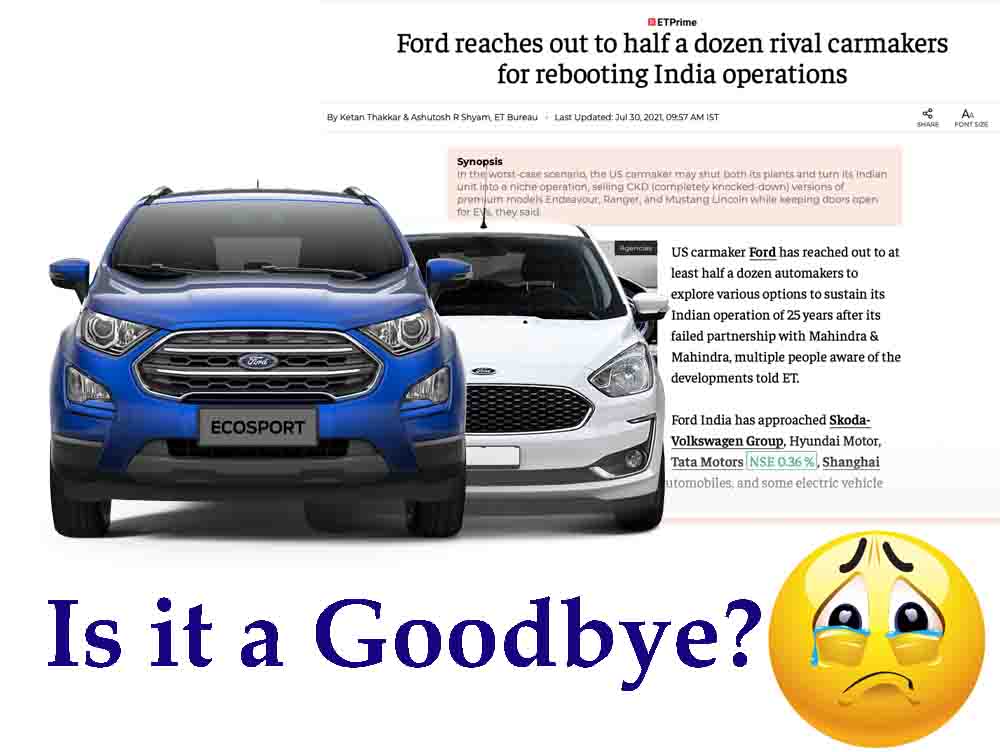 Ford EcoSport and Figo Discontinue
Ford has not launched any new product in India for a while now. Take, for instance, the EcoSport. It had started the compact SUV segment in India back in the day. Now the segment has around 10 products but the EcoSport still remains more or less the same. Apart from that, the regular and premium hatchback segments also feature far better and modern products than the ones on offer by Ford. Only the Endeavour is doing well but the volumes are inherently low for a sustained business case. Hence, Ford needed new products in the market which is why it approached Mahindra & Mahindra for a Joint Venture (JV). However, due to the varied interests of the two companies post-pandemic, the JV fell through and Ford was left high and dry. That proved to be the final nail in the coffin for the American carmaker.
Also read: Yet Another Case of DEFECTED BS6 Ford EcoSport Comes to Light
Ford and Mahindra were to work on various new products in our market in the coming years. Along with that, they were supposed to share technology on EVs of the future too. With the strong platforms from Mahindra and modern technology from Ford, we could have seen great products from this JV. However, it wasn't to be. Now, the overall capacity of Ford in India is around 4,00,000 units per annum from its two manufacturing plants. The current yearly sales barely hit the 20% mark or around 80,000 units. This indicates a lot of loss to the carmaker.
Also read: Ford EcoSport Puts Cement Bench's "Build Quality" To Test!
Reportedly, Ford was seeking a partner to share or buy one of its production facilities and approached MG, Skoda (VW) and Tata. However, no deal could be finalized due to various reasons. Hence, the future of Ford in India is likely to resemble that of General Motors (Chevrolet). The only difference could be that Ford could keep operating in India through niche products which will be direct imports like the Mustang and Pick-up trucks. The exports from India might also continue from its plants.
Also read: 2021 Ford EcoSport Facelift Spied Sans Camo – Do You Like It?
Source: Autocar India
Join our official telegram channel for free latest updates and follow us on Google News here.