Hyundai Alcazar outsells the MG Hector family on the sales charts for June 2021. Being directly each other's competition, it is an interesting statistic that shows the newcomer selling more units than the entire Hector family (Hector and Hector Plus). In general, the mid-size SUV segment saw the Koreans running away with the top 2 spots by a huge margin. The Creta and Seltos continue with impressive sales figures for June 2021. Here is a detailed outlook of the mid-size SUV sales in June 2021.
Also read: Tata Nexon overtakes Hyundai Venue and Kia Sonet on sales charts for June 2021!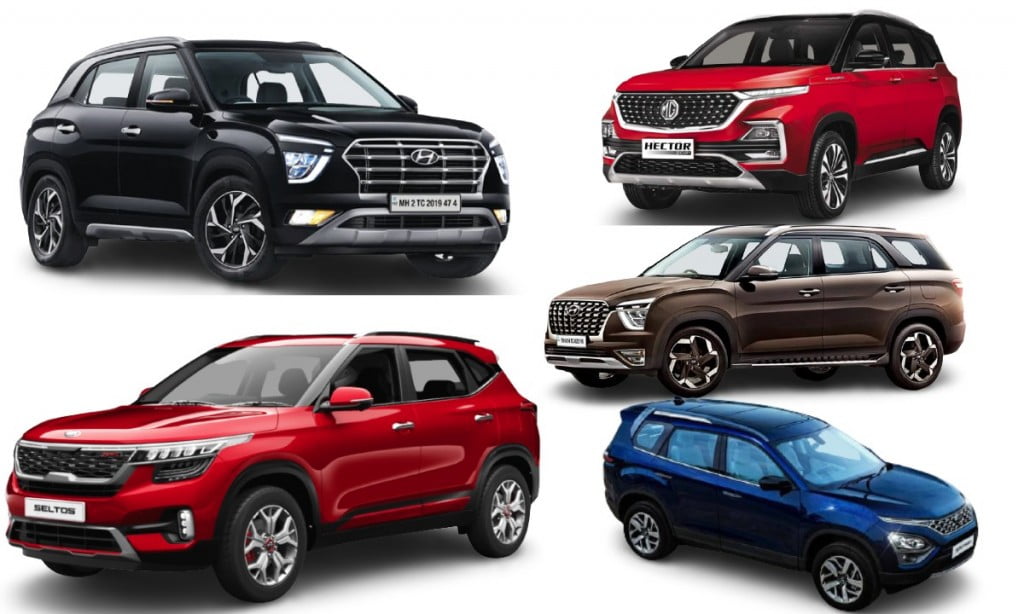 Mid-Size SUV Sales Report June 2021
Hyundai Creta – 9,941 Units
Creta continues to rule the box office of the Indian automobile industry in the mid-size SUV segment. In June 2021, Hyundai sold 9,941 units of the Creta compared to around 7,200 units in the same month last year. It has been on the top of the list for a long time now.
Kia Seltos – 8,549 Units
The other Korena, Kia Seltos also remains popular retaining the second spot on the list. Last month, Kia sold 8,549 units of the Seltos in comparison to around 7,100 units in June 2020. Based on the same platforms, Seltos and Creta are witnessing outrageous sales figures together.
Also read: Car Sales Report for June 2021 – Maruti, Hyundai, Tata, Mahindra, Kia and more!
Mahindra Scorpio – 4,160 Units
Scorpio has been a workhorse for the homegrown carmaker since decades and the sales continue to come with it even today. In June 2021, Mahindra managed to sell 4,160 units of the popular SUV in comparison to 2,574 units in the same month last year.
Alcazar – 3,103 Units
The latest addition to the segment, Hyundai Alcazar has started its journey off with a bang. Outselling the MG Hector family, Hyundai sold 3,103 units of the 7-seat version of Creta. With such positive signs, the future seems bright for the Alcazar.
Also read: Hyundai Alcazar Features List For Every Variant!
MG Hector – 3,002 Units
The updated Hector family in 2021 also keeps selling consistently in June 2021 with 3,002 units. This number is significantly higher than the 1,867 units it sold last year.
Tata Harrier and Safari – 3,771 Units
The combined sales of Harrier and Safari stand at 3,771 units for the month of June 2021. Last year, only Harrier was available which sold a mere 653 units.
Also read: Hyundai Alcazar vs MG Hector Plus – Design, Specs, Features Comparison!
Maruti Suzuki S-Cross – 1,441 Units
The crossover SUV from the largest carmaker in the country, S-Cross, sold 1,441 times in June 2021. It is interesting to notice that Maruti did not sell any S-Cross in June 2020.
Jeep Compass – 789 Units
Jeep had updated the Compass in 2021 and the sales have been decent ever since. It is nothing to ride home about, but still, it has been consistent. In June 2021, Jeep sold 789 units of the Compass which is significantly higher than the 246 units it sold in the same month last year.
Also read: Tata Altroz Dark Edition Launched Specs and Prices!
Mahindra XUV500 – 633 Units
Mahindra sold a mere 633 units of the XUV500 in India in June 2021 compared to 231 units in June 2020. This could be due to people waiting eagerly for the upcoming 7-seat XUV700. The XUV 500 will be launched next year, maybe, as a 5-seater SUV.
Also read: Mahindra XUV700 to launch on Independence Day – Specs and Details!
Citroen C5 Aircross – 41 Units
The French carmaker has started its journey quite well with 41 units in June. C5 Aircross is not a mass-market product and Citroen wants to establish itself with this premium SUV. The mass-market product might come to India at the beginning of 2022 in the form of C3 compact SUV with heavy levels of localization.
This is a detailed sales report of the mid-size SUVs in June where Alcazar outselling Hector family remains the highlight.
Also read: Mahindra TUV300 to be replaced with Bolero Neo – Full Info!
Join our official telegram channel for free latest updates and follow us on Google News here.