Anand Mahindra, CEO, Mahindra & Mahindra, is regular on the micro-blogging site and has often presented his opinion on various developments in the world of automobiles. Recently, he came in support of the upcoming Ola Electric Scooter and the Twitterati went all gaga over the philanthropist promoting a startup that promises to promote green mobility. Well, Mr Mahindra is in news again, this time around for his disapproval of a gold Ferrari California whose video has gone viral.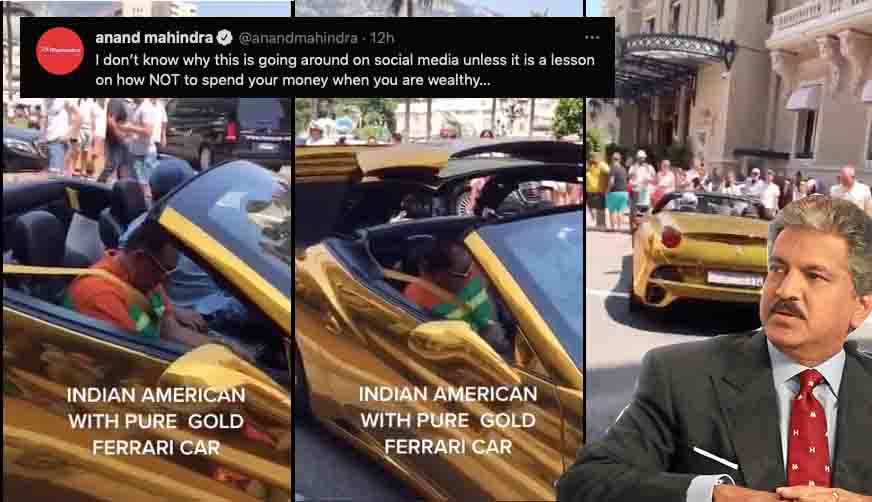 Also Read: Watch Skoda Kushaq Mega Delivery In Royal Style!
Speaking on the video, he said," I don't know why this is going around on social media unless it is a lesson on how NOT to spend your money when you are wealthy." Clearly, Anand Mahindra is not impressed by the bespoke Ferrari California whose body shell is made out of Gold. We do agree with the business tycoon as spending truckloads of money on having an already expensive car is nothing but a blatant show of wealth.
This car first came into the limelight back in 2017, when it was seen gaining a lot of eyeballs at Cannes and Paris. The supercar has Saudi number plates and even carries a very expensive registration. It's not known if the car was later sold to an Indo-American if the occupants of the vehicle had borrowed it from the original owner.
Also Read: How to book Ola Series S online
The Ferrari California pays homage to one of the greatest Ferraris ever, the 1957 260 California – an open top track-focussed car that went on to enjoy an iconic status. Also, the Ferrari California became the first supercar in its manufactuer's history to have a mid-front mounting of the V8 engine. The all-aluminium engine has 90° angle between the two cylinder banks and a 180° angle between the cranks. The motor displaces 4.3-litre and offers a maximum power output of 460hp at 7,750 rpm. The peak torque is rated at 485Nm at 5,500 rpm. 75% of this torque is available at just 2,250 rpm. California takes less than 4 seconds to sprint to 100 kmph from standstill and has a top speed of 310 kmph. The fuel efficiency is rated at 7.63 kmpl. The motor comes mated to a 7-speed dual-clutch gearbox that offers steering-wheel-mounted F1-style paddles.
Stay tuned to CarBlogIndia for more interesting stories.