Anand Mahindra continues to amuse the netizens with his posts. This time he has highlighted car price hikes from 50 years ago.
The Indian economy has drastically changed in the last five decades. However, it goes hand in hand with huge inflation. If we continue with the current inflation rate, the prices of today will soon be unrecognizable. You can already see in the yesteryears price lists. This phenomenon was recently highlighted by Anand Mahindra via a Twitter post. As expected, social media was quite surprised by the old Fiat and Ambassdar price tags.
You May Also Like: Anand Mahindra to Deliver Mahindra XUV400 One of One Edition to Winning Bidder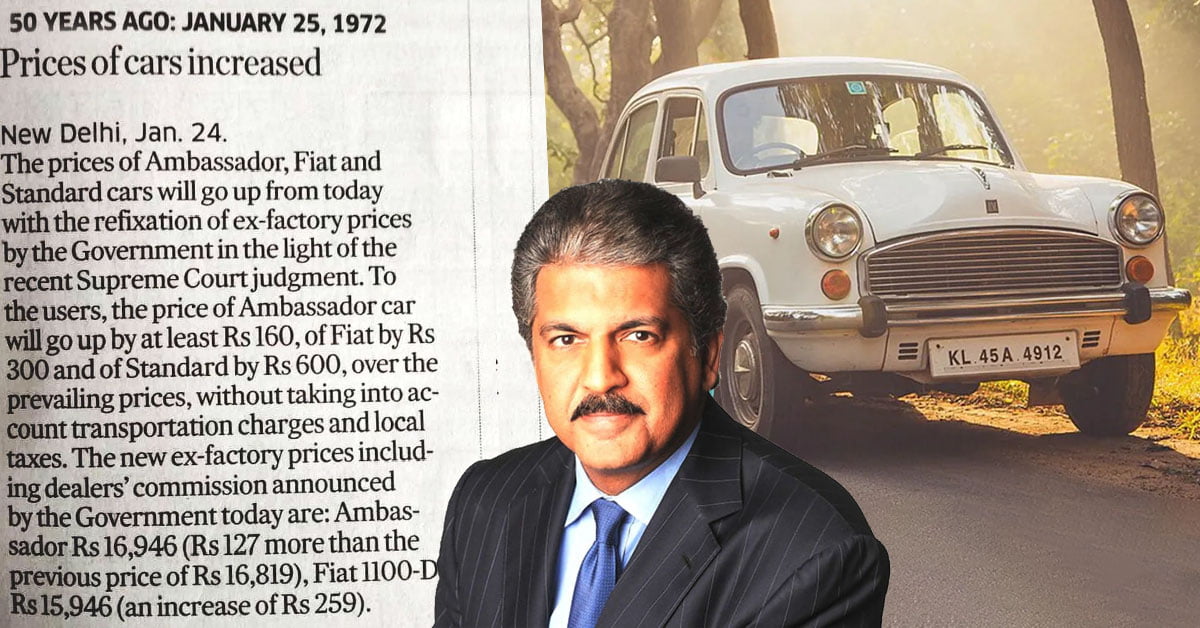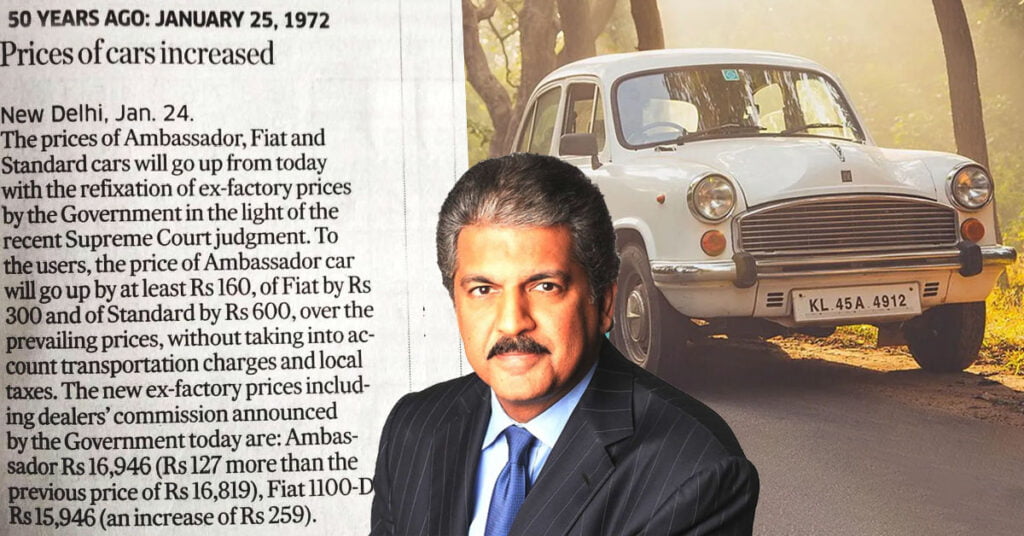 You May Also Like: Anand Mahindra to Deliver Mahindra XUV400 One of One Edition to Winning Bidder
As you can see in the image above, Anand Mahindra decided to share a throwback to the old times. He shared a newspaper cutting of an article dating back to January 25, 1972. It showcases price hikes of the hip cars of the day. The price of the Hindustan Motors, Fiat, and Standard models was hiked by Rs 160, Rs 300, and Rs 600, respectively. However, the final costs seem absurdly low when compared to te present-day costs.
Anand Mahindra is the chairman of Mahindra and Mahindra. He is very popular on social media and shares very interesting posts with his followers. His latest post highlighted the drastic increase in car prices over the years. He expressed his amusement about the 'low' car costs in the old days. As you can see, the Hindustan Ambassador received a price hike of Rs 160. On the other hand, the Fiat 1100D received a price hike of Rs 300. Also, Standard had a price increase of Rs 600 on January 25, 1972.
You May Also Like: Fan Asks Anand Mahindra About Having Thar on Mars – See His Reply
Mr. Mahindra also talked about his mother's Fiat. Apparently, he used the blue-colored Fiat car for commuting from his home to his college. "This has plunged me into some 'Sunday reminiscing.' I was in JJ college at that time. Used to go by bus, but my mother occasionally allowed me to drive her blue Fiat. Even I can hardly believe this is what it cost at that time!," said Mr. Anand Mahindra (@anandmahindra) in a viral tweet.
You May Also Like: India's Only Mahindra Thar with NOS – This is it!
Before the introduction of Maruti Udyog Limited and the Maruti 800 compact hatchback, Hindustan Motors and Fiat used to rule the car market of India. Both companies offered premium sedans. It is quite interesting to note that you could get a new Fiat 1100D for just Rs 15,946 and a new Hindustan Ambassador for just Rs 16,946. And these prices were considered high in 1972 and only for the upper section of society could afford these cars. In the present times, you can only get a bicycle for this amount of money.
Join us for FREE NEWS Updates on our Whatsapp Community or our official telegram channel.