Aftermarket car modification can make a car completely different to the original.
That becomes clear via this video.
It shows India's only Mahindra Thar with a NOS cylinder.
This has to be India's only Mahindra Thar with a NOS cylinder installed in it. Thar is the most popular lifestyle off-roading SUV in the country. Since most owners buy Thar as their secondary vehicle, they often perform aftermarket modifications to it. In a bid to make their Thar look unique, owners visit aftermarket car modification houses to tweak a lot of things. However, most of these have to do with the aesthetics of the car. But there are some people who tamper with the performance aspect of the SUV too. This is one such example. Here are the details.
You may also like: Anand Mahindra Highlights Car Price Hikes Over 50 Years Ago
You may also like: WATCH Easy Conversion of Suzuki Jimny to Mercedes G-Wagon
You may also like: New Mahindra Thar in Willys Jeep-Style Open-Top Format Looks Amazing
You may also like: Mahindra Thar 5-Door Detailed in Walkaround Video of Test Mule
Mahindra Thar with NOS Cylinder
The video has been uploaded by SQV on YouTube. This channel keeps featuring content around unique cars with special modifications. The Thar that the team is installing this NOS cylinder on, is also a heavily modified model which is why they have named it Monster Thar. The entire mechanicals and body have been upgraded. In addition to that, the team decides to install a NOS (Nitrous Oxide System) cylinder on it. For this, they had to go to various shops to get the cylinder filled with NOS. However, no one is ready to do it.
You may also like: Mahindra Thar 5-Door (Scorpio N-Based) Seen Night-Time Testing
You may also like: Mahindra Thar & Jeep Wrangler Rubicon Go Off Roading – Which is Better?
The main reason why people are reluctant to fill NOS in the cylinder is that they are not sure how this would be used in a car. Most people are not aware of this technology in cars. It is only a handful of people who might have seen this in Hollywood movies who know that NOS can temporarily enhance the performance of any car due to the boost function. After visiting numerous shops, finally, they are able to find a shop which helps them fill the cylinder.
You may also like: This Mahindra Thar Looks Bigger Than Even a Ford Endeavour
You may also like: Ajay Devgn Talks About Owning Open Jeep – VIDEO
In the last part of the video, the YouTuber is seen trying to attach the cylinder to the engine of the Monster Thar. But there is leakage while connecting it to the engine which is particularly dangerous. To get it fixed, the YouTuber goes into the market and brings the necessary equipment. Finally, the components are in place and working fine. The team was able to connect the cylinder to the Thar successfully. Let us know your feelings about this Mahindra Thar with NOS cylinder but don't try this yourself.
You may also like: Nushrratt Bharuccha Seen in her Humble Mahindra Thar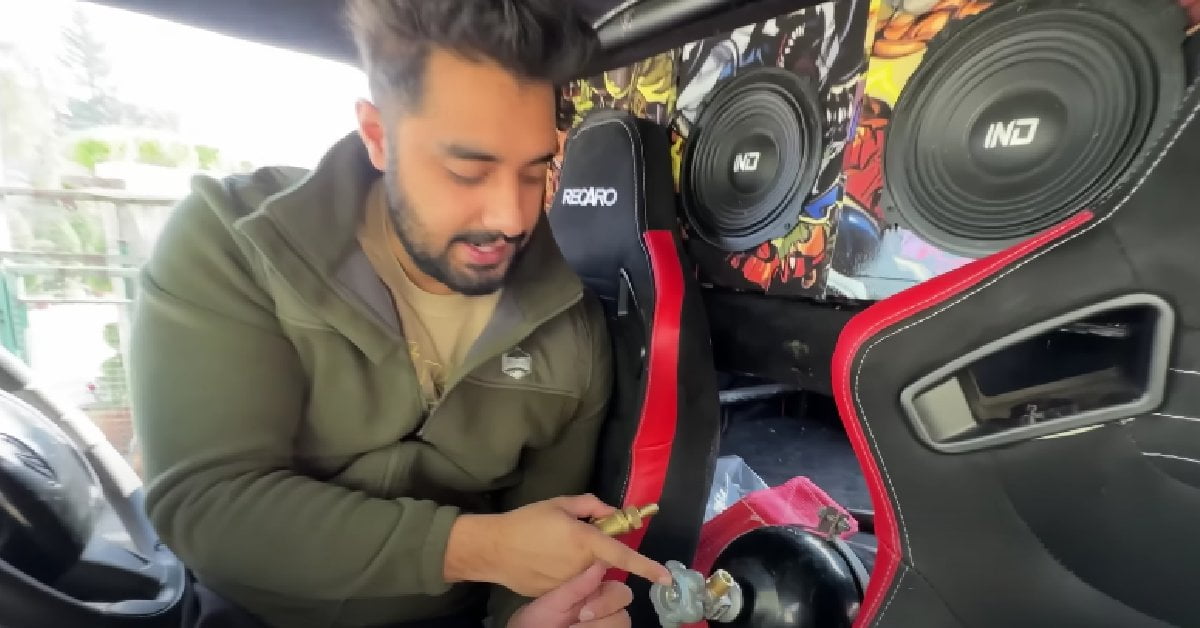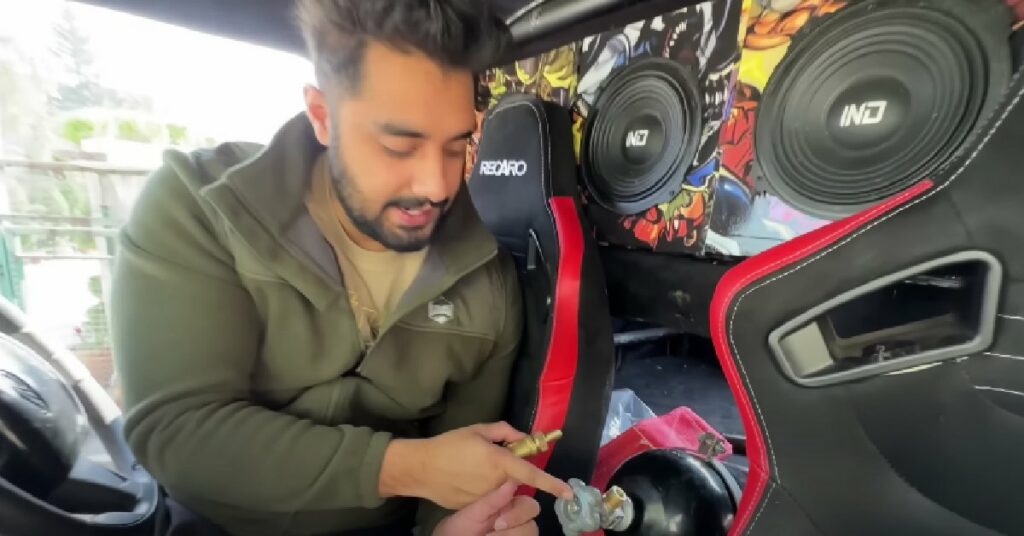 You may also like: India's Most Luxurious Mahindra Thar Comes from House of DC – VIDEO
Disclaimer- The embedded videos/ external content is/are being used as a convenience and for informational purposes only; they do not constitute an endorsement or approval by Car Blog India of any of the products, services, and /or opinions of the corporation or organization or individual. Car Blog India bears no responsibility for the accuracy, legality, and/or content of the external site or for that of subsequent external videos/ external content. Contact the external publisher for answers to questions regarding its content.