Ashok Leyland, during the Defexpo 2012 In New Delhi on 29th March 2012, unveiled the SUPER STALLION 8×8 High Mobility Vehicle (HMV) and with that, the expansion of their range of logistics vehicles. Also being displayed for the first time is a new face-lifted version of the very popular Stallion in 6×6 configuration with a new high power engine and auto transmission.
Mr. Nitin Seth, Executive Director – Defence Business, Ashok Leyland quoted:
"The HMV 8×8 SUPER STALLION is our new top-of-the-range offering – a contemporary technology product that is proudly indigenous. This heavier Super STALLION platform builds on the heritage of the STALLION, of which more than 65,000 vehicles are deployed by the Indian Army. STALLIONS form the veritable backbone of their logistics operations and we cherish our role as their largest supplier of logistics vehicles. This experience, as well as experience in some of our new export markets has allowed us to factor customer feedback to achieve the significant improvements to the product"
Ashok Leyland Exhibits at Defexpo 2012
Ashok Leyland Super Stallion 8×8 (HMV – High Mobility Vehicle)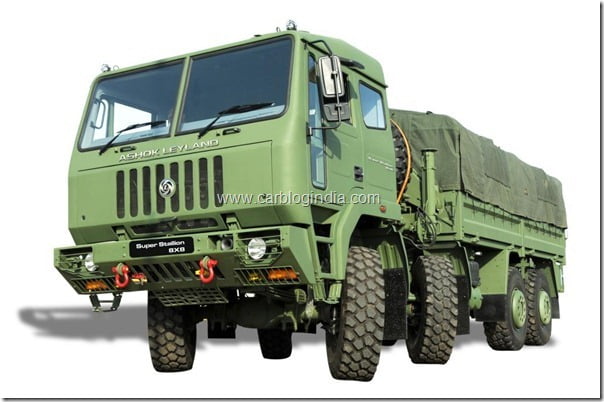 image – Ashok Leyland Super Stallion 8×8
The Super Stallion HMV 8×8 is the new flagship of Ashok Leyland's range of logistics vehicles. It has been specially configured to meet the army's emerging requirement for vehicles with higher mobility and greater power to operate in challenging desert terrains. It is propelled by a state-of-the-art powerful 360 BHP (265 kW) Neptune engine,that can crank up a torque of 1400 Nm.Hub reduction axles ensure better ground clearance and grip for its 8 wheels in sand and the Central Tyre Inflation System (CITS) enables inflating or deflating tyre seven when on the move. Driver comfort is been addressed through air-conditioning, bucket seats in the ergonomic cab and parabolic suspension in front for a better ride. The Super Stallion platform promises the same versatility of the Stallion platform and can be offered for a variety of applications like Field Artillery Tractor and Mounted Gun with different transmission and driveline configurations.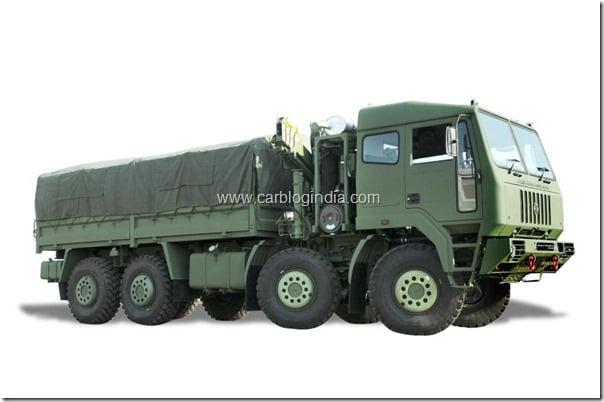 image – Ashok Leyland Super Stallion 8×8
Ashok Leyland Super Stallion 6×6 HMV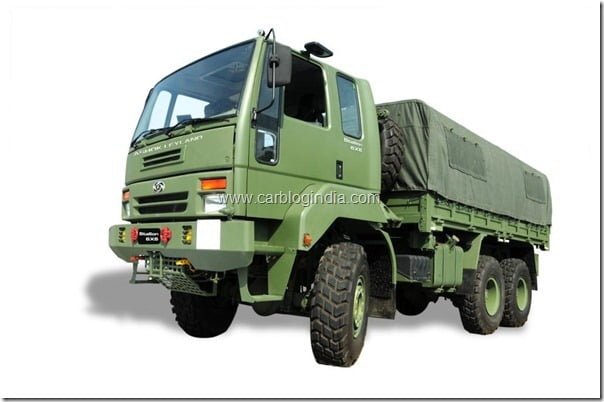 image – Ashok Leyland Super Stallion 6×6
The Stallion 6×6 is significantly upgraded in form and function compared to its earlier version. It has a more powerful 165 kW Common Rail Diesel engine that is capable of 800 Nm of torque to operate in demanding, mountainous terrain. Ease of use is addressed by the Automatic Transmission that is matched to the new engine. The Stallion 6×6 is also equipped with a modern, face-lifted cabin that is ergonomic, air-conditioned with bucket seats and fitted with a driver-friendly information display cluster panel. The parabolic spring suspensions in front improve ride comfort. The back-up Emergency Power Steering comes in most handy in treacherous conditions while the Semi-Automatic Tyre Inflation System helps when traversing across different kinds of terrains. The Stallion 6×6 can be used as Troop Carriers, Water and Fuel Bowsers, LRV and as the base vehicle to mount communication equipment and command control posts. This vehicle is already performing with the Royal Thai Army and is also operational in Honduras and South Africa.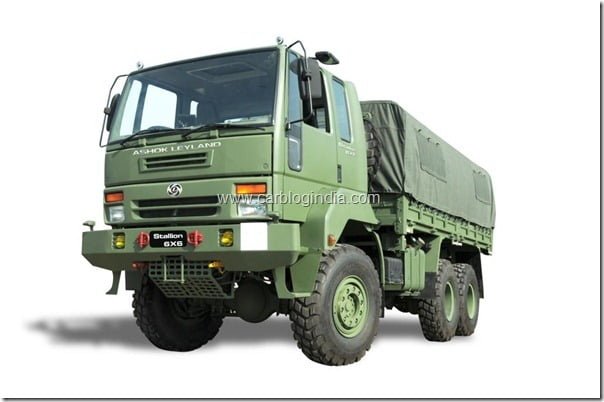 image – Ashok Leyland Super Stallion 6×6
Fleet Management System Support
Both these platforms are supported by a Fleet Management System (FMS) to ensure increased operational efficiency and fleet uptime. Fleet managers can track fleet usage, fuel usage and service complaints and plan scheduled preventive as well as corrective maintenance in addition to being informed about availability status of vehicles in the fleet. The simple and easy-to-use interface helps fleet managers, drivers and maintenance crews to log in vehicle data and generate relevant reports. Driver and mechanic training programmes can also be monitored through these dashboards. The entire FMS system can also be offered in a fully operational turn-key basis.
Ashok Leyland Defense Systems Exhibits at Defexpo 2012
Ashok Leyland Defense Systems, a joint venture Company, engaged in the manufacture of specialized tactical and armored vehicles, unveiled the first of the range of COLT tactical vehicles – the Light Tactical Vehicle (4×4). The Light Tactical Vehicles being developed through the Company's strategic partnership with Panhard General Defense, France.In addition, a new range of product concepts and systems developed with Krauss Maffei Wegmann Gmbh (KMW), Germany, were also unveiled.
COLT Light Tactical Vehicle (4×4)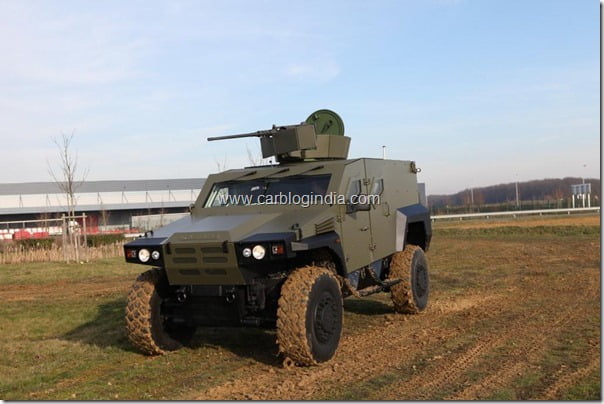 The COLT Light Tactical Vehicle (LTV), jointly developed by Ashok Leyland Defense and Panhard General Defense, has excellent mobility owing to a power to weight ratio of over 34 horsepower per tonne. It is equipped with a high performance chassis, a unique suspension system and an innovative patented armored hull. Essentially designed to carry out protected tactical liaison missions, the LTV can fill a large array of roles such as escort, patrol and command vehicles. The product is battle-proven and over 2,000 are deployed across 15 countries.
Check out more-
More Related News