Dubbed the AMB 001, it is a result of a collaboration between Aston Martin and Brough Superior. Its powered by a 997cc turbocharged V-Twin motor producing 182 PS of power and it will be limited to only 100 units.
You certainly know Aston Martin to be a maker of exquisite grand tourers and some sensational sports cars but we bet you certainly did not know that they also have been working on a superbike. Well, dubbed as AMB 001, it was one of the biggest highlights of the EICMA motorcycle show last year and Aston Martin has now started testing the motorcycle on the track. The Aston Martin AMB 001 is a result of a collaboration between the British sportscar manufacturer and Brough Superior, another equally iconic British brand.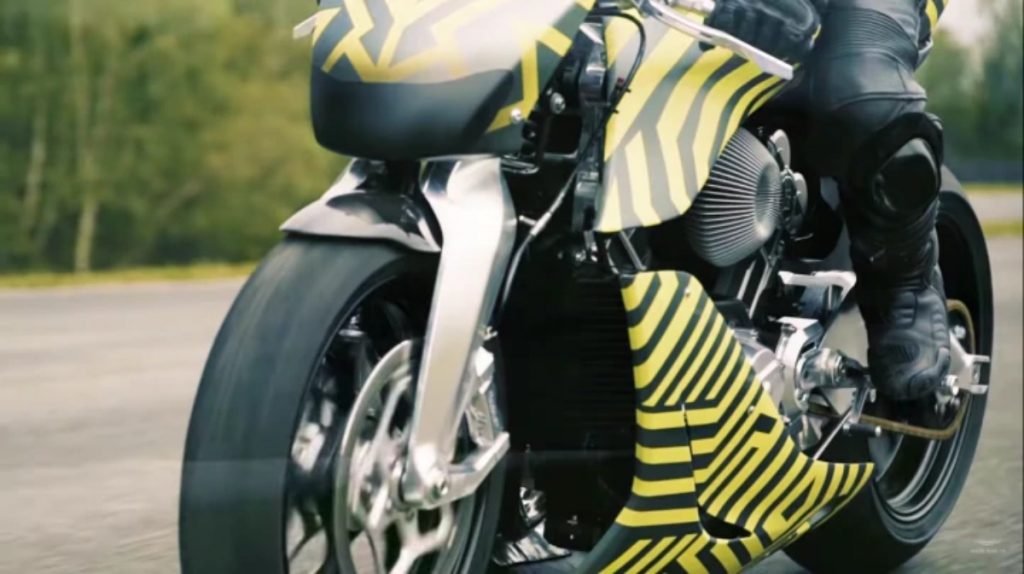 Brough Superior is a British motorcycle manufacturer from the early 1900s and had been nicknamed the "Rolls Royce of Motorcycles". If you do not know about them, Google them. They had some iconic motorcycles up their sleeves. But coming back to the AMB 001, it is track only superbike which is powered by a turbocharged 997cc V-Twin engine that pushes out as much as 182 PS of power. Also, the motorcycle only weighs 180 kg. So that's a power to weight ratio of 1:1 and you can already imagine the amount of performance this motorcycle would be capable of.
A CNC machined frame bolts directly on to the engine and the rear sub-frame is made completely out of carbon-fiber with Titanium interfaces. Aston Martin has begun testing the motorcycle on a race track which is going to be its primary environment and we are already thrilled by how its going around the track. Also notice the unique suspension setup on this motorcycle. This motorcycle uses a rare arrangement of two control arms and a shock absorber at the front, something we haven't seen on any other motorcycle.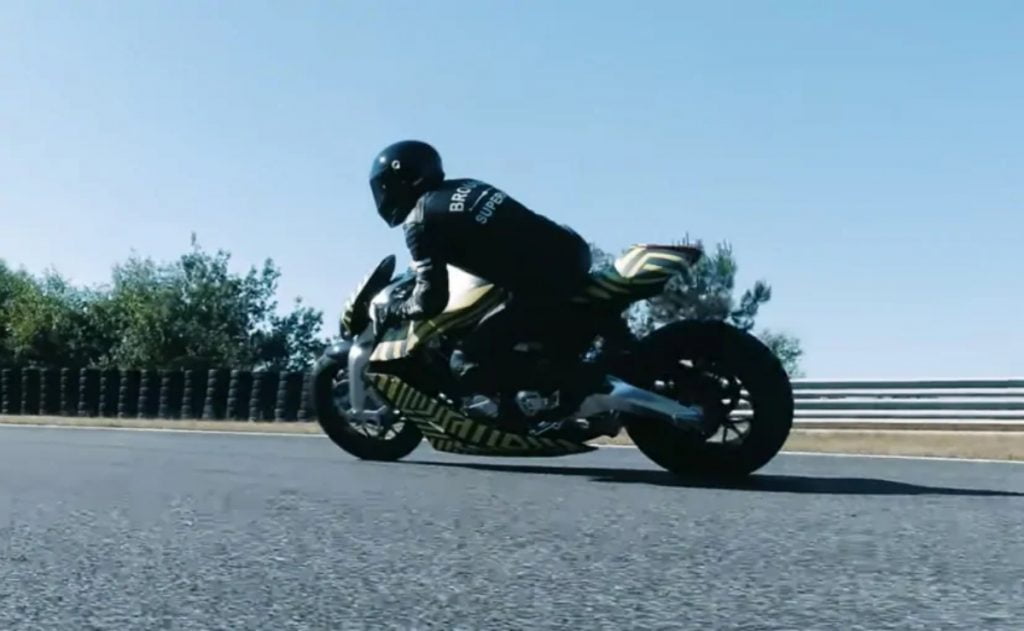 Also Read : A KTM 1290 Super Duke on Four Wheels – Here's What It Would Be Like
The Aston Martin AMB 001 also has a very unconventional motorcycle design. We love how muscular it is, particularly the fairing around the engine bay, and yet it looks so stripped out and bare bones for the rest of it. Although this teaser is barely half a minute long, it gives us a fair sneak peak at how the production spec model will look like. And it does look significantly different from the concept model showcased at EICMA. It also comes draped in Aston Martin's signature fluorescent camouflage and still looks sensation. The concept model at EICMA came painted in a sinister shade of silver.
Also Read : Triumph Tiger 900 Range Launched in India – Price and Details
The wheels of this motorcycle are made of forger aluminum and aerodynamics are a very important element about the design of the motorcycle. The Aluminum fin that runs the length of the motorcycle looks jaw dropping and there are are several winglets on the bodywork to aid down force. We also can't wait to find out how the turbocharged V-Twin engine will sound like. Of course this is a very limited run model and only 100 examples of this will be ever built. The price, you ask? Only €108,000 (around Rs 85 lakh). But that's still the most affordable Aston Martin you can ever buy.