India is growing in the electric two-wheeler segment. Currently, the market is gaining many new electric scooters and electric bikes as well. The trend of electric scooters started a couple of years back with Hero electric launching its range. Over the years, there are many new e-scooters, but the most popular among them is the Ather 450. 
Ather Energy is an electric-mobility startup that has its origin in Bengaluru. The city of traffic is where electric mobility is most advanced. The company launched the Ather 450 a year back and in just some weeks of it being launched, the bookings skyrocketed and there was a time where the waiting period was up to a year. So, we went out to Bengaluru to review the Ather 450 in its backyard. In this review of the Ather 450, we have talked about its battery and electric motor performance, its uber-cool features and the daily dependence of this costly electric scooter. FYI, the 450 is priced at Rs 1.23 Lakhs (ex-showroom).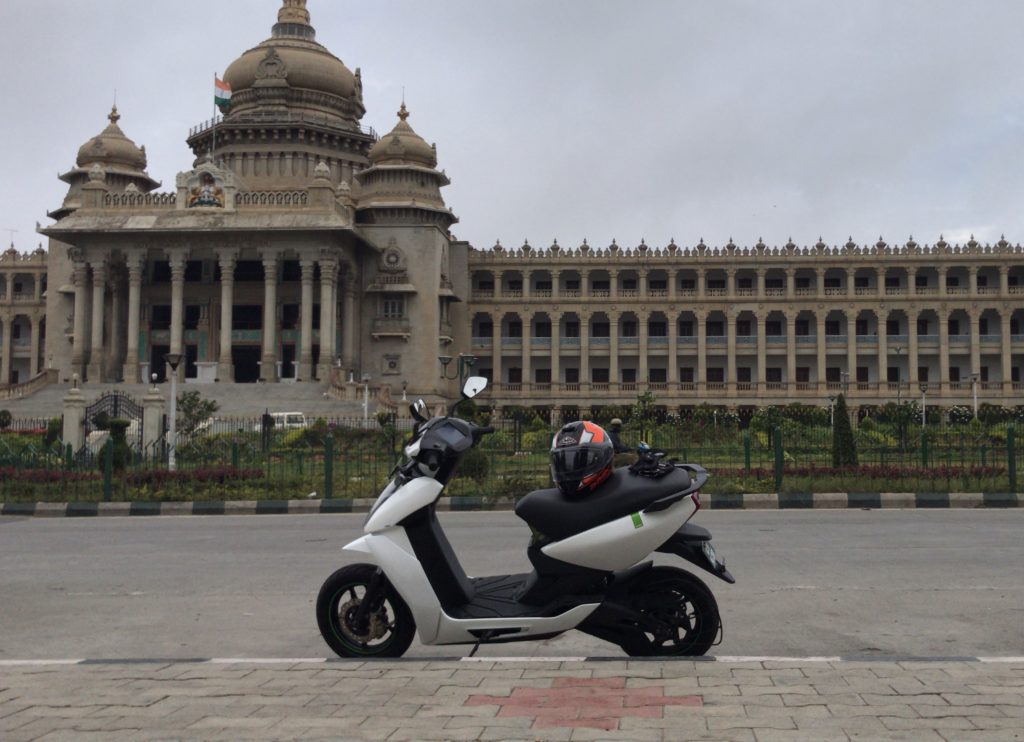 Styling
Ather 450 is is a futuristic-looking scooter with a clean design. There are no stickers or decals over the body nor there are any major styling bits. Yet, it manages to offer an elegant and classy look that we actually get from a Vespa scooter. From the front, it looks like a robot because of the slim turn indicators on the handle and the LED headlamp just above the fender. Available only in the White colour with a black stripe running through the front, it also gets alloy wheels, a unique LED tail lamp and the small Ather badging on the side fender, to complete its look.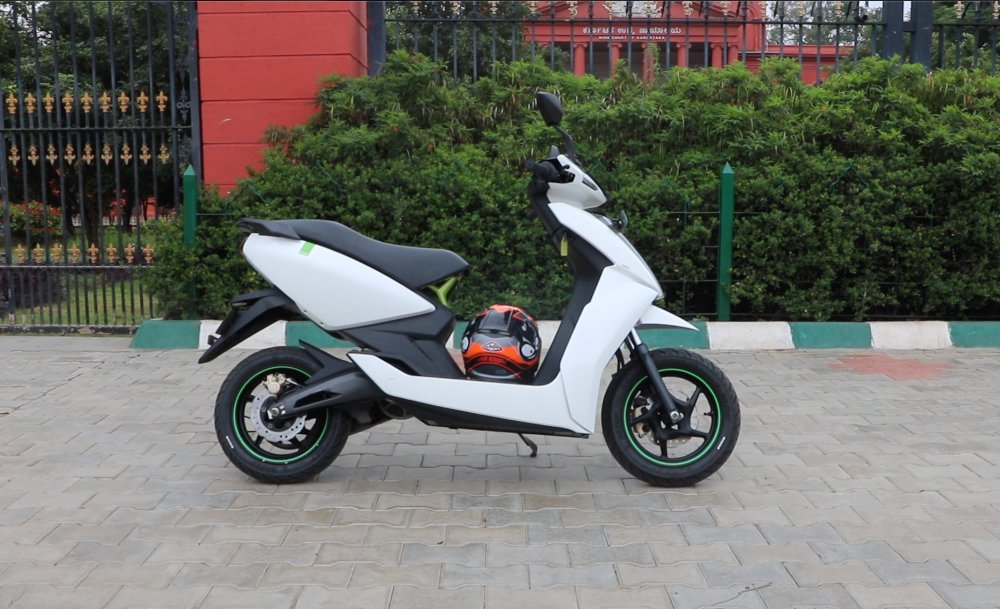 Performance
Powering the scooter is a 2.4 kWh electric motor that produces 7.3 BHP and 20.3 Nm of peak torque. Offered in three riding modes – Sport, Normal and Eco – these modes are limited to a different top-speed and accordingly offer an estimated riding range.
You would expect it to run like a normal electric scooter. Not much speed and not a thrill experience. You are wrong. Its as exciting to ride as a regular ICE scooter and of course, more thrilling than your regular scooters like Activa, Jupiter and Access. Its a scooter that you can put at par with probably, TVS Ntorq or Aprilia SR 125.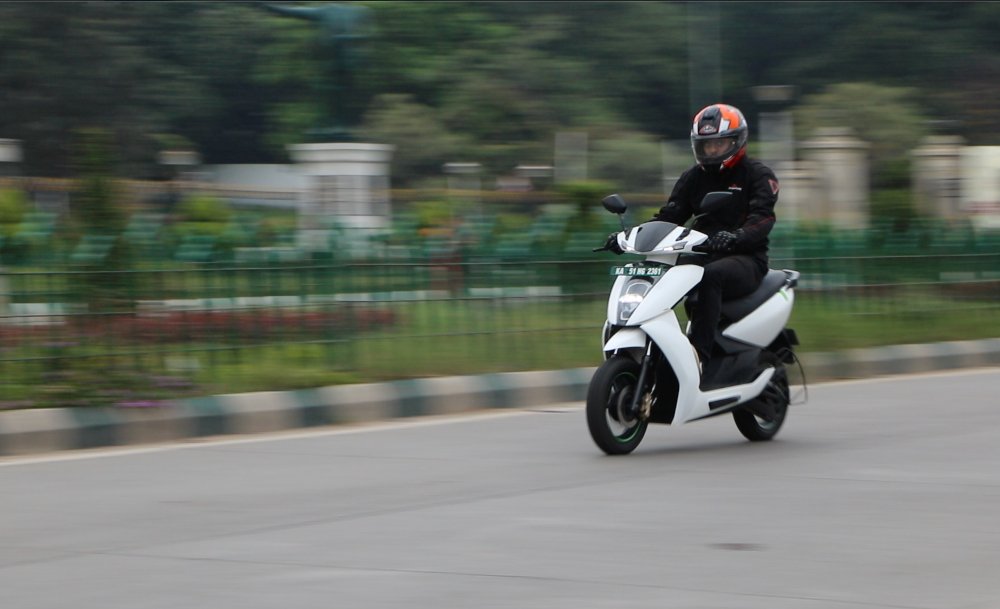 As expected, just pull the throttle and the scooter rushes ahead. There's no lag in the acceleration nor any disturbances. Let me tell you, I actually went up to 90 km/hr on this scooter. That was on the Sport Mode, which offers a range of 55 kms. On the normal mode, the speed is limited up to 60 km/hr with a range of 65 kms. On the ECO mode, your speed is restricted up to 50 km/hr with a range of 75 kms. Going by the discussion that I had with some existing customers over there, they have had ridden the Ather 450 up to 100 kms in a single charge.
Specifying the acceleration part, even if you have the throttle up to the end, the speed goes up swiftly and smoothly. Once you try it, you can actually feel that it does not take time for quick sprints. Another notable thing is doing a burnout on an electric scooter. Did you ever imagine? Neither did I.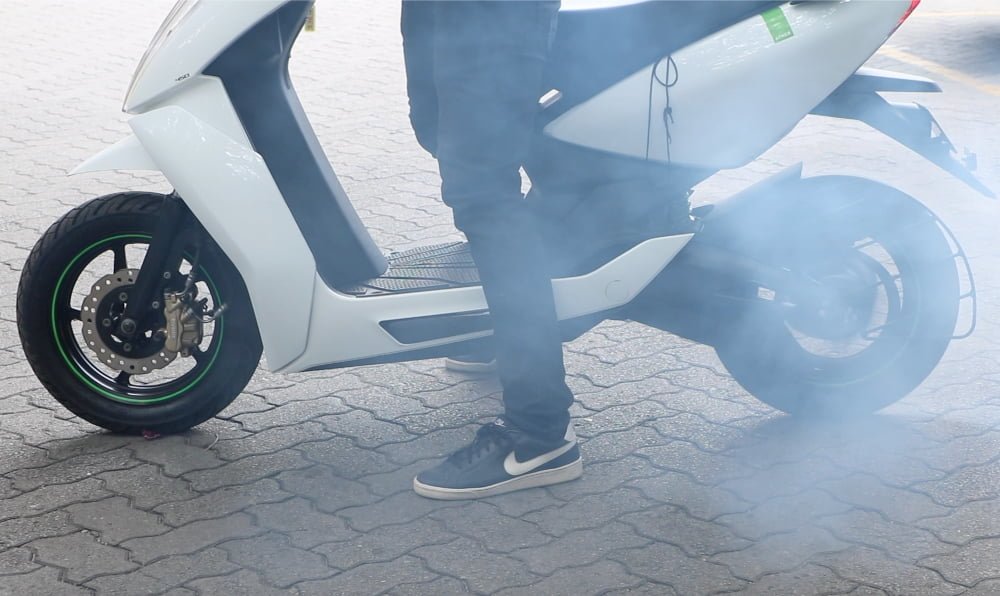 Lastly, I managed to stay over 80 km/hr for a decent amount of kilometres and during that experience, the scooter managed to stay perfectly stable. Other than the noise of the belt, there were no such undulations or vibrations creeping in. 
Charging and Battery
We thought of including this point in our review of the Ather 450, because obviously, it is all-electric. So, around Bengaluru, Ather Energy has many-many public charging stations installed. You have one outside their showrooms, cafes, restaurants and in the mall parking. Along with that, Ather offers an AC wall charger for your home, free of cost.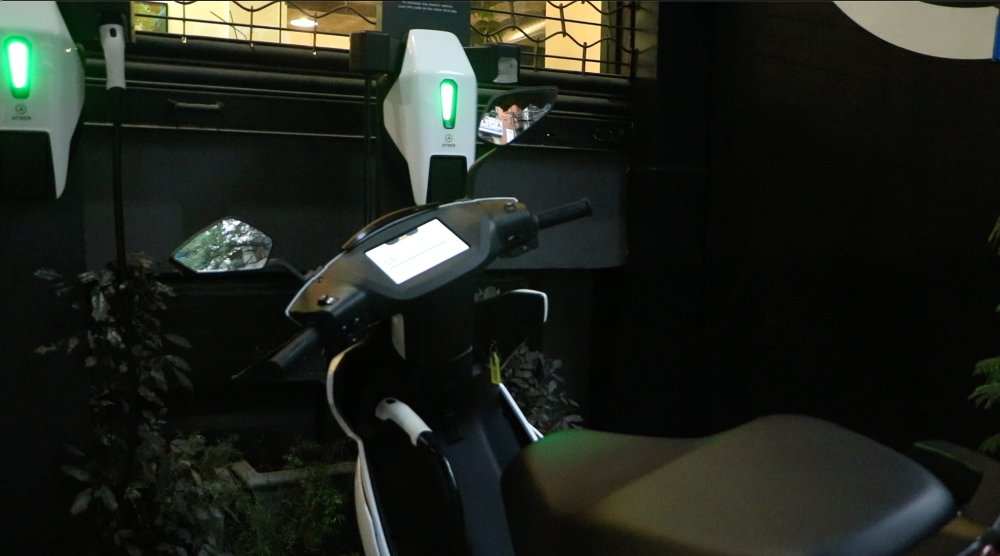 As for the battery, it gets a lithium-ion battery that takes around 5 hours and 15 minutes to be fully charged at home. At a public charging station, it takes nearly 50 mins to be charged up to 80%. 
Features
Here's another thing where Ather 450 manages to catch all the attention. First thing, you get a big 7-inch touchscreen instrument console with TFT colour display and IP67 waterproof rating. On the screen, you have a lot of information displayed, such as remaining range, riding modes, speed, battery charge, kilometres run and much more.
Inside the cluster, you have an integrated E-sim and so it manages all the internet related activities on its own. You have integrated Google maps that don't require the internet of your phone. Further, the Ather 450 has the process of OTA updates. With that, the system displays a notification on the screen and after confirming it, the system will be upgraded at the back. I mean that's how Ather introduced a new riding mode in the scooter.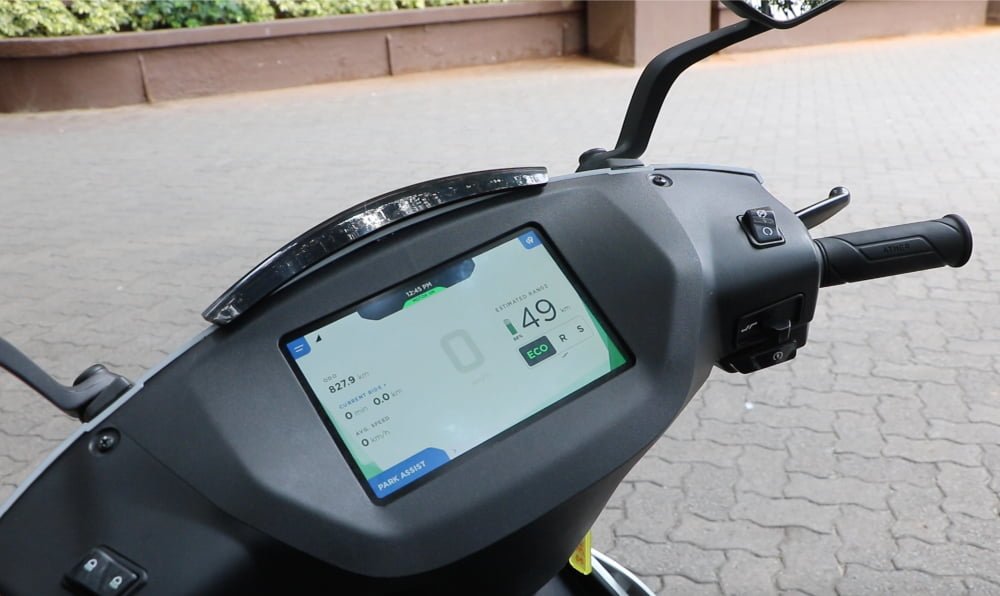 Other set of features include reverse parking assist, LED headlamps, front and rear disc brakes and LED tail lamps. In the reverse parking assist, the scooter gets a minor power input which makes it easy to park or reverse the scooter from down slopes. 
Ride Quality and Handling
Tipping the scales at 111 kgs, the Ather 450 is heavier than other electric scooters in our country. To improve the weight management system, the battery is low mounted and is placed in the exact centre. Actually, I think this management did not even make me feel that the scooter is over 100 kgs. I was earlier expecting it to be somewhere around 80-90 kgs.
Other than that, the scooter is quite easy to handle. Quick cuts with the sudden speed runs are sort of its forte. The grip of the MRF Zappers is not that confident, but yes, for this electric scooter, it just manages to get the job done.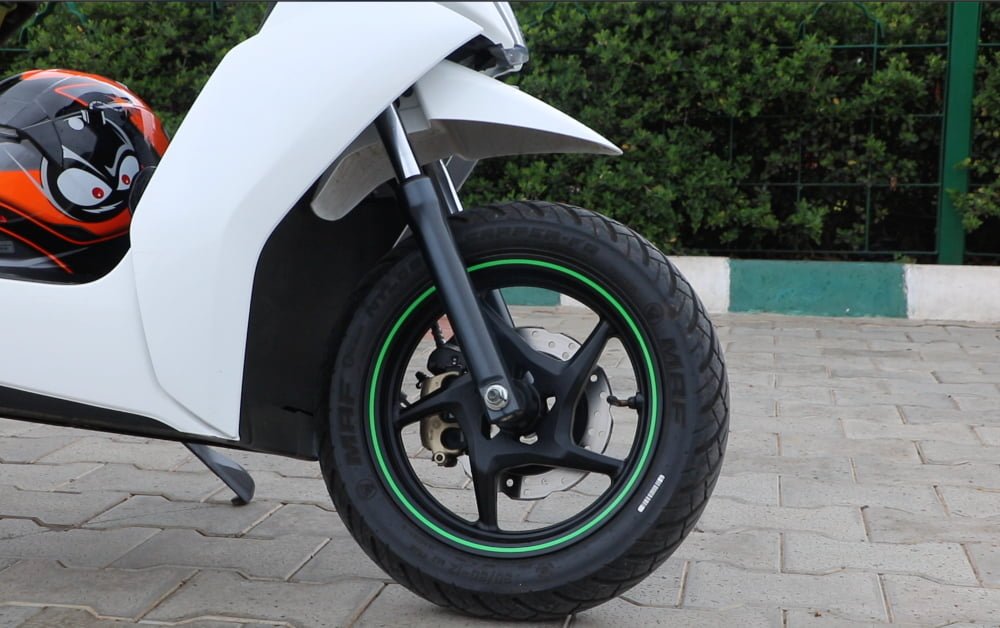 For suspension, you have telescopic forks at the front and a monoshock at the back. The setup is towards the stiffer side, which manages to absorb most of the potholes or damaged roads that you throw at it. Again here, it just manages to get the job done.
Disc brakes at both the end with CBS provide fantastic stopping power. Even if you have just pressed the brake level half, the speed comes down quickly. Overall, it feels like just any other ICE scooter in terms of handling, actually a lot better than some. 
Verdict
What's not to like about the Ather 450? You have a low-cost daily commuter that is cheaper than a petrol-powered scooter and also rides just like one. In comparison to the running cost of an ICE-powered scooter, the cost of Ather 450 is just 30 paise per km. That's literally 10% of a regular scooter. As of now, it is only available in Bengaluru and Chennai, where it costs around Rs 1.13 Lakhs and Rs 1.22 Lakhs, respectively (on-road). That's something costly that you have to pay, but in the end, your daily costs are quite less. Also, with various EMI options coming from as low as Rs 2,500 with a downpayment of Rs 60,000, of course, you can own the scooter in 18 months. I think Ather already has people waiting in other metro cities for its futuristic electric scooter. 
Stay tuned for the review of Ather 450 on our Youtube channel!
Join our official telegram channel for free latest updates and follow us on Google News here.