Comparing two vehicles to assess their performance via the drag race route is gaining a lot of traction lately on YouTube.
A YouTuber posted a drag race video of an Audi Q3 and a VW Virtus. Drag race is becoming the latest tool these days to compare the performance of two vehicles. The Audi Q3 in this race is the 2016 diesel variant, while the Virtus is the latest 1.5-litre turbo petrol version. We would like to urge our readers to not perform such stunts with your vehicles. These could be dangerous and, at times, cause damage to the components if not done properly. Let us check how well these two compete against one another on a drag strip.
You may also like: Skoda Slavia 1.0 Gives Hyundai Creta 1.4 A Run for Its Money in Drag Race
You may also like: Tata Safari Vs Tata Nexon EV Drag Race – Diesel Engine Vs Electric Motor
Audi Q3 vs VW Virtus – Drag Race
The Youtuber has chosen an isolated location where the two vehicles race each other on the adjacent lanes. For the first attempt, the YouTuber drives the Audi and the race begins on the third honk. Surprisingly, the Virtus took the lead from the very beginning. Throughout the race, the Audi couldn't catch the Virtus and registered a huge defeat. The YouTuber mentions that he was not prepared for the springy clutch in the Audi. The same fate greeted the Audi the second time with the Virtus posting a convincing victory.
You may also like: Mahindra XUV700 Gives BMW X5 Run for Its Money in Drag Race
For the next two attempts, the drivers were swapped. This ensures that the driving mannerisms are taken into consideration and the results remain consistent and accurate. In the third and fourth attempts, the Audi took the lead at the beginning but after the 90 km/h mark, the Virtus asserted its powerful mid-range performance to end up overtaking the Audi. In the final round, the Virtus was being driven in Normal Drive Mode with the AC ON. The Audi gave a tough fight after the handicap but ended up losing to the premium mid-size sedan.
You may also like: MG ZS Electric VS Mercedes A200 CDI Drag Race!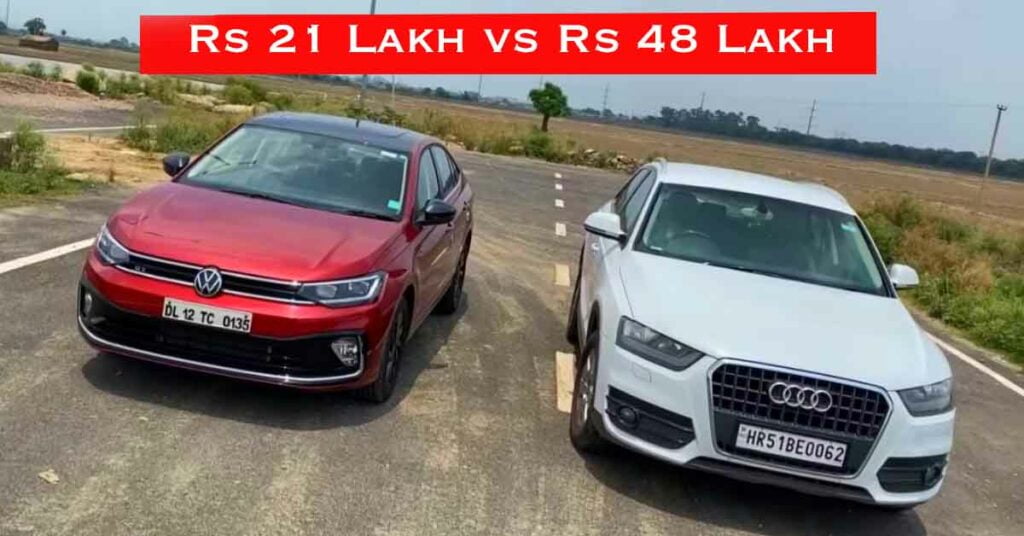 Specs Comparison
This version of the Audi Q3 came with a 2.0-litre diesel engine that produced 140 hp and 320 Nm mated to a manual gearbox. On the other hand, the Virtus comes with a 1.5-litre turbo petrol engine that develops 150 hp and 250 Nm of peak power and torque. This engine is mated to a sporty and quick-shifting DSG gearbox. Share your thoughts regarding this drag race.
Join our official telegram channel for free latest updates and follow us on Google News here.