Audi has unveiled the next generation competitor for the 2012 Le Mans 24 Hour race. Called as the Audi R18 e-tron quattro, the car is all set to debut in a 6 hours race at Spa-Francorchamps (Belgium) on May 5, before going for the final battle at the Le Mans on June 16 and 17.
Unlike its previous generations, the new car has been bestowed with two new technologies, e-tron and quattro. I know you have heard of these two technologies a number of times since they are not designed for race cars only but for production cars as well.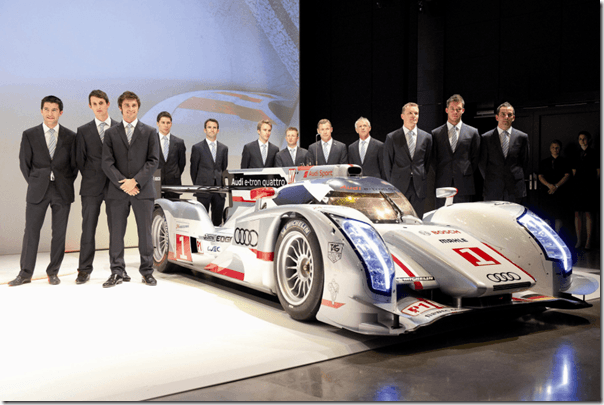 image – Audi R18 e-tron quattro Le Mans
The race also features a next generation all-wheel drive that incorporates the goods of the quattro drive system. In simple words, this arrangement is unique in a way that one of the axles is powered by conventional means while the other axle is powered by electric motors.
"Audi has always consciously selected championships and categories in racing that have a close relationship to production and therefore have technical relevance for the Audi customers," explains Head of Audi Motorsport Dr. Wolfgang Ullrich, who personally drove the new Audi R18 e-tron quattro onto the stage on Wednesday evening during its world premiere in the Audi Training Center at Munich airport – electrically and almost silent. "quattro, TFSI and TDI are three excellent examples of how motorsport has stimulated production development. A similar tendency is apparent with the e-tron quattro: we test a completely new technology on the race track before it's introduced to the Audi production line."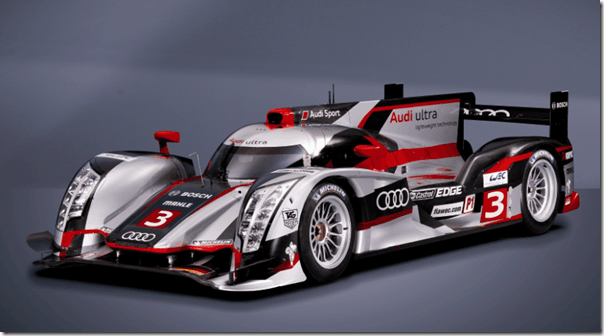 image – Audi R18 e-tron quattro Le Mans
It is fitted with KERS(Kinetic Energy Recovery System)at the front axle for recovering kinetic energy. The accumulated power can be used anytime at speeds above 120 km/h. Beside this system the majority of the power comes from the V6 TDI engine developing 510 BHP of max power and delivering it to the rear axle.
R18 e-tron quattro's twin brother 'R18 ultra' is also an innovation in itself as it is the lightest Le Mans prototype that Audi has ever built. The idea behind the 2012 prototypes was to keep them as light as possible and to compensate for the extra weight added by the hybrid systems, Audi made a major change to the transmission arrangement of the car and installed a new gearbox with a carbon-fiber composite housing .
"The new R18 ultra is a distinct evolution of last year's Le Mans race winning car," summarizes Head of Audi Motorsport Dr. Wolfgang Ullrich. "Our drivers' impressions were very positive from the first moment. Without the weight optimized R18 ultra we would have not been capable of realizing the R18 e-tron quattro which is absolutely identical with the exception of the hybrid system."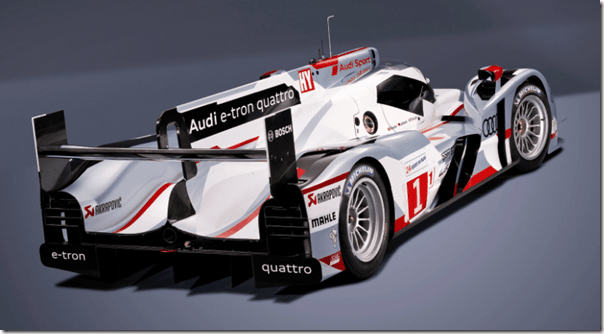 image – Audi R18 e-tron quattro Le Mans
For the 2012 Le Mans race two R18 e-tron quattro and two R18 ultra Audi Sport Team Joest will participate with two R18 e-tron quattro and two R18 ultra prototypes for 24 Hours on June 16/17. The two hybrid cars will be driven by last year's winning trio Marcel Fässler, André Lotterer and Benoît Tréluyer
as well as Dindo Capello, Tom Kristensen and Allan McNish who boast a total of 13 Le Mans wins between them. New signing Loïc Duval starts together with Timo Bernhard and Romain Dumas in an R18 ultra as do Marco Bonanomi, Oliver Jarvis and Mike Rockenfeller.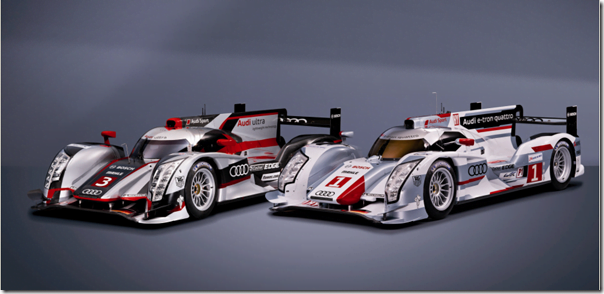 image – Audi R18 e-tron quattro Le Mans
Join us for FREE NEWS Updates on our Whatsapp Community or our official telegram channel.