What is it?
Think station wagons and chances are you'll visualize old Volvo-badged estates dotting the streets of the West. The Audi RS6 Avant, however, is the very anti-thesis of such boring, drab-looking cargo-haulers. This German wagon from Ingolstadt boasts supercar-rivaling performance, with the sprint to 100 KMPH taking less than 4 seconds! Even the top speed, which is 'electronically nannied' at 250 KMPH, is supercar-class. The RS6 Avant is perched at the pinnacle of the RS range; it packs a 4.0 V8 TFSI outputting 552 BHP-700 Nm- just about enough to disturb Mother Earth's planetary movement. Don't let the body-type take you for a ride, for this one's no ordinary car. Read on for more on this "hair-trigger war-wagon" in our Audi RS6 Avant Review here.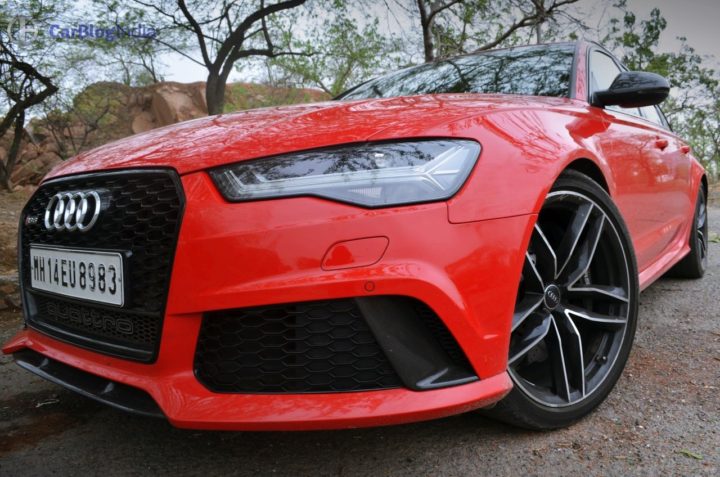 Also See- Audi RS7 Sportback Review | Audi R8 V10 Plus First Drive
Looks
Sharp lines, vigorously taut surfaces, gaping air intakes, tasty mags – the RS6 Avant makes no bones about its single-minded pursuit of speed. True, we're looking at a typical station wagon silhouette here, but the tastefully-designed bumpers with large air inlets, the rear diffuser, the carefully honed side sills are dead giveaways of the RS6 Avant's high performance credentials. The stylish matrix headlamps are another highlight of the package.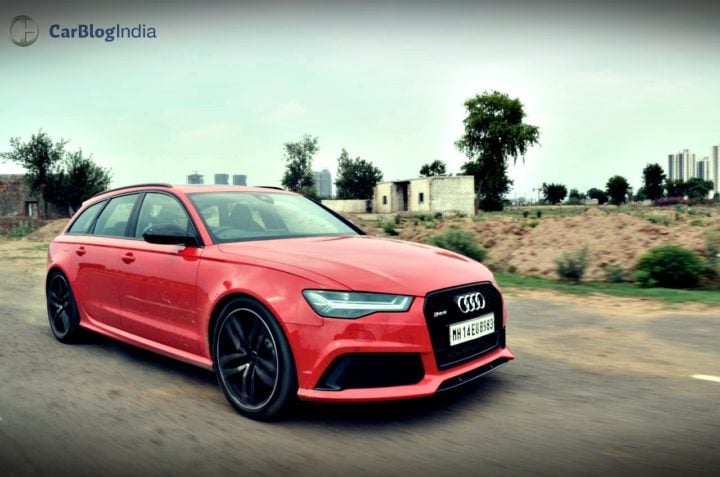 The RS6 Avant has virtually the same drag coefficient (0.35 cd) as the Ferrari 458 Italia. Please note that here it's the downforce that takes precedence over slippery economical lines of a family sedan. The interior reeks of richness and luxury. The cabin, however, is quick to reinstate its performance aspirations through all-black Alcantara upholstery and a flat-bottom three-spoke steering wheel. The long features' list is only befitting a car that costs as much as a 2-BHK in the Delhi-NCR suburbs.
Also See- New Audi A4 Review
On the Road
The RS6 Avant shares a large part of its tech specs with the totally bonkers RS7 Sportback, which means this car's rather outrageous power figures are hardly surprising. For the record, the 4.0-litre TFSI twin-turbo V8 outputs an almost earth-spinning 560 BHP and 700 Nm. This engine has its turbochargers placed inside the 'V', while the air intakes are positioned outside the motor. This layout leads to a high thermal efficiency as well as reduced emissions.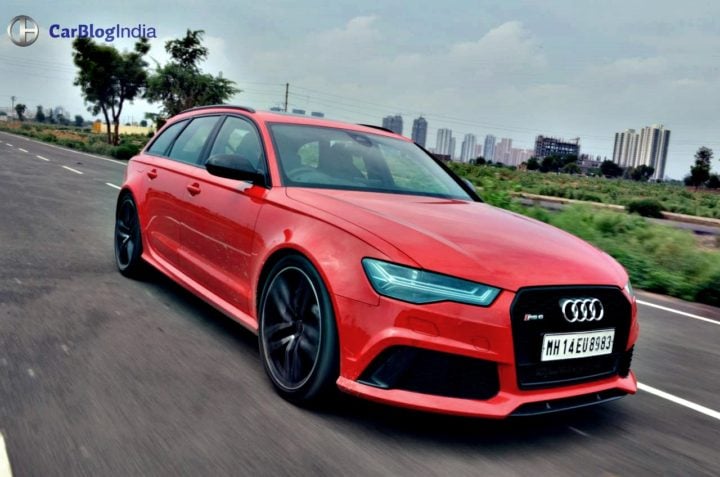 There's probably nothing that can outpace the RS6 Avant in a straight-line. This car is very quick off the block, yes, even quicker than many supercars. With a claimed 3.9 seconds sprint to the ton, the RS6 Avant is as fast as the sinister RS7. Power delivery is strong right from the word 'Go' with no turbo lag to speak of. The non-DCT (Surprise surprise! It's a torque converter) works efficiently; the gearbox is so good that one is bound to be hard pressed to find a fault with this single clutch transmission. The RS6 Avant is heavier than the likes of Porsche Panamera Turbo and Mercedes-Benz CLS63 AMG. Yet, it is quicker than these. In India, the RS6 has an electronically-limited top speed of 250 km/h.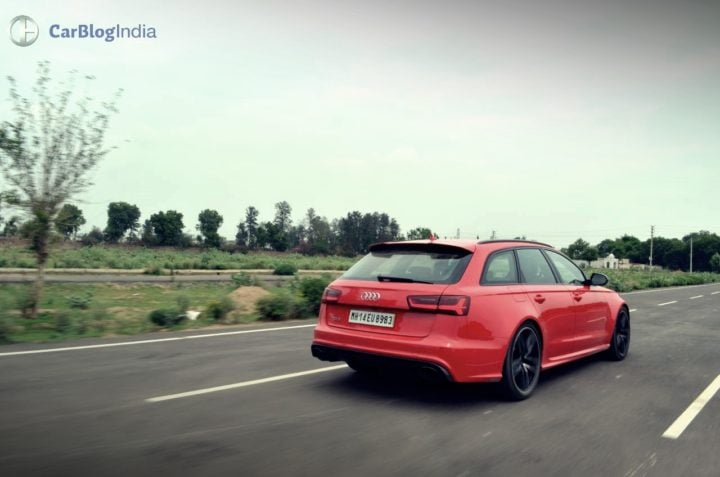 The RS6 is not only supercar fast, it also sounds like one. There's a fierce, almost menacing sound note – the exhaust pops audibly at upshifts, while easing off the throttle is marked by a raging crackle! Thanks to its Cylinder-on-Demand technology, the RS6 Avent makes sure to keep the Greenpeace from frowning. The on-board computer indicated as much as 10 litres per 100 kilometres, though it really takes an iron will to drive like a Grandpa.
Around the Corners
The RS6 Avant offers an absolutely gob-smacking, gut-wrenching, grab-ya-by-the-lapels straight-line performance. This car's corner-carving capabilities, however, leave a bit more to be desired. While there's nothing very wrong, what's a tad unnerving is that the steering offers next to no feedback. That said, the steering is definitely precise but it sure needs to enhance its communication skills. All this means you're ultimately left with little confidence while tackling the twisties. The body control, however, is pretty good. Yes, there's a hint of body roll in 'Comfort' mode, but switching to the 'Dynamic' ensures all of it is completely dialed out of the equation. The steering, too, in this mode, gets a tad heavier, which means you go apex hunting with at least some more confidence. However, the steering weighs up in a very artificial manner, which, while not a deal breaker, is a slight put off.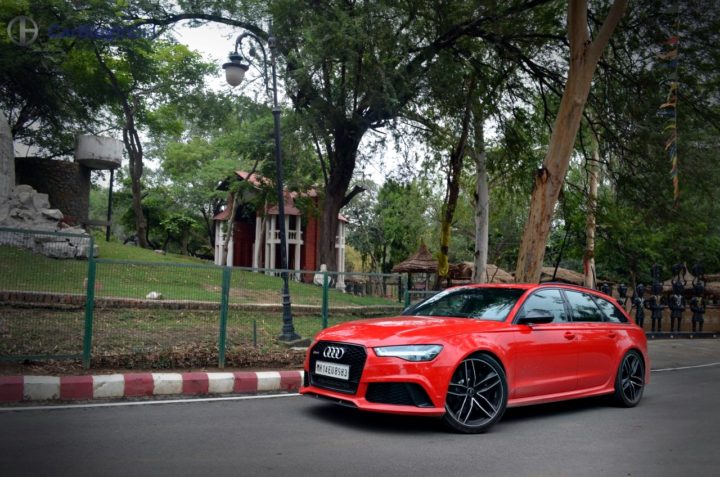 While the handling manners aren't too off the mark, the ride quality does lead to a big disappointment. Ok, we never expected a 'magic carpet' ride, but the RS6 Avant gets a tad too hard while going over even the slightly broken tarmac, especially in the Dynamic mode. Regular driving is best done in Comfort settings, where the suspension does get soft and more forgiving.
Should I Buy One?
Why yes, of course! The RS6 is faster than your 'average' GT and it can munch down the miles like nobody's business. Also, it provides more practicality than a typical executive saloon. The Audi RS6 will drive you and yours in a luxurious, fairly cossetting environment, and look a million bucks too. Also, it will gleefully have all the slow-moving traffic for breakfast, and then some.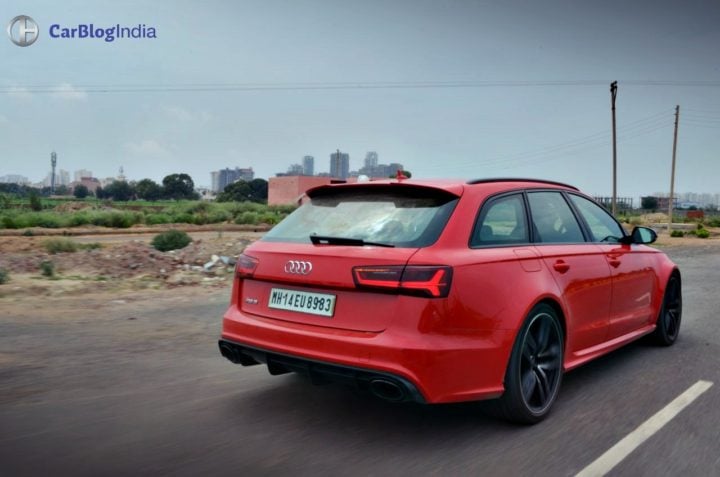 On sale for almost Rs. 1.4 Crore in India, the RS6 Avant doesn't come cheap. However, it delivers a supercar-rivaling performance whilst offering comfort levels akin to similarly priced luxobarges. Practicality of a station wagon and performance of a supercar; best of both worlds, anyone?
What do you say about our Audi RS6 Avant Review here? Do let us know by commenting below.
Join our official telegram channel for free latest updates and follow us on Google News here.