The electric mobility is growing rapidly in India, in two-wheeler as well as the four-wheeler segment. Talking about electric scooters, they are apt for your in city commuting. If not in metro cities, they come in very practical in tier-II cities and towns. Here, we have the Avan Xero+ electric scooter for our review, which is all-in practical. Avan Motor is a Delhi-based startup that makes electric scooters and there are currently three in the lineup. The Xero+ falls second in line. So, in this review of the Avan Xero+, we have talked about its performance, battery capability, practicality and whether it can pass off as a daily dependence.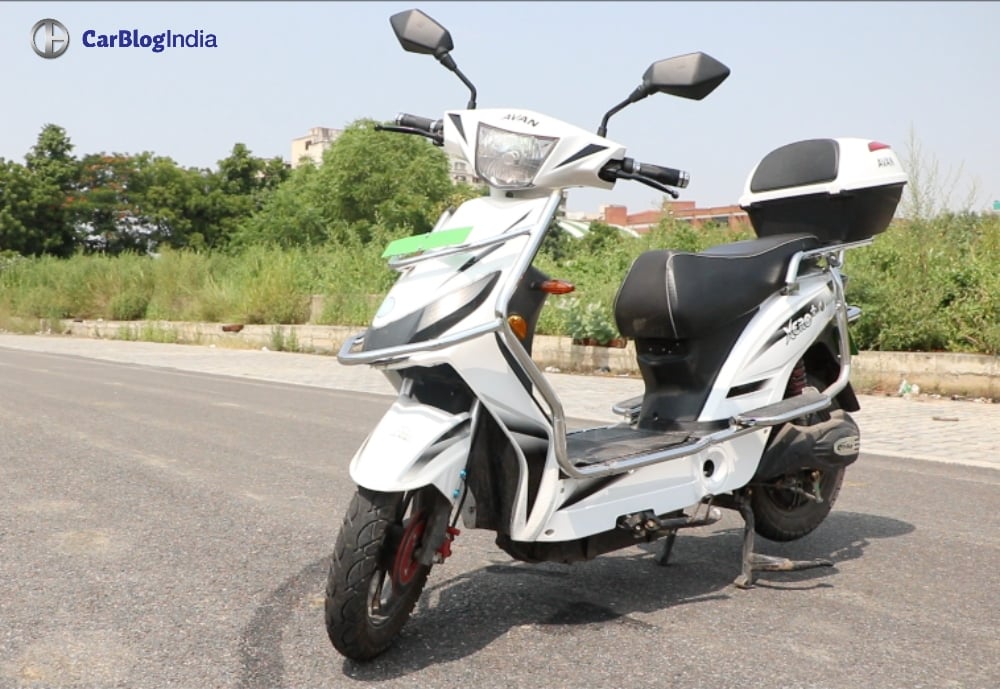 Styling
To be frank, there's nothing fancy about the scooter. It is just your plain and slim looking electric scooter with alloy wheels, a conventional design that might remind you of the old Bajaj Sunny and an awful looking storage box at the back. I am sincerely not a fan of it, but it actually comes in very very practical. If styling is your bigger concern, then you should consider the Trend-E. 
Performance
On the Avan Xero+, you get dual-lithium batteries that offer a claimed riding range of 110 kms, combined. In the real world, the range came down to 60-70 kms if you are light on the throttle. Another good thing is that the scooter gets removable batteries, that you just have to unplug and take home. However, those are really heavy and if you carry both of them at once every day, you are on your way to becoming a bodybuilder (Just Kidding!).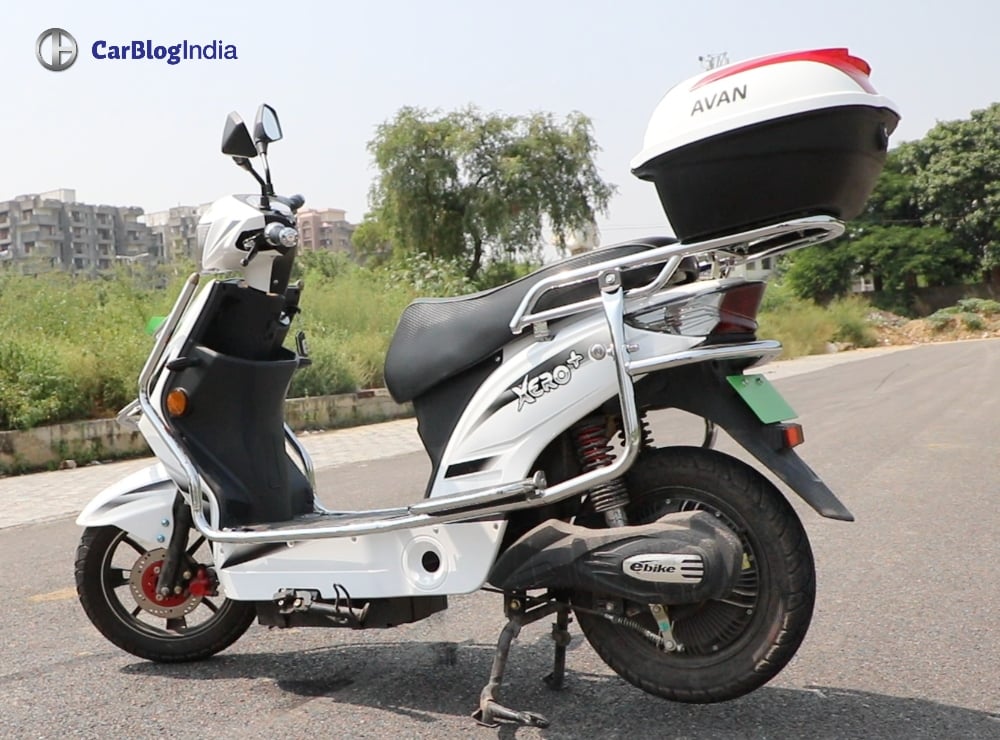 Avan Motors offers a box-type charger along with the scooter which can be put it any three-pin plug. So, even if the battery of the scooter is running out and you are away from home, just find a cafe or a restaurant with charging points and you can charge the scooter. To fully charge a single battery, it takes nearly 2 and a half hours. So, for both the batteries, it is up to 5 hours. However, I wish there was some input for the dual-charging port. While most of them will put the batteries to charge just before their sleep, they will have to actually get up in the night to put the other one to charge.
On the other hand, the Xero+ goes up to max 50 km/hr, which is all right if you are in the city. My office commute requires me to go through a big stretch of four-lane highways. Keeping up with the fast-moving traffic was a bit tough, though. I would recommend the buyers to keep the speed between 40-45 km/hr, which should give you a good riding range.
Talking about the acceleration, the scooter is quick on its toes. Just throttle up and you start gaining speed instantly. Xero+ gets three riding modes, all three offering a different top-speed and in-turn offering a different riding range. For my office commute, I was constantly on the third mode which offered the top-speed. If you are travelling within your society, complex or area, you are fine to go on the second mode.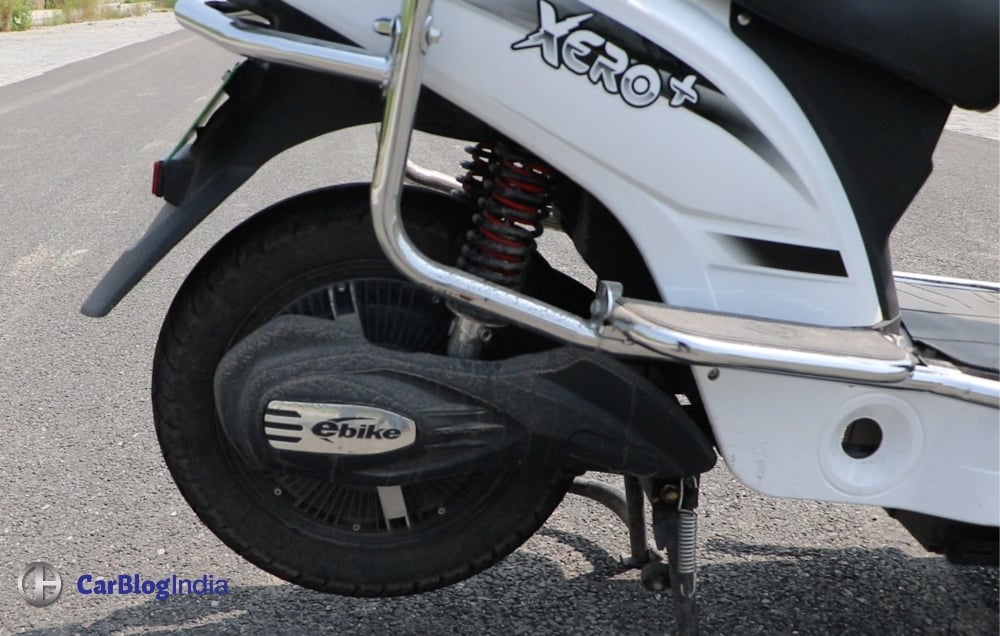 Handling
Weighing in just about 80 kgs (with battery) and 62 kgs (without batteries), it is very easy to handle. The seat is also low-heighted and combined with low weight, you can take quick small cuts on the scooter. This is helpful for aged riders as well as women.
Although, since me being tall and able to handle bikes of more weight, I found it a bit nervous to ride at times. Since the tyres are also thin, a couple of times, while putting extra weight on turns, the tires started to slip. It is not a flaw, but just a problem that I faced over time.
The suspension is what bothered me too much because the setup is stiff and the scooter did not manage to soak up potholes easily. Perhaps a softer suspension would have been better. Braking is handled by a front disc brake and a rear drum brake. The bite of the brakes was decent enough for your confidence.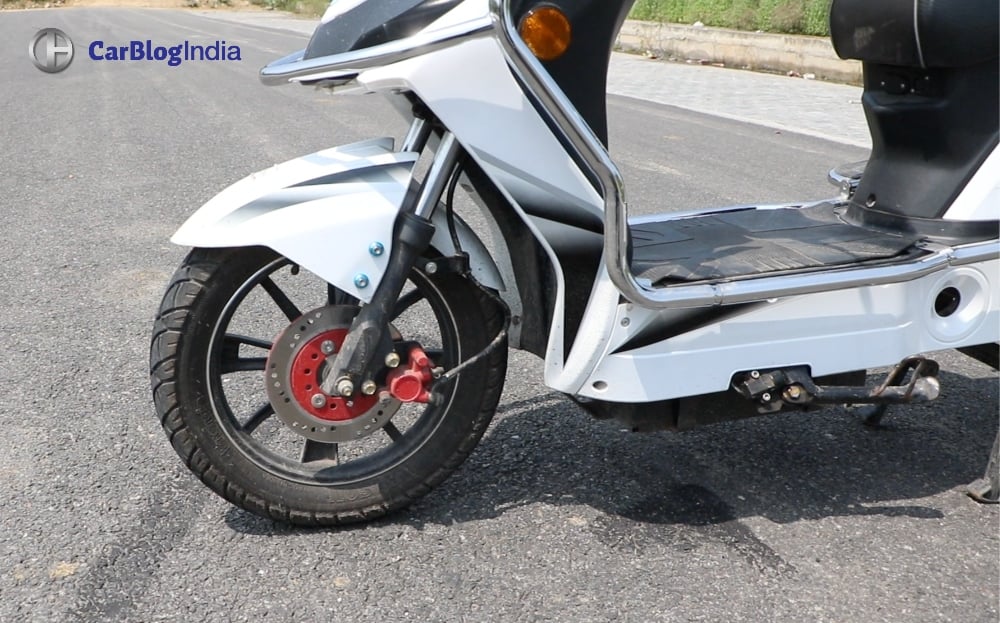 Features
The Xero+ is equipped with a halogen headlamp, a USB port at the front, a front pocket for the mobiles and all, a huge storage box which can easily fit your helmet, a fully digital speedometer with battery status, riding range, etc and a metal crash protector. The under-seat storage is very less and cannot fit a half-face helmet as well. It is best suited to keep small things or its charging box. 
Verdict
Coming in at a price of Rs 62,500 for the Single Battery variant and Rs 77,200 for the double-battery variant, it is priced alright. In comparison to the ICE-powered scooters, it is actually at par with Vespa scooters. Its all about practicality here and the Xero+ has managed to score well in that point. Not full, but well. Improvements would include a slightly higher top-speed, softer suspension and bigger under-seat storage. But in the end, you are not paying for your everyday fuel and the cost of ownership is also quite less.