Bajaj India has officially launched the Bajaj Pulsar 200 NS on 7th June 2012 at an ex-showroom Pune price of Rs. 84,096 which makes the on-road Pune price of about Rs. 94,300. The ex-showroom Delhi price of the Pulsar 200 NS is Rs. 85,000 which is expected to make the on road price of close to Rs. 95,000 which is quite a killer pricing. Bajaj has clearly mentioned at the launch that this pricing is not introductory which means that there will be no significant hike in the prices after a few months which happens for many new launches these days. Since the media preview of the Pulsar in January 2012, there have been rounds of testing of the Pulsar 200 NS and there have been some minor changes made to the production version since. Some of these changes include – brighter 55 Watt headlamp for better visibility, change in the positioning of number (license) plate, change in the position of rear tyre hugger for better protection against mud or water flying off the rear wheel on muddy surfaces.
Updated on 9th December 2013
Bajaj Auto has officially announced the introduction of 3 new dual-paint options for the Bajaj Pulsar 200 NS, they include: Passion Red and Ebony Black combo, Safire Blue and Ebony Black and Metallic White and Ebony Black combo. No changes have made to the bike in terms of equipment or mechanicals. The bike is priced at about Rs 90,000.
Updated on 18th November 2013
Bajaj has revealed three new dual-tone paint options for the Bajaj Pulsar 200NS, via posts on their facebook page. The paint combos include a black-and-white combo, a red-and-black combo and a red-and-black comobo. The company has not revealed the timeline for the introduction of these paint options in the showrooms though. We will keep you posted on further developments, keep tuned in to Car Blog India. Check out the photos below:
Updated on 11th June 2012
The Bajaj Pulsar 200 NS is powered by a 200 CC three-spark single cylinder petrol engine which is one of its kind in India. The three spark-plugs technology has not been used on any motorcycle or car engine in India so far and is expected to be the reason behind the high performance and economy of the new Pulsate 200 NS engine. Bajaj's established DTSI (two-spark plug) engines have been successfully powering a lot of bikes from Bajaj Pulsar and Discover series and tri-spark is a step further in the improvement of the DTSI series.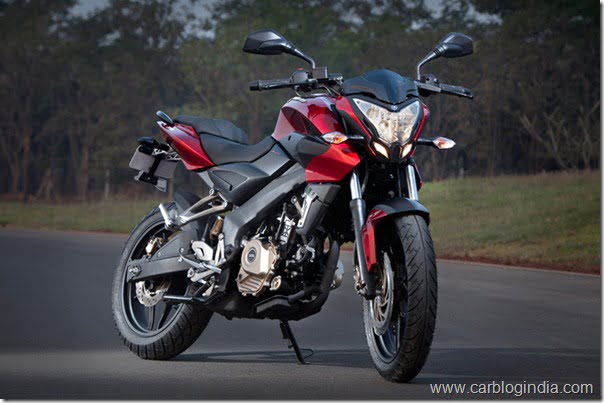 Bajaj Officially unveiled the Pulsar 200 NS in India on 30th January 2012 and announced that it will keep the price of the bike under Rs. 1 Lakh mark and will launch in a few months from its official unveiling. There has been more than expected delay in the launch of the Pulsar 200 NS but the same might have been because of fine-tuning the bike for Indian roads before hitting mass production. Bajaj has also recently unveiled the Bajaj discover 125 ST in New Delhi which will also be launched in a few months form now.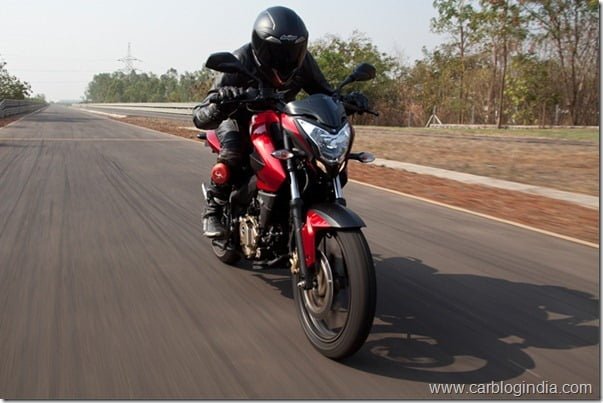 With a price of Rs. 94,300 on road Pune and Rs. 99,220 on-road Mumbai, we expected that Bajaj Pulsar will create a good sales volume for Bajaj Auto and will attract many buyers towards it. The Pulsar 200 NS is powered by a 200 CC Engine producing 23.5 PS of power and 18.3 Nm of torque with a top speed of 136 KMPH. It is one of the most powerful bikes from Bajaj India and is hugely inspired by the design elements of KTM as it is designed by the same team in collaboration of Baja and KTM. With this aggressive pricing of Pulsar 200 NS, Bajaj has given a big reason to the competitor to worry like price of sporty Yamaha R15 version 2.0 is approximately Rs. 25,000 higher while the newly launched Honda CBR 150R is also priced at about Rs. 32,000 higher which is big difference of about 38% over the price of Pulsar 200 NS.
Stay tuned to us for more updates on Pulsar 200NS. You can bookmark this page and come back again later for more updates.