While the ongoing pandemic has restricted outdoor movement, you can still check out your favorite Bajaj bikes via the company's virtual showroom.
There has been a sudden increase the coronavirus cases in the last few weeks, leading to stronger restrictions and outdoor movement. However, this does not mean that you can't go and check out the bike you are wanting to buy. Fortunately, Bajaj Auto Ltd. has opened a virtual showroom that will allow customers to check out bikes like Bajaj Pulsar and Dominar. So, until real showrooms open back, you can check out the Bajaj bike in detail and make up your mind. Let us show you how to access the new digital showroom by Bajaj below:

Also read: Bajaj C150X Could Be Perfect Commuter Bike for Indian Roads
All you need to check out the latest Bajaj motorcycles virtually is a smart device. You can simply go to the Bajaj Auto website on your smartphone or tablet. The digital showroom allows you to take a closer look at the bike parts. You can also check out different colors from all directions. Bajaj also claims that in the new virtual showroom, customers will be able to place the life-size bike in real environments. So what are you waiting for? You can now take a Bajaj bike for a spin. Overall, the new showroom is a great addition to the user review videos. It adds a certain value fo sure. Lets us know if you are excited to check out the new virtual showroom by Bajaj.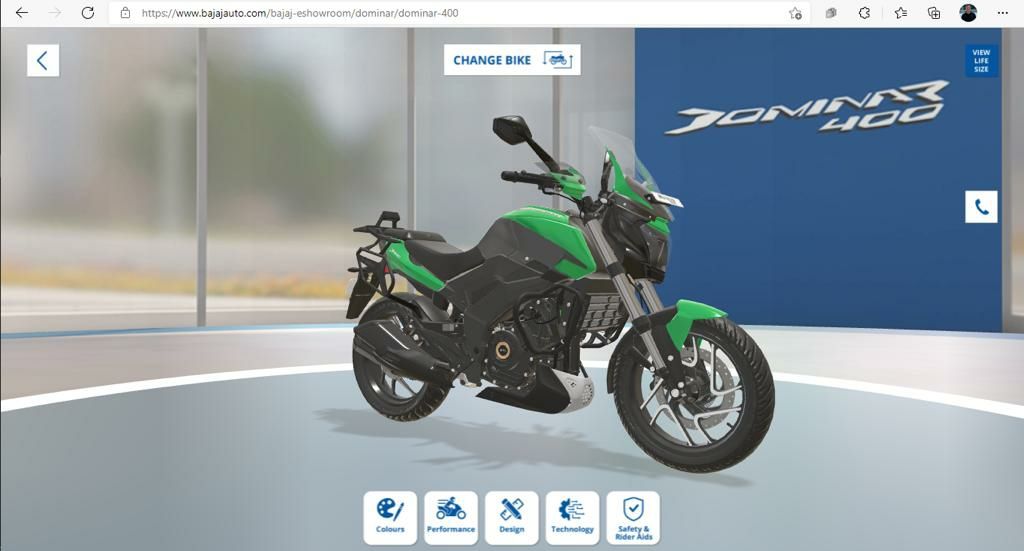 Also read: Bajaj's Biggest Secret Ever? – Pulsar N400 & F400 Spied
Currently, the Bajaj Pulsar and Dominar are the most popular bikes from the brand. The Bajaj Pulsar is one of the most iconic motorcycle brands for over two decades now. While the Pulsar range was initially available only in 150 and 180 variants, it now includes models with 125cc to 250cc engines. The latest addition to this motorcycle range is the Pulsar N250 and F250. Both bikes went on sale last year. On the other hand, the Bajaj Dominar 400 is a performance-oriented bike with touring characteristics. The 400 cc bike comes at a relatively affordable price. It comes with a 6-speed gearbox with a slip-assist clutch, 17-inch stylish alloy wheels, dual-channel ABS, a double-barrel exhaust, and more. You can choose from two color options – Aurora Green and Vine Black. The Bajaj Dominar 400 comes in two variants – BS6 and Dominar 400 Accessorised.
Also read: Fully Faired Bajaj Dominar Offers Proper Big Bike Look