Although the population of cars is increasing day by day globally, there are still plenty of price conscious buyers left who are yet to own their very first vehicle. Obviously when you are price conscious and a first timer at the same time, you need to take each step carefully. There are lot of small cars in Indian market and in this article, we are here with a list that contains the best and most popular five most affordable hatchbacks or top 5 small cars for first time buyers.
We have compared these cars in terms of price, mileage, power, performance, handling and value for money factor, which are some important points when a buyers is opting for his / her fist small car. In this article, we are talking about the petrol cars only, In case you are looking for a diesel car we have already covered the popular list of Top 5 Diesel Cars Under Rs. 5.50 Lakhs here.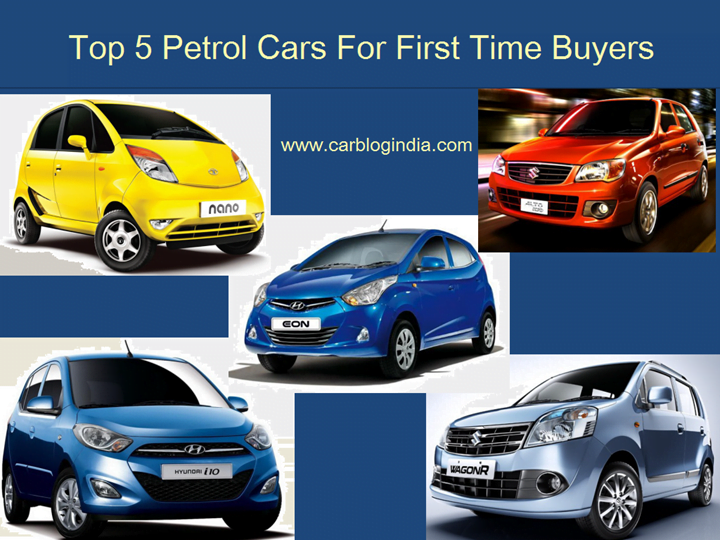 Tata Nano
Tata's most ambitious project so far, the Tata Nano was an immediate hit when it was launched but over months, the sales started declining. But in the past couple of months the car has once again started picking up sales. Let us now talk about the positives and negatives of the Nano. The very first thing that is considerable is the looks of the car, it is very cute. It is fairly spacious for 4 adults with generous legroom and headroom. The car has a small turning radius which is great for congested locations. It sports a 624 CC, 37 BHP 51 Nm engine that returns a brilliant mileage of 25.4 KMPL. The performance of the car is quite peppy below 75 km/hr after which it feels choked. It equips a powerful AC, powerful enough to freeze you. Now coming to the letdowns, the steering is too heavy at parking speeds, low quality plastics, missing glove box, absent front disc brakes non-openable rear hatch. Some niggling issues have also been reported but considering the car's affordable price tag, they can be overlooked. The car is priced between Rs.1.4 lakhs and Rs.2.1 lakhs.
Maruti Alto / Alto K10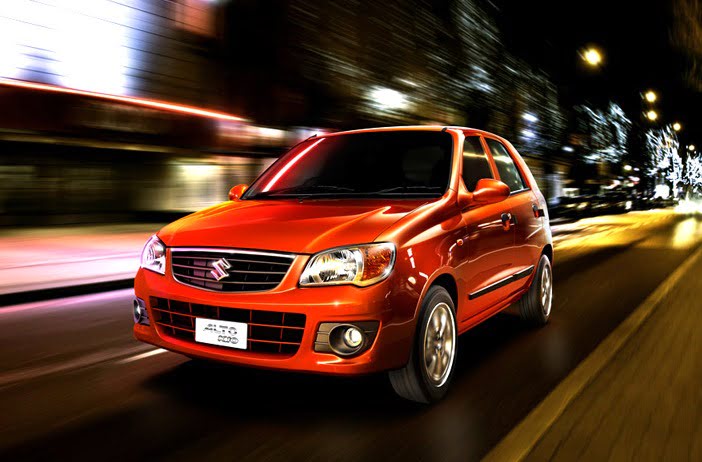 Maruti Alto is probably the only car after Maruti 800 which manages to sell like hot cakes. For years the car is doing great and the latest iteration K10, is even better. The new car comes with numerous improvements and is fun to drive. The new Alto K10 has a 1.0 litre K10 engine that delivers 67 BHP of max power and 90 Nm of peak torque; considering the kerb weight of this car which is 760 Kgs only, it has a good power to weight ratio. The car is perfect for a small family and offers an ARAI certified mileage of 20.2 KMPL. There are not many downsides of the car as such, though plastic quality and steering might disappoint you a little. The car is priced between Rs.2.4 lakhs and Rs.3.3 lakhs.
Hyundai Eon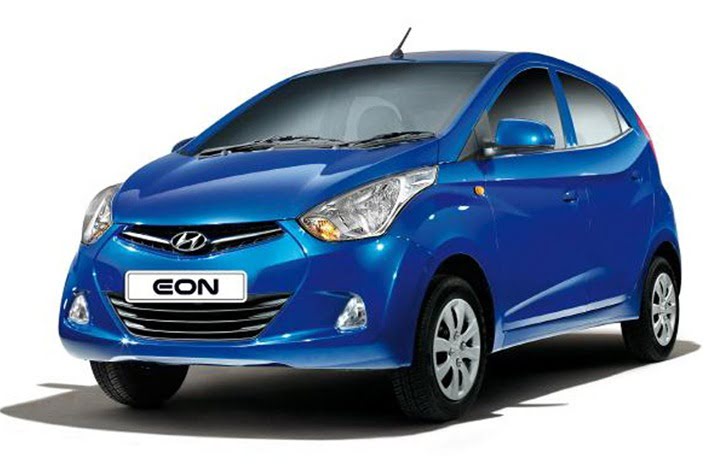 Hyundai launched the Hyundai Eon with great content and was hoping to make it big in the market but sadly the sales are not as per the expectations probably because of aggressive pricing of competing cars. The car features a 814 CC engine that delivers 55 BHP of max power at 5500 RPM and peak torque of 76.5 Nm at 4000 RPM. Eon has a better fuel economy figure of 21.1 KMPL when compared to the Alto. Some of the things that I like about the EON are good fluidic design, best in class interior quality, fit and finish, segment first features such as tilt steering, driver airbag. Things that do not convince us are as follows: unimpressive NVH levels, an ordinary engine that isn't great, a light steering wheel which is highly sensitive on high speeds and relatively costlier after sales service. The car is priced between Rs.2.75 lakhs and 3.8 lakhs.
Maruti Wagon-R

Well the Wagon-R is as popular as the Alto K10 and many first time buyers do consider this car. The car sports a 1.0 litre petrol engine that puts out a max power of 67 BHP at 6200 RPM and peak torque of 90 Nm at 3500 RPM. The car returns a mileage of 19 KMPL which is not bad. Christened as the Blue Eyed Boy, the 2012 Wagon-R is tall, refreshing and is not too heavy on your pocket. The 2012 model features an all new chassis that not only improves driving dynamics but cuts vibrations too. It has best in class headroom, legroom and shoulder room which will definitely bring a smile to your face once you get inside the car. But along with these positives, you get some negatives too. The glove box of the car is too small and there is no dashboard recess. The plastic quality falls short of what other cars offer. The car is priced between Rs.3.5 lakhs and Rs.4.4 lakhs.
Hyundai i10
Hyundai i10 is a popular car and sells good numbers in India. This small petrol variant is great for city driving conditions and has best in class interior fit, finish and quality. The car's gearbox, clutch and steering feel really light and make driving this car extremely easy. Also the refined engine adds to the joy as it is super smooth and has variable valve timing (VVT) too. Having said that, there are still a few things that Hyundai needs to work on. The suspension is a little uncomfortable for uneven roads, it can accommodate only 4 adults in comfort and 5th passenger feels like squeeze (but that is the same with most cars in the segment), lacks a couple of important features. Rest is all perfect with this car. It comes with an option of 1.1 litre and 1.2 litre petrol engines good enough to offer 68 BHP / 79 BHP of power at 5500 / 6000 RPM respectively. These engines deliver a peak torque of 100/ 111 Nm at 4500/ 4000 RPM respectively. Mileage figures stands at 20.36 KMPL. The Hyundai i10 Petrol is priced between Rs. 3.65 lakhs and Rs. 6.15 lakhs.
Car Blog India Verdict
Among these top 5 small cars, each of these cars have their own plus and minus points and choosing the perfect one for you could be a little tricky. The Nano is the cheapest and offers good fuel economy while the Alto is more of a complete car with negligible downsides. The Eon offers good quality at a reasonable price and offers good mileage too but isn't peppy, whereas the Wagon-R is a legendary car with plenty of improvements over its previous generation models. The i10 is one of the best selling cars because of its performance and features.
If you do not want to spend much, I think Alto will be the best car for you if you can sacrifice interior plastic quality and design. If you want some more power and space on the interiors, than you can spend some more and get Wagon R. If you plan to have lots of features and quality too, look no further than the i10.
Also read: Top 5 Small Diesel Car For First Time Buyers
Join us for FREE NEWS Updates on our Whatsapp Community or our official telegram channel.