WE have already informed you that BMW is going to showcase the 2012 BMW Active Tourer Concept and C evolution, at the 2012 Paris Motor Show which begins 29th of this month. But these two are not the only vehicles that will represent BMW at the upcoming exhibition, in fact there are a few more vehicles which are going to share the stage.
Although we have detailed articles on Active Tourer Concept and C evolution, we will be talking in brief about all the the vehicles including these two.
BMW Active Tourer Concept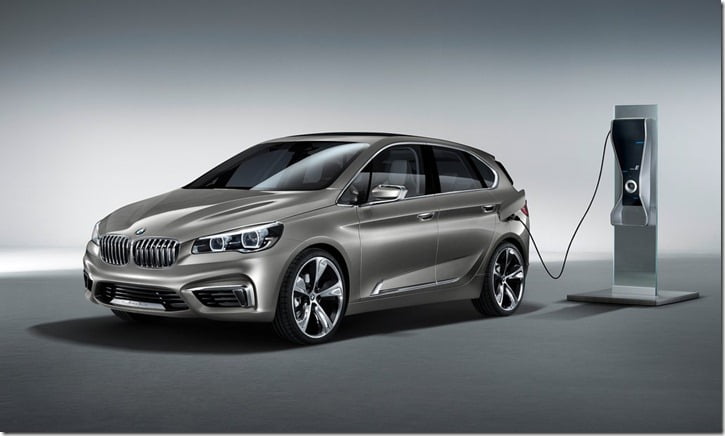 The BMW Active Tourer Concept is the latest and most ambitious plug-in hybrid concept from VNW yet. It has an all new design both the exterior and the interior. Some of the highlighting features of this concept are a raised seating position, generous space, BMW EfficientDynamics, extendable luggage compartment, excellent ride comfort and many more. It is the first production BMW model to feature BMW eDrive technology. The car is powered by an internal combustion engine and a synchronous electric motor which together generate a max power output of 190 BHP. It offers a combined fuel consumption of 2.5 litres per 100 kms and CO2 emission level of under 60 grams per km. Check out – Details, Pictures and Video of BMW Active Tourer.
BMW 1 Series With xDrive And New Entry Level Diesel Model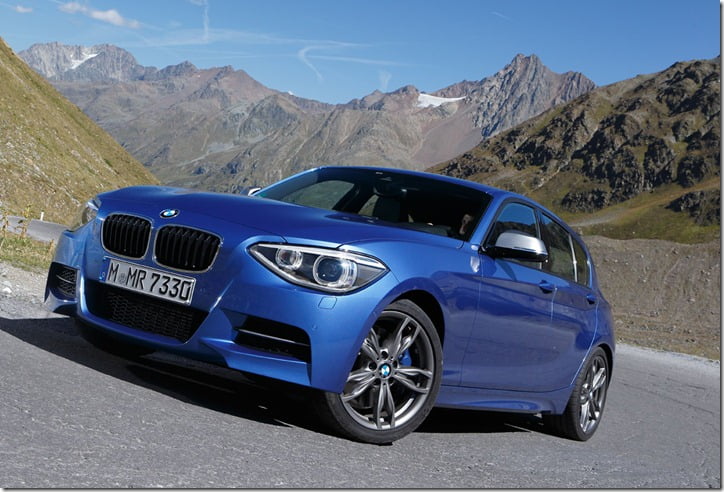 It is the first time when xDrive will be featured in the BMW 1-Series. This system distributes torque variably between the front and rear axle. The first models to be presented with the system are BMW 120d xDrive and the BMW M 135i xDrive. Repeating what we mentioned in one of our recent posts, a new 114d diesel entry level model is also going to be launched in November 2012. The 1.6 litre engine delivers 95 BHP of power and consumer 4.1 to 4.3 litres per 100 km. Check out Details of BMW 1 Series Entry Level Models.
BMW i3 Concept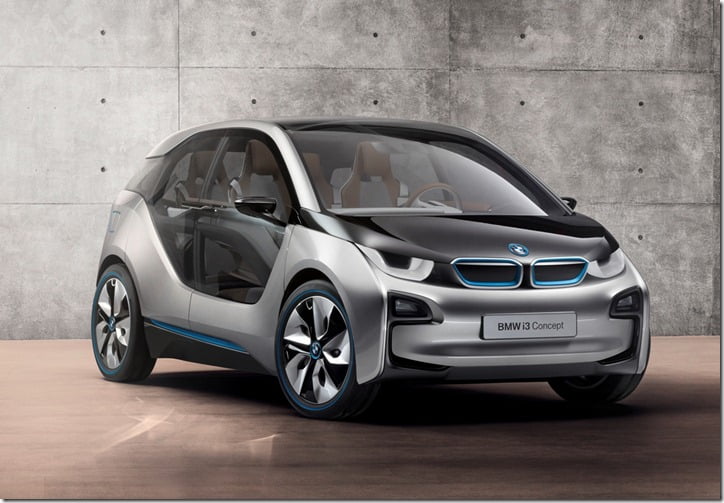 The i3 is along the lines of  sustainable mobility and heralds a new era of automobile construction. It features a a purely electric drivetrain and a carbon fiber reinforced plastic made passenger cell. Some highlighting features are; use of eucalyptus wood, high quality leather, natural wool fabric instrument cluster parts etc. Check out more details on BMW i3 Electric car.
BMW C Evolution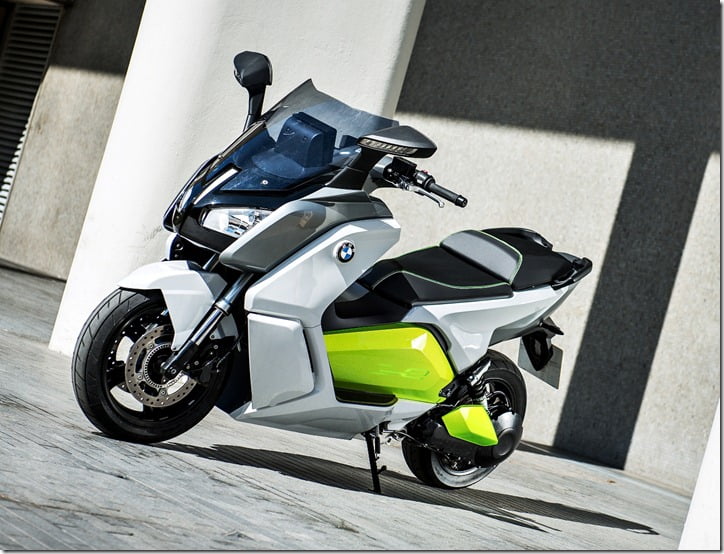 The C evolution is the latest product from BMW Motorrad and is all about urban mobility. What is so unique about this scooter is that the electric drive installed produces the same riding performance figures as of a maxi scooter. The battery allows a full charge range of 100 km and offers a peak output of 35 KW. Check out details, pictures and video of BMW C Evolution Scooter.
BMW 7 Series New Model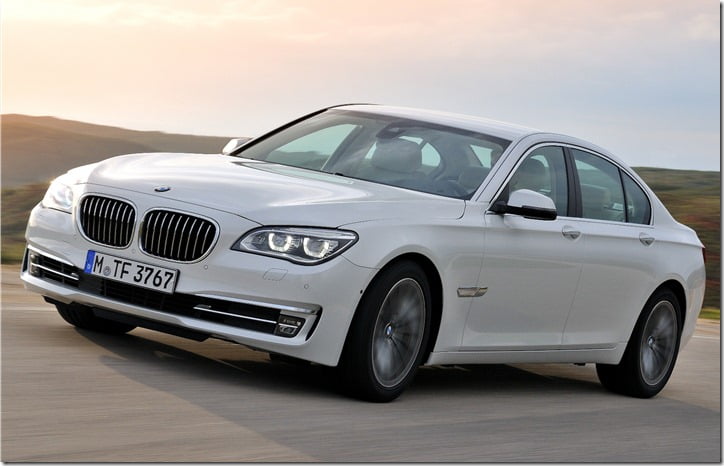 At the Paris Motor Show, the new BMW 7 Series will make its European debut. The model will be presented with a selectively modified exterior and interior. Highlighting features include optional full LED lights, new materials available for the passenger cabin, optimised acoustic comfort, multifunctional instrument display, 3D graphics Control Display, Bang & Olufsen high end surround sound system etc. BMW is offering 8 speed
automatic transmission
as standard and has also brought down the fuel consumption and emissions by 25%. Check out Details about
BMW 7 Series new model
.
BMW 3 Series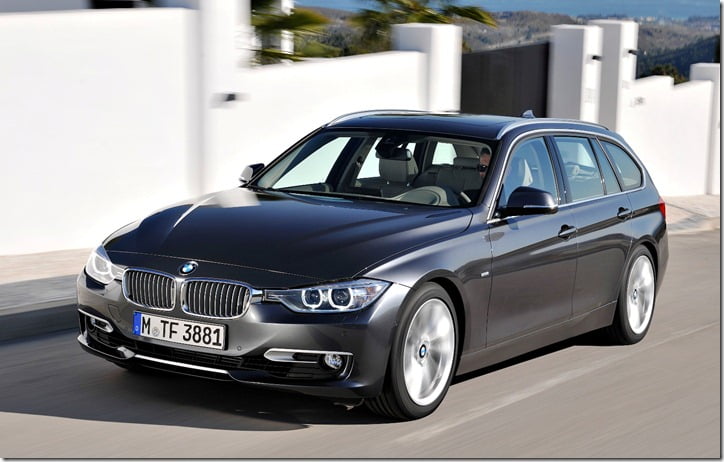 The BMW 3 Series line-up is going to get a new 316i sedan variant. This new model is powered by a 1.6 litre TwinPower Turbo engine that delivers 136 BHP of max power and 220 Nm of peak torque. It comes with a 6 speed manual gearbox as standard while a 8 speed auto gearbox is optional.
BMW will also be showcasing the BMW 320i EfficientDynamics Edition sedan at the trade fair. This superbly efficient sedan features a 2.0 litre BMW TwinPower Turbo technology engine with a peak power output of 170 BHP. It reaches the 100 km/h mark in 7.6 seconds and has an average fuel consumption of 5.3 litres per 100 km on the EU test cycle.
Stay tuned for more information of important launches from Paris Motor Show 2012.