Updated on 29th July 2013
BMW today unveiled the all electric BMW i3 all-electric city car for international markets. It was simultaneously unveiled at three locations: New York, Beijing and London.
"Innovation drives change. The i3 is more than just a car. It's a revolutionary step towards sustainable mobility. It is purpose-built around an electric power train to serve the needs of our megacity customers," said Chairman of the Board of Management of BMW AG, Norbert Reithofer.
The four-door hatchback, on pure electric mode, has a range of 130-160 KM, which BMW found to be more than enough for most customers around the world. For those who want to go further, BMW also offers a 2-cylinder, 34 BHP range extending petrol motor as an option which increases the i3's range to 300 KM.
[slideshow id=22]
Deliveries of the BMW i3 will begin in November 2013, in Europe it will be priced about Rs. 28 lakh. The initial cost might seem daunting, but BMW claims that its maintenance cost would be  about 40% lower than that of the BMW 320d. A carbon-fibre passenger shell (first on a mass-produced vehicle) and an aluminium body keep the weight of the car at just 1,195 Kg (the Maruti Suzuki Alto 800 weighs 1,185 Kg) and can seat four adults in comfort. This light weight coupled to the 168 BHP, 250 Nm electric drivetrain makes for a sprightly drive, which sticks to BMW's 'driving pleasure' motto; 0-60 KMPH takes 3.7 seconds, top speed is limited to 150 KMPH.
BMW i3 Video
Updated on 3rd December 2012
Electric cars are taking the auto industry by storm and piqued to become the next mode of personal transportation. Earlier, electric cars were looked down upon as ones with low range, high kerb weight and exorbitant prices. But with technology rapidly evolving, these thoughts are obsolete. Electric cars are now faster, cheaper and much better. Take the case of the BMW i3 electric. BMW has released a three door coupe version of the battery powered electric hatch at the 2012 Los Angeles Auto Show held recently.
With the i3 concept coupe, BMW has made the car lower and wider than the 5 door hatch which will go on sale in the international markets by next year. The clear deviations in design include the more steeply sloped roofline, deeper rear side windows and a slightly more angled tailgate. The wheelbase remains the same however at 2750mm and the 3 door hatch also gets the carbon fibre-reinforced plastic body construction which BMW calls Life Module structure.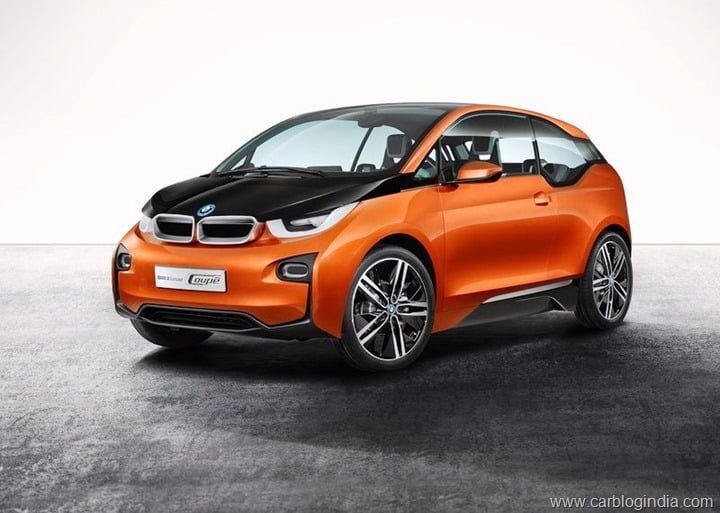 BMW i3 Coupe Official Video:
Overall, the car measures 3964mm long, 1768mm wide and 1555mm high and is 119mm longer, 243mm narrower and 18mm lower than the five door counterpart. BMW although has not declared officially that the i3 coupe will be going to production, few BMW officials have revealed that the company has already carried out cost and production feasibility studies. And the results are definitely favouring production.
Coming to the inside, the car gets a simpler dash board design as against the flamboyant dash design previewed at the BMW i3 concept in Frankfurt last year.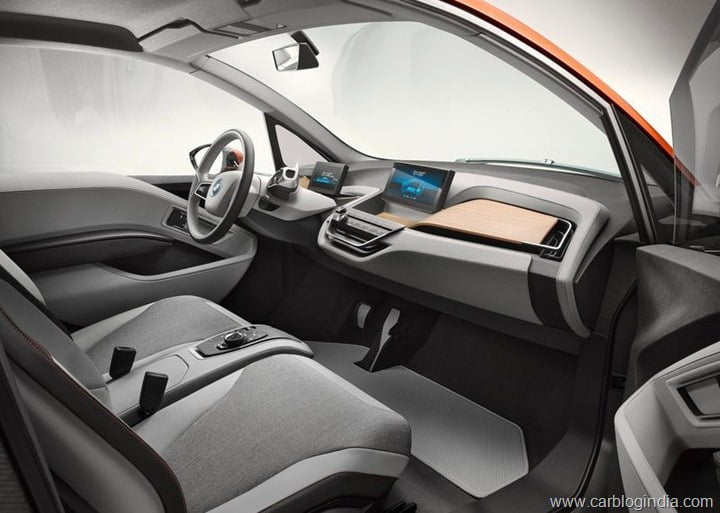 The dash sports an integrated digital instrument binnacle, minimum number of switches and a central sat-nav monitor. It also gets the BMW iDrive controller mounted between the front seats which will help you to access most of the controls. Under the hood, the i3 gets an electric motor that fires 170 BHP of power. It is mounted on the rear axle and drives the rear wheels only through a fixed ratio gearbox. The battery is powered by lithium –ion battery pack. A 'Driving Experience Control' switch mounted on the dashboard helps you choose between 3 driving modes; Comfort, Eco Pro and Eco Pro+. Each mode gets a separate individual throttle mapping and climate control settings.
More Pictures: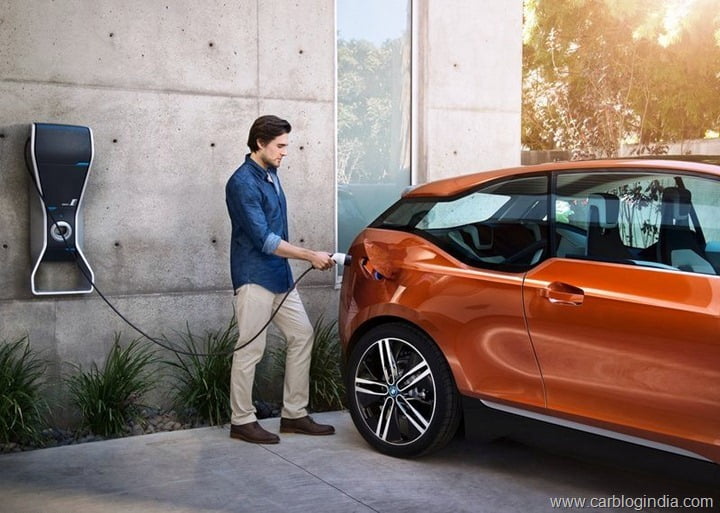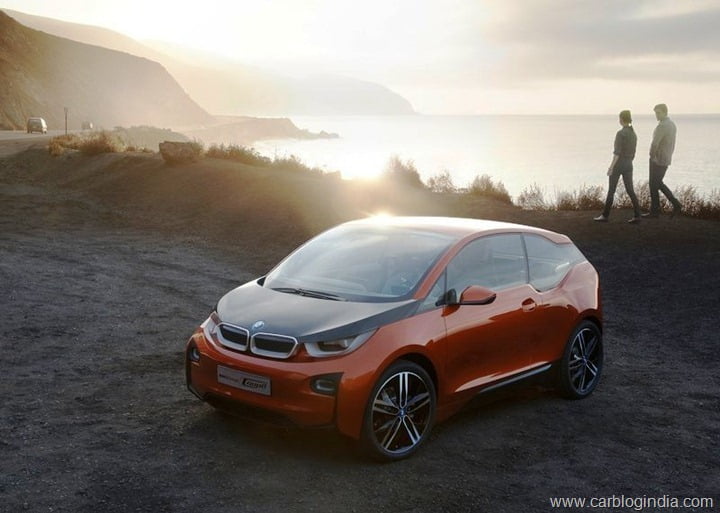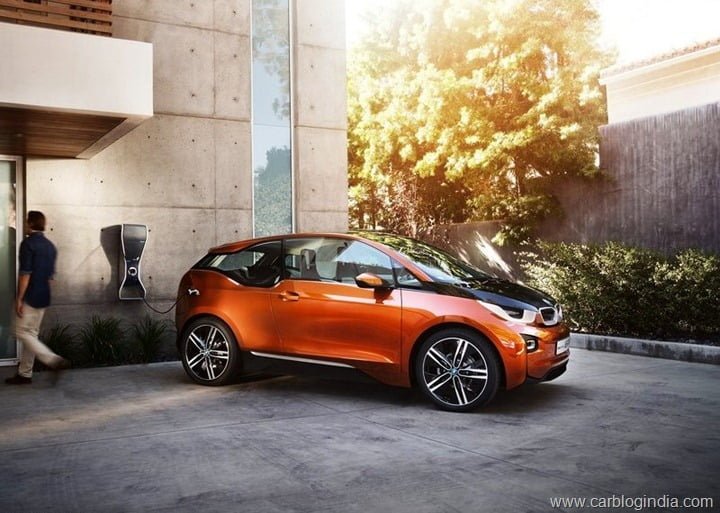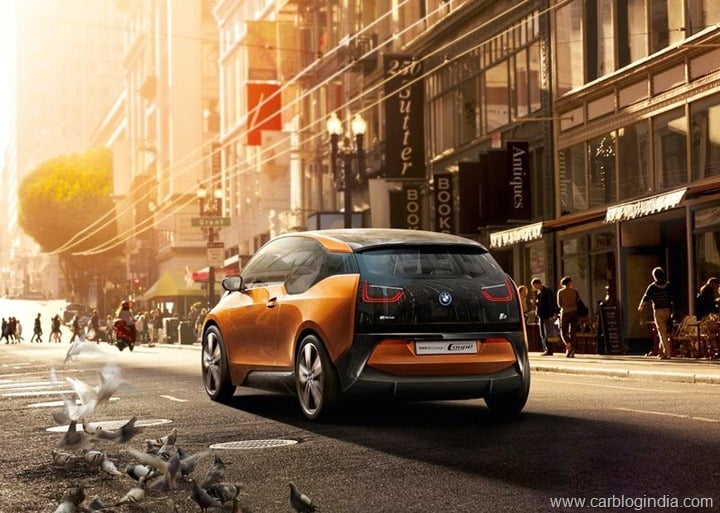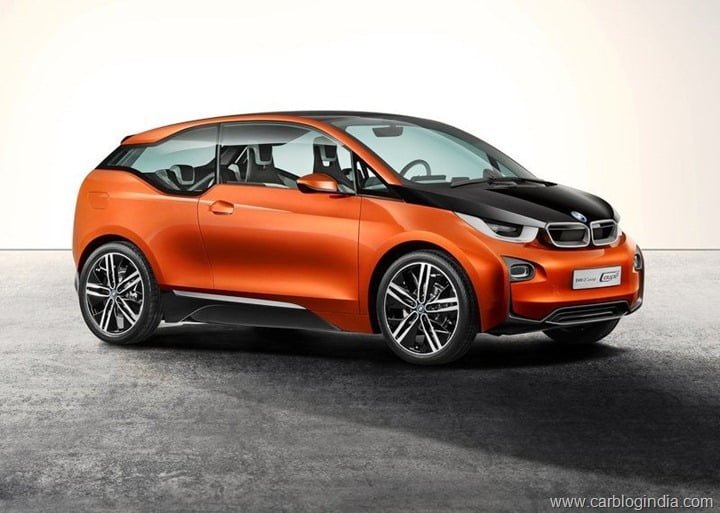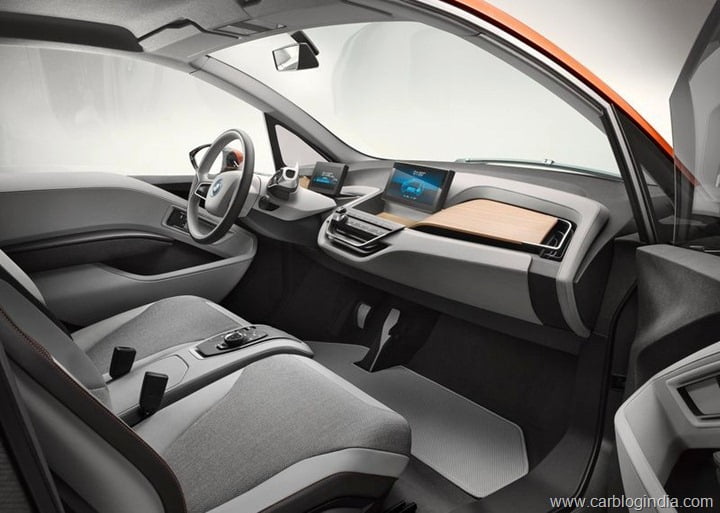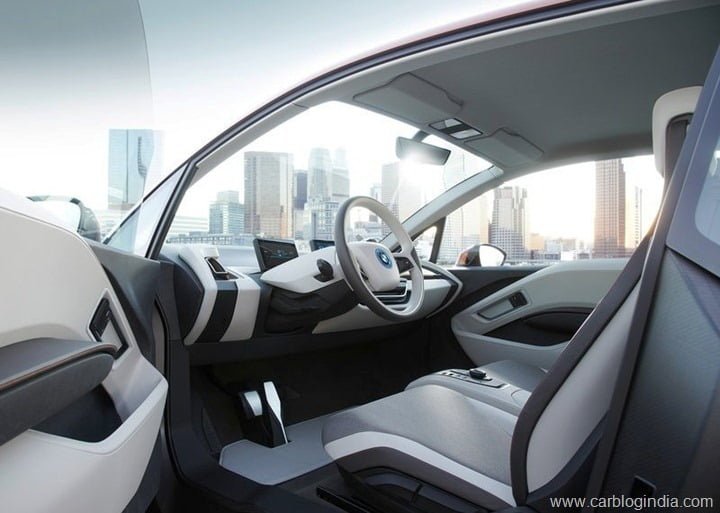 Stay tuned to Car Blog India for more updates.
Report by Joy Chatterjee.