The mStallion petrol engines from Mahindra are powerful and smooth, but what about the diesel engines? Well, it's time to find out with this bottle test!
Here is a short video clip of the bottle test of the Mahindra Thar with the diesel engine. Thar has become a huge crown favourite since the launch of this current-gen model. While the SUV has fans in the previous-gen guise as well, they were more from the off-roading community. But with so many improvements from the Indian auto giant, it has become a product for everyday use with the option of taking it into the wild. This required a lot of work to make the old diesel engine so smooth that it won't bother the regular users on a daily basis. As a result, Thar is one SUV that still commands waiting periods of 8-10 months in some cities despite being on sale for over a year. Let us find out how smooth the diesel engine of the Mahindra Thar is with this bottle test.
Also read: Watch Mahindra Thar As Perfect Camping Partner at -20 Degree Celsius
Mahindra Thar Bottle Test
The video has been uploaded by 91 Wheels on YouTube. This test involves the partially filled bottle of water on the dashboard of the Thar upside down. This is done to make the point that the bottle is more unstable upside down and the chances of it falling easily are greater. Then the driver switches ON the ignition. Now, as we know, diesel engines vibrate quite a lot during switching ON and OFF. However, as seen in the video, the bottle shakes a bit but doesn't fall. The same process is adopted to test the NVH levels of the SUV while turning the vehicle OFF. The result remains the same the bottle didn't fall. This was a great test in a real-world environment to establish the smoothness of the diesel engine of the Thar. The work that Mahindra has done with this engine is impressive and must be commended.
Also read: Mahindra Thar Sent For Boot Repair Found Without Dashboard & Steering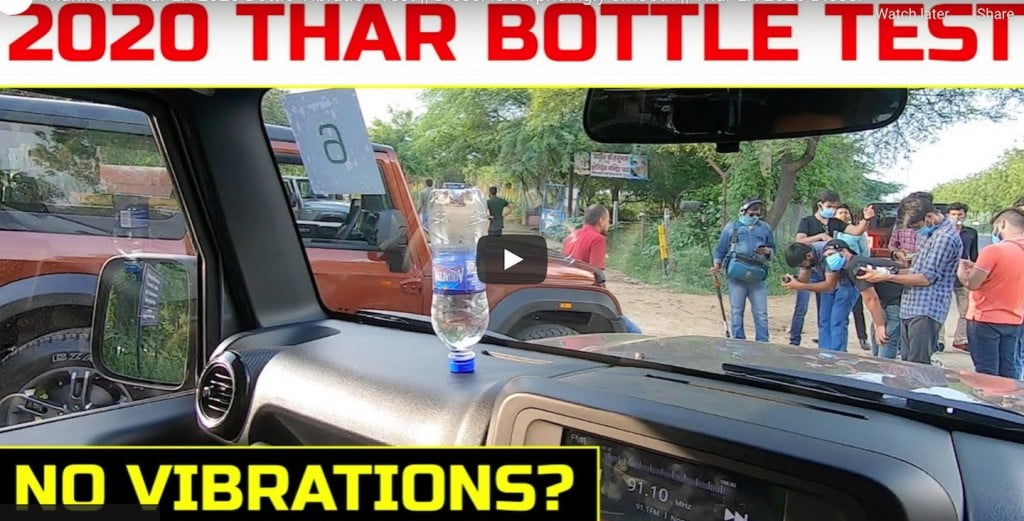 Specs
The Thar comes with 2 engine options, a 2.2-litre turbo-diesel, and a 2-litre turbo-petrol. The oil-burner makes 130 PS/320 Nm of peak figures while the petrol makes 150 PS/320 Nm of max figures. Transmission options for both the powertrains are a 6-speed manual and a 6-speed automatic with a low range box. You also get a transfer case and a mechanically locking centre differential. The prices of the Thar range between Rs 12.78 lakh and Rs 15.08 lakh, ex-showroom. The only direct rival is the Force Gurkha that has also recently received a new-gen upgrade.
Also read: We Bet You'll Choose This Mahindra Thar Over a Jeep Wrangler!
Join our official telegram channel for free latest updates and follow us on Google News here.