This is a unique video that shows that the Mahindra Thar has the potential to be your perfect camping partner even at -20 degree celsius. Thar is unarguably one of the best budget off-roaders in the country. It has achieved that status ever since its launch years ago. The SUV garners a lot of respect from the members of the off-roading community. But in the current edition of the SUV, it has grown more of a lifestyle off-roader with modern features. That is the reason for its unparalleled appeal to a lot of people. This video is an example of just how tough this vehicle is even if the conditions outside are extreme. This makes people have that confidence in Thar that they can take it in any conditions and it won't let you down.
Also read: Mahindra Thar Sent For Boot Repair Found Without Dashboard & Steering
Thar Camping At -20 Degree Celsius
The YouTuber is camping at Tso Moriri in Ladakh and the temperature outside is in the vicinity of -20 degree celsius during the night. This translates to low temperatures even during the day. This is an extreme condition for any automobile to be in. The owner of the Thar has equipped his SUV with rooftop camping gear. The rear of the vehicle features compartments to store essentials to travel solo for days on end. He has a ton of gadgets and appliances to ensure that the basic needs are met. He takes us through the journey of what it feels like to survive in such conditions. Another reason for him to be doing this is the fact that the Manali-Leh highway was blocked due to extreme conditions. He is essentially stuck in this situation.
Also read: We Bet You'll Choose This Mahindra Thar Over a Jeep Wrangler!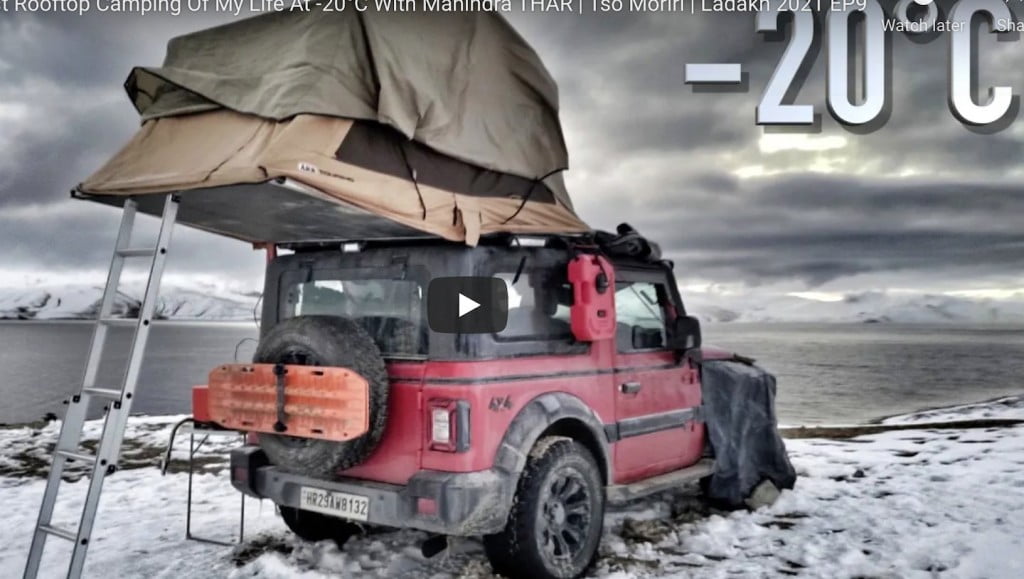 Thar is a capable off-roader and also has the necessary strength to survive in such harsh weather scenarios. The YouTuber shows that the electronic gadgets have stopped functioning as the batteries are heavily degraded in such cold. The next day, he tries to start the Thar using another battery. It took a few tries but finally, he was able to start his vehicle. He was able to make it out of there and it is hard to imagine any other vehicle to be able to allow him to commute in such conditions. Many people are aware of the capabilities of the Thar and that is the reason why there is still around 12 months of waiting time on it in some cities.
Also read: First-Ever Mahindra Thar With Off-Road-Spec 17-inch Rims and Tires!
Join our official telegram channel for free latest updates and follow us on Google News here.