Here we have a video of the new Hyundai Creta driving through a dried up river bed with gravels and rock and even through some water crossings. Find out how it fared and how far can you really go with the new Creta.
The Indian market is currently obsessed with SUVs but most of these sub-compact and compact SUVs are far from being a real SUV. With jacked up ground clearance along with styling elements of an SUV, these SUVs can only go so far. Yes, there are advantages that these pseudo SUVs bring with them. The high ground clearance really comes handy on most broken Indian roads and ingress and egress is also much easier with these SUVs. Oh, lets not forget the road presence some of these SUVs allow you. But when the going gets tough, how far can they really go? One of the most popular SUVs on Indian roads is the Hyundai Creta and here we have a video where the Creta has been put through some pretty tough challenges.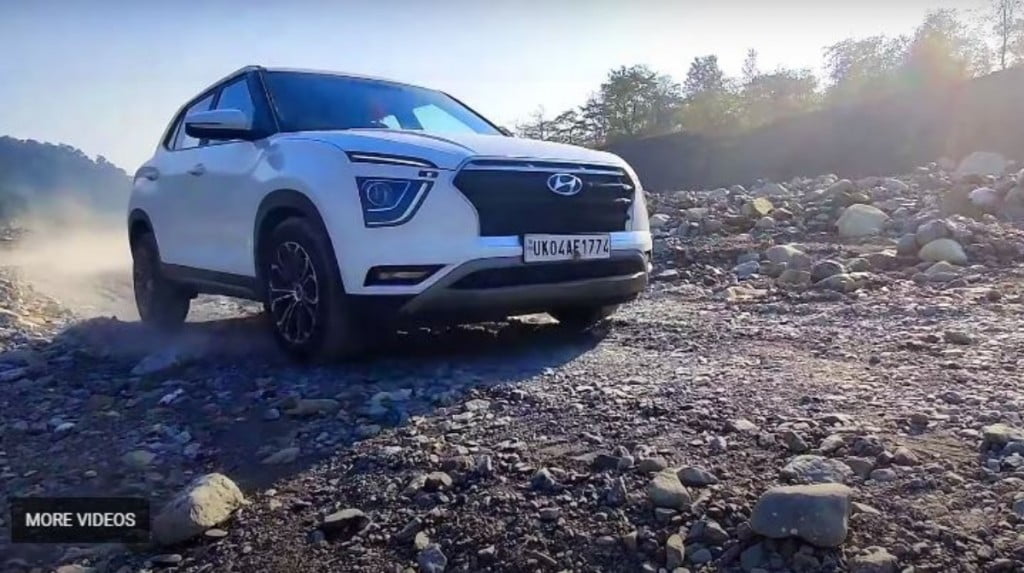 Just like the previous-gen Creta, the second-gen Creta also has turned out to be extremely popular with the people. Since its launch in March earlier this year, Hyundai has already garnered over 1.15 lakh bookings for this SUV. And that's a big number in such a short time. The Creta is however by no means a proper SUV. It is uderpinned by a monocoque chassis and comes with a front-wheel drivetrain. However, with its polarizing looks, feature-loaded interiors and ample amount of road presence, one can easily pass it off as an SUV.
The Creta does however come with good ground clearance and potent petrol and diesel engines and as it turns out, it will get you through most rough conditions until and unless its some serious off-roading. Here's a video of the 2020 Hyundai Creta uploaded by MUSAFIR RAJ on his youtube channel. Although this isn't some hard core off-roading, the Creta seems to be taking everything its stride. Going to rocky and sandy trails and even at fairly high speeds, the Creta does not seem out of control or struggling for traction anywhere.
Also Read : All You Need To Know About The New Third-Gen Hyundai i20 – Complete Details!
In this video, the Creta can be seen making its way through a dried up rocky river bed and even with some water crossings on the way, the Creta aced it all. With 190mm of ground clearance, the Creta did not scrape its bottom going over any of the larger rocks and even with road tires on, it always had enough traction to keep going. Although this is the base E diesel variant of the Creta (those alloy wheels are aftermarket units), top-spec automatic variants of the Creta even get drive and traction modes. There are three traction modes on offer – Snow, Mud and Sand.
Also Read : Best Discounts on Compact and Sub-Compact SUVs this Festive Season!
These traction modes essentially optimize the gear ratios and select the right gear for you in any of these given scenarios. Do not mistake them to be hardcore off-road modes but they are only for mild assistance, helping you to find traction in tricky conditions. Still, as seen in this video, the Creta is good enough for light trails and even for the yearly visit to Ladakh and its treacherous terrain. The Creta is available with a 1.4 litre turbo petrol, 1.5 litre naturally aspirated petrol and a 1.5 litre diesel engine. Even if mild off-roading is on your mind, we'd advice you to go with any of the diesel variants as the abundance of torque can be pretty handy in tricky conditions.
Join us for FREE NEWS Updates on our Whatsapp Community or our official telegram channel.