Around 150 biking enthusiasts flagged off the Castrol Power1 sponsored Grand Indian Road Trip from New Delhi on 11th March 2012. The Grand Indian Road Trip, a unique event supported by Castrol Power1, will see a team of five super bikers, travelling 16000 Kms across India, meeting biker groups to promote the passion for biking.  Starting from New Delhi, the Grand Indian Road Trip will cover 25 cities and towns and culminate in a grand finale at New Delhi.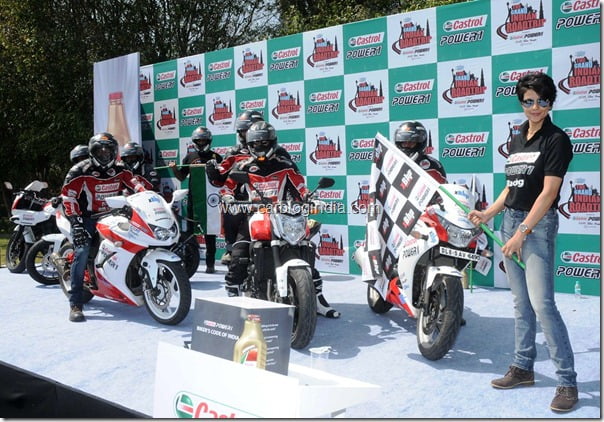 image – Bollywood actress Gul Panag flagged off Grand Indian Road Trip In New Delhi
Mr. Giriraj Bagri, VP Marketing, Castrol India & South Asia said,
"Castrol has a long association with bikers and biking and has been at the forefront of motorcycle racing for over a hundred years. The Grand India Road Trip is a great initiative to promote the passion for biking. Events like these also enable us to demonstrate the superiority of our brands like Castrol Power1 which is proven to deliver power and acceleration even under extreme conditions. Through the Grand Indian Road Trip, Castrol will help build a biking community and provide a common platform for bikers to share information and news which is relevant to them."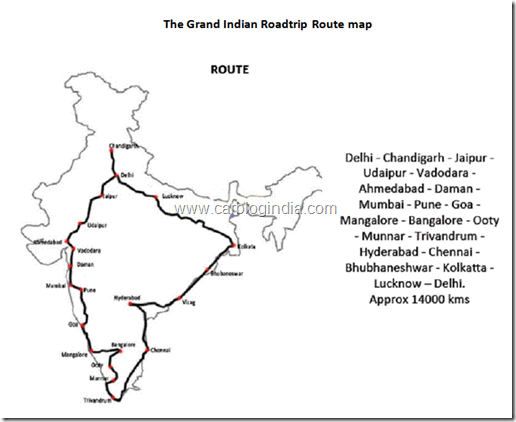 image – The Grand Indian Road Trip Route Map
According to Sundeep Gujjar from Xbhp – one of the riders on the trip –
"Castrol has always promoted the cause of bikers in India and we see it as a trusted friend. Although the journey is expected to be tough and arduous, with Castrol Power1 in our bikes, we are confident we will have a smooth journey throughout."
During the journey, the bikers will also be promoting biking through various interesting activities like Castrol Power1 'Fix & Flick' biker meets, the 'Helmet of Change' and help create a 'Castrol Power1 Biker Code of India'. The 'Castrol Power1 Fix and Flick' sessions, will include do-it-yourself demonstration sessions with and for the bikers.
'Helmet of Change' is a Castrol Power1 initiative to promote safe riding amongst bikers. As the Grand India Road Trip travels across the country, the superbikers will encourage all bikers they connect with, to take a pledge endorsing safety and committing to safe riding. The next stop in the journey is Jaipur which the riders will reach on Monday 12th March 2012. You can catch the action on Facebook Page of Castrol here.
check out more-