Here is a Mahindra XUV500 that is installed with a rooftop tent and in this video, the vlogger shows how good is it and how easy it is to assemble.
Cars with rooftop camping are unheard in India, with very few people practicing it. Moreover, in many states, having a rooftop carrier is also illegal and can invoke a fine. Here is a vlogger who installed a rooftop tent on his Mahindra XUV500, is a popular choice for travellers exploring far off places. The owner has explained the process and how good is it to use. Check out the video!
The owner has explained the complete process of how to remove and setup the tent. First, you have to pull out the straps that locks the camper casing. Then, you have to just push back the covering and the tent is open. The process is very easy and not at all difficult to that. Then it also has an inbuilt ladder installed which you just have to pull down to extend the tent and complete its proper structure.
Also Read: Next-Gen Mahindra XUV500 to Feature Level 1 Autonomous Tech? Really?
The ladder can easily take a load of up to 150 kilograms at a single time. The ladder is fit to the tent so you do not have to detach it. Once open, you have to adjust the base of the tent with the help of the ladder. You can see that the tent is quite big and mainly, the ladder forms as a base on one of the side. The base otherwise of the tent is very strong and can fit nice amount of weight.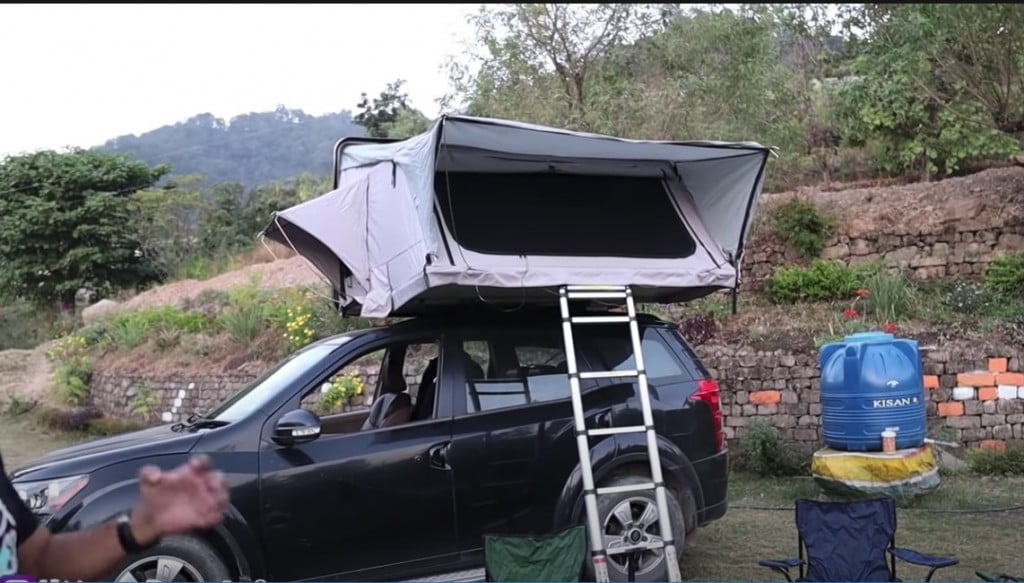 The owner says that 3-4 people can easily sit inside the tent at one time. The length is also quite good for someone who is just under 6 foot. By the looks of it, 3 thin people can atleast call it a night in this tent. Further, it also gets sunshades, windows and a mosquito flap. For sunshades, you have to attach rods to both the ends and it will come as a shade from sunlight and also from the rain. You can also close the shade just in case if the weather is cold.
The cost of this camper is unknown, but even if it costs around Rs 50,000 it is still very value for money. You can easily save up on hotel costs provided you find a safe and secure location. This is probably one of the reasons why rooftop camping is not so popular in India because there are not many safe locations to just park your car and sleep for the night.
Join us for FREE NEWS Updates on our Whatsapp Community or our official telegram channel.