General Motors has finally launched the much awaited all new Chevrolet Sail U-VA at a starting price of Rs. 4.44 lakh ex-showroom New Delhi. That seems a little bit pricier when compared to its competition especially the Maruti Swift, but is it actually worth that extra amount? While Swift is one of the best sellers in this segment followed by i20, will Sail U-Va be able to make its mark in the premium hatchback segment in India?
We will try to find that out in our latest comparison between the two cars, so lets do a detailed comparison of Chevrolet Sail U-VA VS Maruti Swift.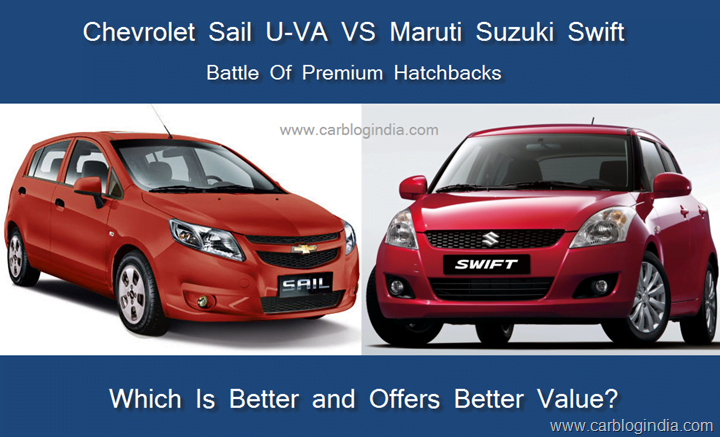 Exteriors
Since the Sail U-VA is the new car in the hatchback space, we shall talk about it first. We know that the car is one of the best selling cars in the Chinese market and has been jointly developed by GM and SAIC of China. This fact actually tells much about the styling of the car which isn't very impressive. Compared to its younger sibling Beat which looks fascinatingly beautiful, the Chevrolet Sail U-VA is an exception on the company's Indian portfolio. Having said that, the front of the Sail is pretty nice and resembles the Cruze. The looks of the Sail U-VA are rather simple and not something that will strike your eyes immediately.
Chevrolet Sail Dimensions
Length = 3946 mm
Width = 1690 mm
Height = 1503 mm
Wheelbase = 2465 mm
The Swift has been leading its segment for 7 years and once again the Swift is a better looking car than the Sail, hands down. The overall styling of the Swift is quite contemporary whereas the Sail's side and rear looks old fashioned.
Maruti Swift Dimensions
Length = 3850 mm
Width = 1695mm
Height = 1510mm
Wheelbase = 2430
There is hardly any difference between the width and height of the two cars. However, the Sail is longer and even has a better wheelbase than the Swift.
Interior


image – Chevrolet Sail U-VA
As we have seen in the Exterior section, the Sail U-VA is a longer car and that very extra length means more space on the inside. The cabin of the Sail is very spacious and beats the cabin of Swift. But when it comes to plastics quality, the Swift is a better car. The sail comes with plenty of features such as beige interiors, power steering, AC, power windows, tilt steering, 60:40 split folding seats, height adjustable headrest for front, rear defogger, integrated audio system with Bluetooth connectivity for music and phone calls, engine immobilizer, ABS, dual airbags, speed sensitive auto lock and much more.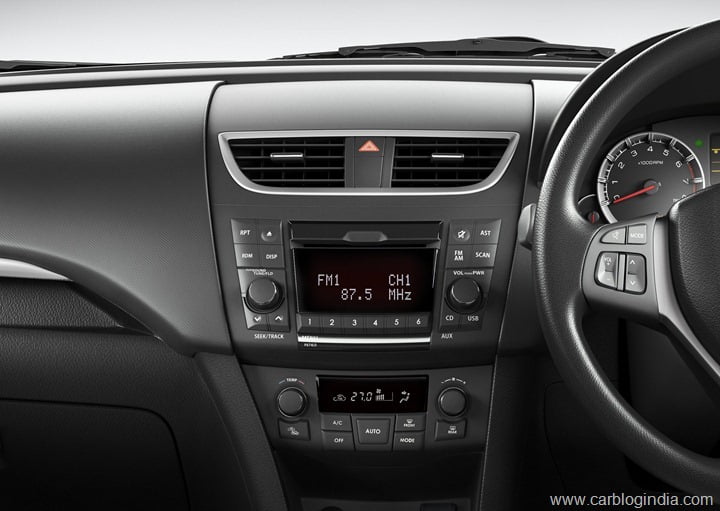 image – 2011 Maruti Swift Interiors
The Swift looks more modern and the black tone is just great. We cannot compare the interior of Sail and Swift as both have a different approach and different customers will have different likings. Some may like the U-VA's beige tone while some may not. Coming to the features of the Swift automatic climate control, airbags, ABS and EBD, integrated audio system, brake assist, door closure warning lamp, multi information display and much more.
In terms of practicality offered by the passenger cabins of the two cars, the Sail seems to be a better car when you are looking for space. It has split folding seats at the rear and offers more legroom as well. The Swift is quite uncomfortable at the rear.
Engine, Mileage and Performance
Sail U-VA Diesel Engine Specifications
1.3 Litre XSDE Diesel Engine
Peak power of 77 BHP @ 4000 RPM
Peak torque of 205 Nm @ 1750 RPM !
ARAI tested Mileage of 22.10 KMPL
5 Speed Manual transmission gearbox
Sail U-VA Petrol Engine Specifications
1.2 Litre MPFI Petrol Engine
Dual overhead cam shafts
Peak power of 85 BHP @ 6000 RPM
Peak torque of 113 Nm @ 5000 RPM
ARAI tested mileage of 18.2 KMPL
5 Speed manual gearbox
Swift Diesel Engine Specifications
DDiS 1.3 Litre Fiat Multijet CRDI Diesel engine
4 Cylinder, Displacement 1248 CC
Max power of 73.5 BHP @ 4000 RPM
Max torque of 190 Nm @ 2000 RPM
5 Speed manual transmission
ARAI Certified mileage of 22.9 KMPL
Swift Petrol Engine Specifications
Improved K12 1.2 Litre MPFI Petrol Engine
VVTI Technology Engine
4 Cylinder, Displacement 1197 CC
Max power of 86 BHP @ 6000 RPM
Max torque of 114 Nm @ 4000 RPM
5 Speed Manual transmission
ARAI Certified mileage of 18.6 KMPL
Comparing the petrol engines of the Sail and U-VA, the power and torque figures are extremely close and so is the fuel efficiency. Similarly if you look at the diesel engines of the two, once again they are close but not as much as in the petrol version. The Sail U-VA diesel is slightly more powerful and offers 15 Nm better torque which is good considering there is not much difference in the fuel efficiency of diesel models of the Swift and Sail U-VA.
Ride And Handling
This is the section where Sail seems a bit confused. The Swift has been one of the best driving cars and even with the introduction of Sail U-VA, the position of the Swift hasn't been affected by the slightest of the level. The Sail U-VA, especially the diesel version, is quite powerful but when it comes to driving dynamics, the Swift is a much better car. But we admit that the diesel Sail U-VA is pleasing enough.
Price And Value For Money
The Sail U-VA petrol is price between Rs. 4.44 lakh and Rs. 5.58 lakh, and the diesel model is priced between Rs. 5.87 lakh and Rs. 6.62 lakh. The Swift petrol is priced between Rs. 4.47 lakh and Rs. 5.72 lakh, and the diesel variants are priced between Rs. 5.57 lakh and Rs. 6.82 lakh.
Verdict– Chevrolet Sail U-VA Vs Maruti Swift
The verdict is quite unclear as both the cars have their plus and minus points. The Swift is a strong performer, is well priced, offers good features, and is better to look at. The Sail has more spacious interiors, is marginally better on features, and is competitively priced. If you demand space and practicality, the Sail U-VA would be a great choice for you. But if you love driving, and want a good looking car which offers frugality at the same time, you should look no further than Swift. Also Maruti has a better aftersales network than Chevrolet, so it would not be wrong to say that Swift still remains the winner.
Join us for FREE NEWS Updates on our Whatsapp Community or our official telegram channel.