Updated on 8th July 2014
Chevrolet India has launched the Manchester United Special Edition Beat and Sail U-VA in India.
Price
Beat Manchester United Edition 1.2 Petrol: Rs. 4.92 Lakh
Beat Manchester United Edition 1.o Diesel: Rs. 5.74 Lakh
Sail U-VA Manchester United Edition 1.2 Petrol: Rs. 5.42 Lakh
Sail U-VA Manchester United Edition 1.3 Diesel: Rs. 6.41 Lakh
Updated on 24th June 2014
Chevrolet, the official team sponsor of Manchester United, had unvieled the special edition Beat and Sail U-VA in the "Red Devils" colour at the Auto-Expo 2014. These limited edition vehicles were expected to get a June 2014 launch. The fans after watching United endure one of their worst seasons last year were left disappointed once again when Chevrolet failed to deliver on the prior promised date. But it seems the automobile giants delibretly postponed the launch as they wanted the launch of these two vehicles to coincide with the unvieling of the official team jersey for the 2014-15 season -a jersey which shall carry the Chevrolet logo replacing 'Aon'- on 7th July 2014. We expect a limited number of the Beat and Sail U-VA to hit Indian markets carrying the United graphics and logo.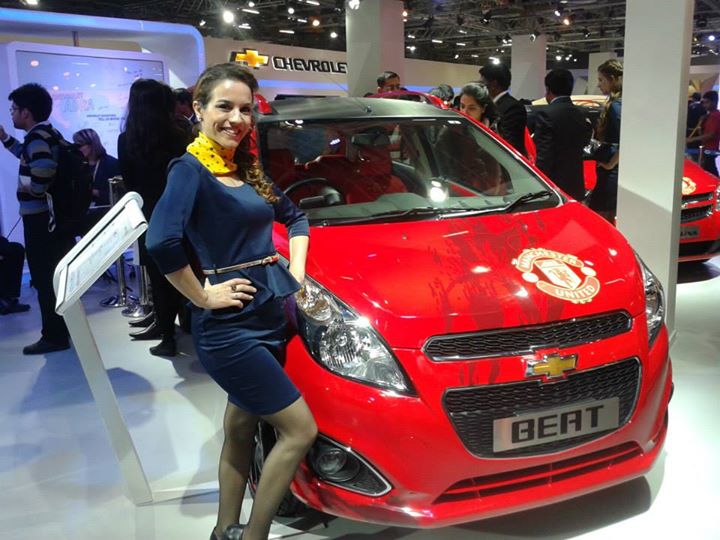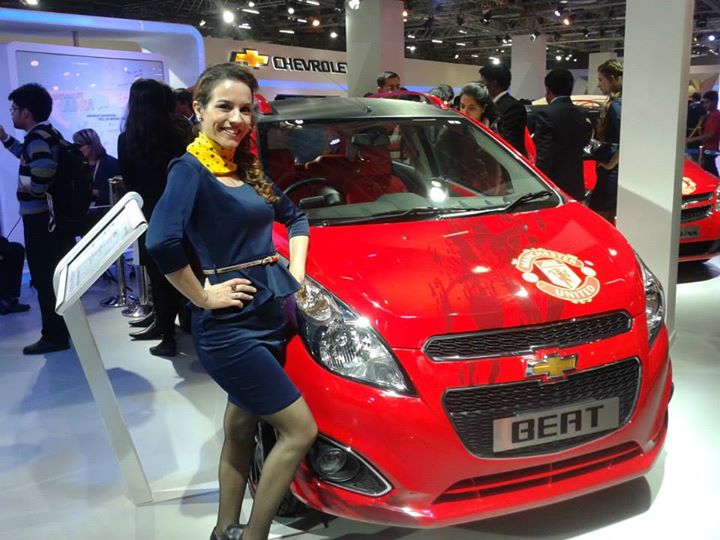 After signing a record breaking seven-year shirt deal worth a whooping 559 million USD (almost Rs. 34,000 Crore) these special edition vehicles are aimed at the huge fan-base that the English Clubs command in our country. The international carmaker saw a huge number of football enthusiasts flocking to its stands where it had parked the limited Manchester United hatchbacks at the Auto-Expo '14. The special edition of both the Beat and Sail U-VA will be painted in the colours of the Manchester United team. The special paint scheme will also be carried inside the car to both the dashboard and the upholstery. We expect the limited edition to be offered only in the top-end variants of both the cars.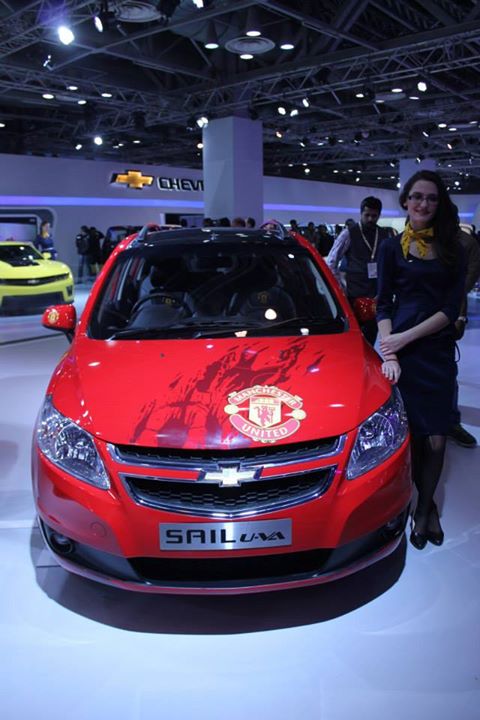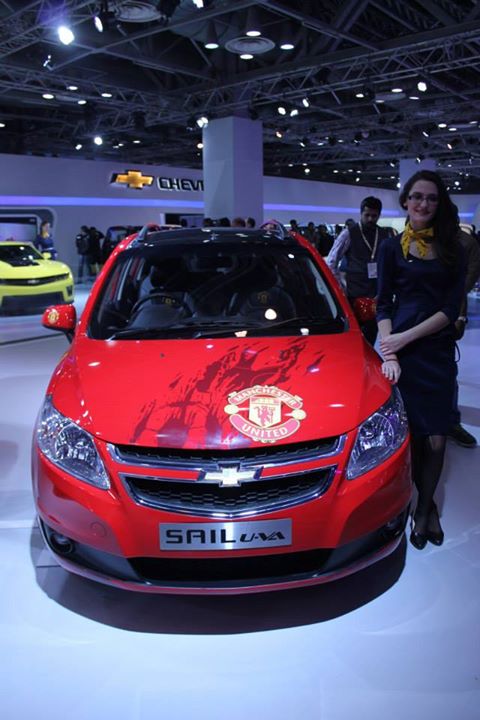 Chevrolet had launched the facelifted version of Chevrolet Beat earlier this year. The recently launched version is powered by 1.2 Litre petrol and 1.0 Litre diesel engine. Speculations have been doing rounds that an automatic transmission variant may also be launched sometime later. For now, Beat's engine has been mated to a 5 speed manual transmission. The petrol hatchback features a SMARTECH II engine that has been mated with Port Deactivation technology, empowering the car to generate about 79.4 BHP maximum power output with 108 Nm of torque. This engine has claimed to deliver a fuel efficiency of up to 18.6 kmpl. The diesel version features an efficient XSDE SMARTECH Common Rail diesel engine that generates about 57.6 BHP of maximum power with 150 Nm of top torque. The diesel version returns an impressive mileage of 25.44 kmpl.
Chevrolet Beat Manchester United Special Edition
Chevrolet Sail UV-A Manchester United Special Edition
Catch Manchester United Play Real Madrid LIVE:
Chevrolet India is also holding a contest called Fast Moves for fans of Manchester United where winners get a chance to watch their favourite team play live. The Chevrolet Fast Moves contest basically involves the showcasing of the Beat and Sail U-VA special editions at select malls across the country.
These editions come with various Manchester United logos placed at different locations on the exteriors and interiors of the cars. Participants will have to register first and then they will be given a tablet that will be loaded with an application called Alive. The team logos on the cars will have small QR codes and the Alive application will help participants register the fact that they have spotted that particular logo. Contestants need to count the exact number of logos that are placed on the car. The lucky winner of the contest will win a trip for two to watch Manchester United vs Real Madrid on 2nd August 2014 live.
General motors are making the most of their investment in Man-Utd. In a country which has a huge following for the former English Champions, Chevrolet will seek to get back as much as they can for the 70 Million USD invested for the year 2014-15. With new manager Van Gaal taking over a side which simply put, imploded last season we will have to wait and watch how long does it take him to make United a winning side again.