The rising fuel prices warrant people to look for alternative methods to achieve high fuel efficiency and cost saving. CNG has become the preferred choice.
Check out this video of a CNG kit dealer who confirms that the Mahindra XUV700 petrol automatic version could get the CNG kit installed without any issues. There had been a lot of buzz recently in the market due to astronomical prices of fuel. People had to look for alternate options. Since electrification is still some time away from us, CNG proved to be a feasible solution, at least in the bigger cities. These cities have a well-established CNG infrastructure. So, there is no anxiety among the CNG car owners. Additionally, aftermarket CNG kits are easily available and installed at relatively affordable prices. This is one such example where the CNG dealer takes a look at the engine bay of the Mahindra XUV700 and confirms that it is compatible with a CNG kit.
Also read: This Mahindra XUV700 AX5's Interior is Plusher than AX7
CNG Kit in Mahindra XUV700
The CNG kit dealer is an experienced aftermarket player. He has installed his CNG kits on multiple cars including some unique cars like Toyota Camry and VW Beetle. He comes to the Mahindra dealership to check the space inside the engine bay of the XUV700 along with the boot space where the CNG cylinder will be placed. After being satisfied with what he sees, he confirms that the XUV700 is compatible with it. He also mentions that once the CNG kit is installed, one could achieve a mileage of somewhere around 20 km/l. As you must be aware, the low fuel economy, especially with the petrol versions of the Mahindra XUV700 has been an issue for the consumers. This could prove to be a genuine solution to tackle that.
Also read: Mahindra XUV700 Pros and Cons – Is It Worth The Wait?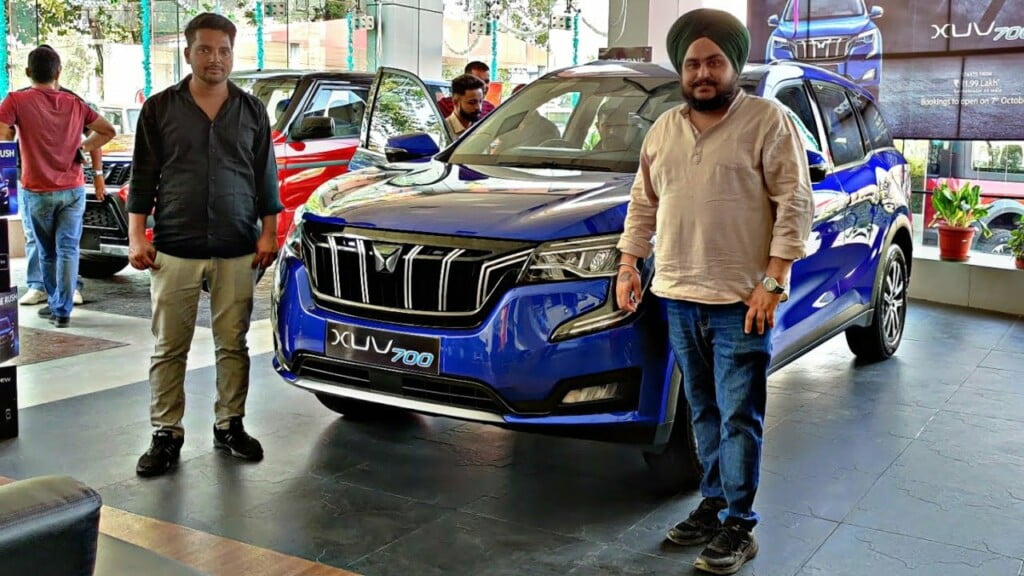 Specs
The Mahindra XUV700 comes with a 2.0-litre turbocharged petrol unit that churns out a maximum power of 200 PS and a peak torque of 380 Nm. Meanwhile, the Diesel engine is available in multiple states of tune. The lower versions get 155 PS and 360 Nm, while the higher positioned models benefit from 185 PS and 420 Nm (450 Nm in automatic variant). Both the petrol and diesel engine variants will be available with 6-speed manual and automatic transmission choices. The prices range between Rs 12.49 lakh and Rs 22.99 lakh, ex-showroom. The direct rivals include the likes of Tata Safari, MG Hector Plus and Hyundai Alcazar in the 7-seat configurations.
Also read: Watch Pakistanis React to Mahindra XUV700 vs Tata Safari Drag Race
Join our official telegram channel for free latest updates and follow us on Google News here.