India is certainly emerging as one of the biggest automobile markets in the world and so far has been able to exploit many car segments. Despite offering so many segments to the Indian customers, the small car or hatchback segment still remains at the top of the wish list. So today, continuing the car comparison series on Car Blog India we will be comparing two of the entry level small cars, Maruti Alto K10  and Chevrolet Spark.
Maruti Alto K10 Exteriors Vs Chevrolet Spark Exteriors

As far as looks are concerned both have their own characteristics which are liked as well as disliked. The Alto is no wonder and derives all its looks from the older variant. The headlamps, tail lamps, alloys engine etc. does get an upgrade from the previous model and are being liked by most of the buyers. The Alto sits really low which makes the car look sportier.
The Spark is one of its kind cute looking car from Chevrolet and in spite of being way behind the Alto in terms of customers, this car is no bad option. It is roomier, it sits tall and has a very distinguished appearance with nicely done headlamps and smallest possible front grille. It is difficult to find any sharp corners across the body (except for the head lamps) of Spark as it is quite curvier. The K10 does offer some nice sharp lines to add some oomph to it.
Chevrolet Spark Dimensions
Overall Length : 3495 mm
Overall Height : 1518 mm
Overall Width : 1495 mm
Overall Wheelbase : 2345 mm
Maruti Alto K10 Dimensions
Overall Length : 3620 mm
Overall Height : 1460 mm
Overall Width : 1475 mm
Overall Wheelbase :2360 mm
Being a small car, proportions are really important and both the cars can successfully be tagged as hatchbacks because of their sheer compactness. Comparing the two, the Alto has a longer wheelbase and overall length whereas the Spark leads in terms of overall height and width making it slightly roomier than the Alto.
Considering the looks only, I would go with spark since I believe we are quite bored of the not so appealing Marutis and we do need some refreshment.
Maruti Alto K10 Interiors Vs Chevrolet Spark Interiors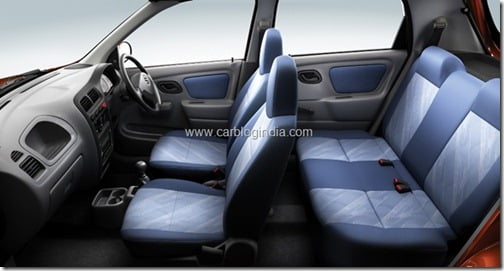 Maruti Alto K10 Interiors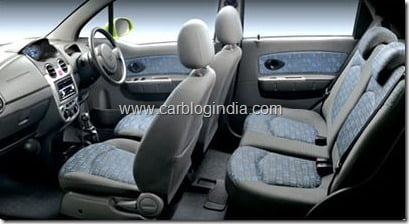 Chevrolet Spark Interiors
Both being small cars offer adequate space inside but if styling is considered, the Spark certainly stands out. The steering though looks like a thin ring, has got a nice feel and the overall dashboard design with centrally place instrument cluster along with all the tacho and odometer, is quite unconventional.
The Alto is simple yet again which does disappoint me as I always like to see new experiments. But people who always look for something conventional with least possible confusing items, should opt for the Alto.
Highlighting features of Alto include collapsible steering column, child lock, front fog lamps, immobilizer iCATS, headlight leveling device, high mounted stop lamps, AC with heater, power steering, front power windows and many others.
The Spark is slightly ahead of Alto with Front and rear power windows, rear defogger, 2 DIN MP3 Audio system with AUX-in and USB connectivity, rear seat cushion folding, AC and several other features which also come with Alto. In fact the Spark is offering way more features than Alto does and for me its worth a chance.
Maruti Alto K10 Petrol Vs Chevrolet Spark Petrol Engine
Marti Alto K10 Engine Specifications
All aluminum Light Weight K108 Petrol engine
998 CC Displacement
BS IV Complaint Engine
Maximum power of 67 BHP @  6200 RPM
Maximum Torque of 90 Nm @ 3500 RPM
5 speed manual transmission
Chevrolet Spark Engine Specifications
Technically both the cars have engines with similar displacement but in terms of maximum power the Alto is marginally ahead with a difference of 4 BHP. The torque figures are same  but if one is looking for a more responsive car, then alto is the one since the torque comes in earlier than Spark. Both have a 5 speed manual gearbox which is no big deal .
Alto does get better aerodynamics which a slightly more powerful engine giving it an edge over the Spark.
Maruti Alto K10 Petrol Price Vs Chevrolet Spark Petrol Price
Chevrolet Spark Price Ex-Showroom Delhi
Chevrolet Spark 1.0 – 2.66 Lakh
Chevrolet Spark 1.0 LS –  2.99 Lakh
Chevrolet Spark 1.0 LT – 3.28 Lakh
Maruti Alto K10 Price Ex-Showroom Delhi
Alto K10 Lxi – Rs. 3.03 Lakh
Alto K10 Vxi – Rs. 3.16 Lakh
Now the pricing is really interesting as the competition is 3 against 2. The Spark has three models, 1.0, 1.0 LS and 1.0 LT in the price range of 2.66 Lakh to 3.28 Lakh. The Alto on the other has two variants LXi and VXi at 3.03 Lakh and 3.16 Lakh respectively. If we consider the price only and if I assume you want to buy a simple family and can compromise on features, go with the 1.0 Spark.
If you want to spend some extra money to get a few more features then again you should buy Spark 1.0 LS as it is more loaded than the base Alto. Going up to the top variants, the Alto is priced at 3.16 Lakh whereas the Spark top end comes at 3.28 Lakh but importantly the Spark top variant is more feature packed with rear power windows Audio system with AUX-in and USB support and many others which make this car worth the extra 8k the company is asking for.
Car Blog India Verdict-Chevrolet Spark Vs Maruti Alto K10
I have already mentioned that in terms of pricing as well as features the Spark is ahead undoubtedly, but giving a thought to the wide network of Maruti across the country, the Spark might not seem to be a smart buy.
At least in terms of features and pricing the Spark does appeal and is a good car in terms of driving also. The Alto is priced slightly above and lacks some good features which otherwise could have been provided, so I would definitely go with the Spark and will keep the boring Alto aside.