Toyota has launched its Toyota Etios Liva today in Delhi starting at a very attractive price. Besides being a good product, Etios Liva has been lagging behind in sales since its launch, the major reason being absence of Diesel variant and increasing prices of petrol. With the launch of Diesel Variant of Liva, it has now come to a level playing field with the Maruti Swift as most of the sales of Maruti Swift 2011 include the diesel variants. In this article, which is a part of Car Comparison Series on Car Blog India, we will compare these two rivals.

Toyota Etios Liva Exteriors Vs Maruti Swift Exteriors
Toyota Etios Liva is a new offering from Toyota in India and is identical to its sedan version of Etios from front. Etios Liva looks quite simple and elegant from front an looks slightly better and more appealing from side and rear view. Going by its dimensions, Its slightly less wide compared to the new Swift 2011. On the exteriors, Toyota Liva has a moderate aesthetic appeal, however, with its contemporary looks and styling, its looks neat.
Etios Liva Dimension:
Length = 3775mm; Width = 1695mm; Height = 1510mm;
Maruti Swift 2011 is an improved aesthetic version of its previous model when considered from exteriors. It now comes with the same familiar shape, but larger dimension, longer body, better looking tail lamp cluster and hatch door. Overall it's a good aesthetic improvement over the previous version of old Swift. However, its non-contemporary looks make it highly attractive for most and highly repelling for some people. Overall, it has a better sporty appeal from exteriors and looks a notch better than the Etios. In terms of dimensions, its slightly wider than Liva.
Maruti Swift 2011 Dimension:
Length = 3850 mm; Width = 1695mm; Height = 1510mm;
If I have to pick one purely based on the exteriors, I would pick Swift 2011.
Toyota Etios Liva Interiors Vs Maruti Swift Interiors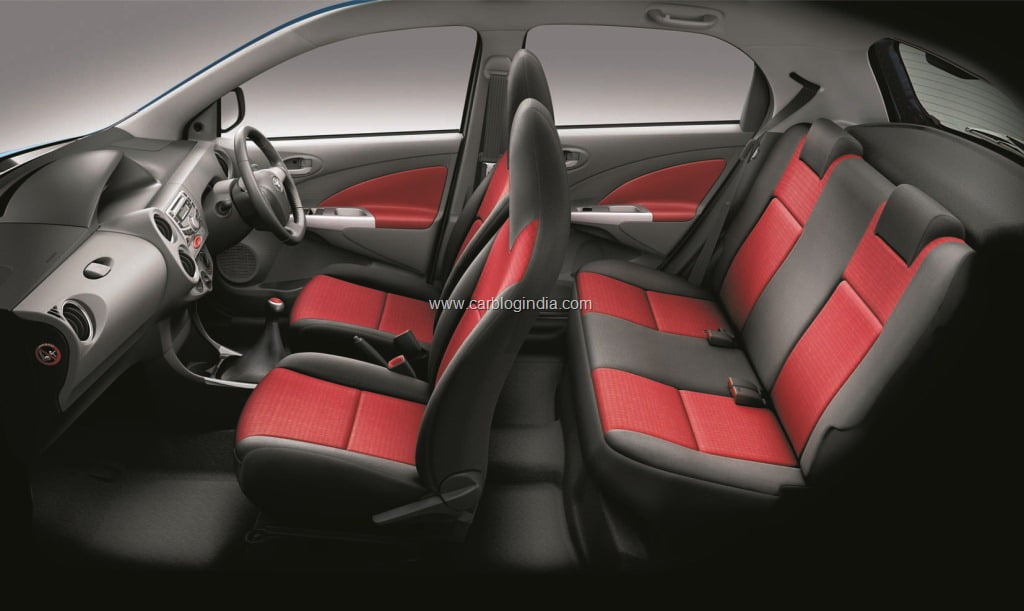 image- Toyota Etios Liva Interiors
Although dual tone fabric interiors of Liva look quite nice, but unfortunately, these are not available in the Diesel variant of the Liva. The Diesel Liva comes only with "GD" and "GD with optional pack" variants which comes with single colour black interiors seat fabric. The dashboard and instrument cluster however comes with dual tone (grey-black) tone which looks good. The interior space, quality, leg room and build of Liva is good. Plastic quality is also good. The car feels quite spacious and comfortable from inside and can seat three adjusts at the rear seat with moderate comfort.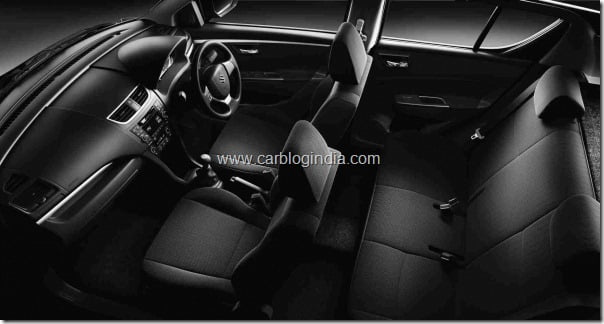 image – 2011 Maruti Swift Interiors
Maruti Swift 2011 interiors are much better compared to old Swift. The quality of plastics is improved, the instrument cluster, dashboard design, fit and finish is also good. The leg space for the rear passenger has improved compared to the old model, but still not very comfortable. Overall, its very dark cabin from inside, which may seem dull to some and sporty to some. So its about your taste in interiors.
Overall, we find Liva to be better packaged and deliver better quality on interior and also more leg space for the rear passengers. So on interiors, Liva steals the deal.
Toyota Etios Liva Diesel Engine Vs Maruti Swift Diesel Engine
Maruti Swift 2011 Diesel Engine Specifications
Re-Tuned DDiS 1.3 Litre Fiat Multijet CRDI Diesel engine
4 Cylinder, Displacement 1248 CC
Max power of 73.5 BHP @ 4000 RPM
Max torque of 190 Nm @ 2000 RPM
5 Speed manual transmission
ARAI Certified mileage of 22.9 KMPL
Kerb Weight = 1050 to 1080 Kg
Power to weight ratio of 69.3 BHP / 1000 Kg
Toyota Etios Liva Diesel Engine Specifications
1.4 Litre D4D CRDI Diesel Engine
Displacement of 1364 CC
Max Power of 67.07 BHP @ 3800 RPM
Max Torque of 170 Nm @ 1800 to 2400 RPM
5 Speed Manual Transmission
ARAI Certified mileage of 23.59 KMPL
Kerb Weight = 980 Kg
Power to weight ratio of 68.4 BHP / 1000 Kg
Looking at the specifications of the engines, the 1.3 Litre Multi-jet diesel with 73.5 BHP of power and 190 Nm of torque looks to be much superior compared to the 1.4 Litre D4D engine by Toyota, but looking closely, its evident that the peak power and peak torque of the Toyota engine are delivered at comparatively lower ROM levels. Also there is a considerable difference in the weight of the two cars (approx. 80 Kg) which makes the power to weight ratio of these cars approximately equal. Which means that though Toyota engine delivers less power and torque, it is almost equally agile because of the fact that it has to pull less weight as well. Also Toyota engine delivers better mileage.
But coming back to the basics, I think the Engine of Swift is well renowned and is quite agile with a minor glitch of turbo lag in it which hits around 2000 RPM. Otherwise, it's a wonderful engine. If I have to pick one of these two cars based on the engine, I would like to call it a tie. This is so because the D4D is a well established Diesel engine which is used by cars like Toyota Corolla Altis and other diesel cars from Toyota Portfolio.
Maruti Swift 2011 Diesel Performance & Handling Vs Toyota Etios Liva Diesel Performance & Handling
The performance and handling of Etios Diesel is quite good, however, the Swift is built with Rally bases suspensions and is well known to be a benchmark in handling in its segment. The Liva does come close to Swift but does not beat it in terms of handling and performance.
Toyota Etios Liva Diesel Price Vs Maruti Swift Diesel Price
Maruti Swift 2011 Diesel Price In India
Ex-showroom Delhi price of Maruti Swift Diesel 2011 is:
Maruti Swift Ldi Diesel is priced at Rs. 5.17 Lakhs
Maruti Swift Vdi Diesel is priced at Rs. 5.61 Lakhs
Maruti Swift Zdi Diesel is priced at Rs. 6.38 Lakhs
Toyota Etios Liva Diesel Price In India
Ex-showroom Delhi price of Toyota Etios Liva Diesel is:
Toyota Etios Diesel GD Variant is priced at Rs. 5.54 Lakhs
Toyota Etios Diesel GD With Optional Package is priced at Rs. 5.87 Lakhs
If we compare the two cars on the basis of the price, the Swift Vdi variant is priced very close to Liva GD variant. Comparing these two, both come without any audio system, and have decent features. The major differences being- Swift comes with larger 15 inch tyres. On the other hand, Liva offers ABS with EBD as standard on Diesel variant which is present only in Zdi which is priced much higher. Also Liva Diesel has a cooled glove box for keeping water and drinks cool on hot summer days. Apart from this, the feature list is more or less the same.
If you want to get the SRS airbags as well, you can get it with the optional safety package with the Liva diesel, whereas you have to pay about Rs. 77,000 more in case of Swift to get a fully loaded package which does include fates like integrated audio system and alloy wheels etc. which you won't get with the Liva diesel.
Car Blog India verdict – Toyota Etios Liva Diesel Vs Maruti Swift Diesel
Etios Liva Diesel is a good choice if you are looking for a spacious, safe and value for money car. However, it may not give you the sharp handling of Swift. So if you are looking for a fuel efficient, safe and elegant car for you, Etios will not disappoint you.
If you are a spirited driver and want high performance and handling are on your priority list, Swift maybe a better choice for you. With larger tyres and stiffer suspensions, Swift is meant for enthusiastic driver. However, you may have to spend extra bucks to get full safety feature which you will get in Zdi only which is pricey. The Swift does offer better and sporty exterior looks, but is not as pleasing in terms of Interiors and space when compared to Liva Diesel.
check out more-