It is not every day that one gets to witness a crash between Rs 2 lakh and Rs 50 lakh vehicles.
This crash between a Tata Nano and Toyota Fortuner encapsulates some unbelievable results. Nano was officially the cheapest car in the world during its lifetime. Tata Motors launched it back in 2008 to offer people the luxury of owning a car at the price of around Rs 1 lakh at the time. With mild success, it was discontinued in 2019 after poor sales and safety regulations. On the other hand, the Fortuner SUV costs a whopping Rs 50 lakh, ex-showroom and is an accomplished off-roader. Watch what happens when these two 'meet'.
You may also like: Toyota Innova Hycross (Innova Zenix) Leaked – Looks Like a Mahindra XUV700 Rival
You may also like: Rs 2 Lakh Tata Nano Converted to Rs 22 Crore Car – Here's How
You may also like: Owner Replaces Toyota Fortuner with Jeep Meridian – Explains Why
Tata Nano & Toyota Fortuner Crash
The video clip has been uploaded by Nikhil Rana on his YouTube channel. He posts such content to showcase the performance of cars with high safety ratings in real-life scenarios. This time around, he brings a crash between a Nano and a Fortuner. As per the information in the video, the driver of the Nano, who was travelling ahead of the Fortuner suddenly applied brakes. The reason for that is unknown. However, the driver of the SUV was not able to react quickly enough and ended up hitting the Nano from behind.
You may also like: Meet Tata Nano and WagonR Budget Helicopters
The results of this minor crash are astonishing, to say the least. The tail end of the Nano is seen bent from one side, the taillamp is broken, the boot lid has suffered a minor dent and there is some impact on the bumper. However, what took everyone by surprise was the sheer damage to the front left section of the mighty Fortuner. The bumper, headlight, bonnet, front grille and side fender have incurred quite heavy damage. It looks like it must've hit a brick wall. This is a testament to the strong build quality of Tata products.
You may also like: New Nissan X-Trail vs Toyota Fortuner Comparison
Prevent Overspeeding
As is the case with most accidents, overspeeding and careless driving look like the reasons for this incident. Had the driver of the Fortuner been driving the SUV at a controlled speed, he would've been able to apply brakes on time. It is either because of that, or he was not paying attention to the road which is why he didn't see the Nano slowing down in front of him. We urge our readers to follow traffic regulations and prevent overspeeding at all costs. Do share your thoughts on Tata Nano.
You may also like: Watch Tata Nano vs RC Mercedes E Class in Demolition Derby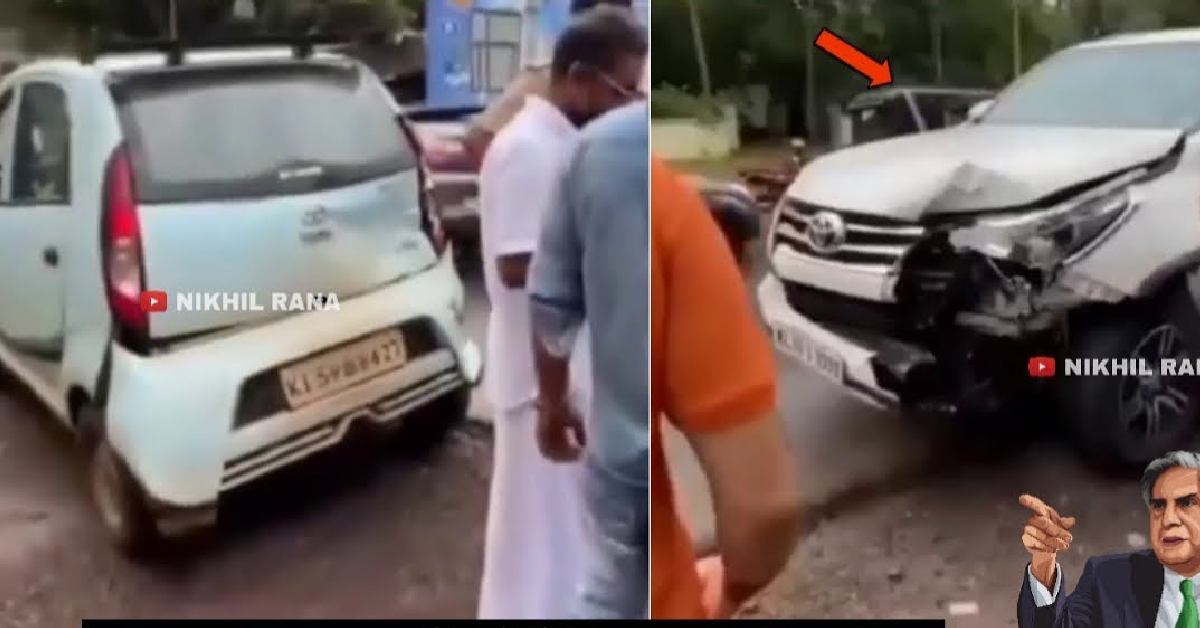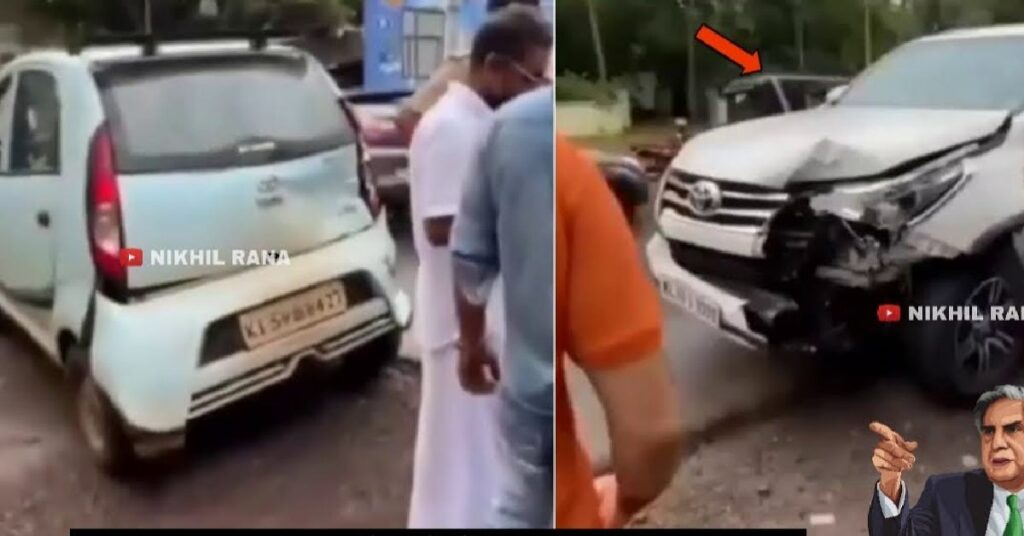 Disclaimer- The embedded videos/ external content is/are being used as a convenience and for informational purposes only; they do not constitute an endorsement or approval by Car Blog India of any of the products, services, and /or opinions of the corporation or organization or individual. Car Blog India bears no responsibility for the accuracy, legality, and/or content of the external site or for that of subsequent external videos/ external content. Contact the external publisher for answers to questions regarding its content.