Indians are known for being super creative and make-do with what they have got. This man turning his Tata Nano and Maruti WagonR into a helicopter drives this point home.
A man from Bihar has achieved something quite hard to believe after he designed a helicopter from a Tata Nano and even one based on a Maruti WagonR. Since ancient times, Indians have been creating innovative solutions to solve prevalent problems or to satiate their curiosity to follow their passion. Mithilesh Prasad from Simri village of Chhapra, Bihar said that he loved helicopters and wanted to fly in one. However, due to insufficient means, he could not fulfil his dream. Instead of giving up, he decided to replicate the helicopter design on a Tata Nano.
You may also like: Kia Seltos Catches Fire After Crash by Drunk Driver
You may also like: Isn't This Among the Best Modified Mahindra Thar SUVs Ever?
Tata Nano and Maruti WagonR or Mini Helicopters?
Mithilesh took the assistance of his brother who supported him throughout his journey despite his parents trying to stop him from undertaking such a seemingly useless task. But he was resilient and dedicated to making his dream a reality. He added a front component to make it look like a helicopter along with fully-functional wings and tail. Granted, the Nano and WagonR can't fly but the aesthetics are on point. For night applications, Mithilesh has installed a ton of LED light strips on the body which makes it light up in the dark. The lights, especially, on the wings and tail section look quite cool.
You may also like: Watch Tata Nano vs RC Mercedes E Class in Demolition Derby
He invested around Rs 2 lakh into this passion project. He began building it back in 2019 but the 2020 pandemic halted his operations. After that, he was able to complete this unique Nano helicopter. Now, the helicopter is in great demand for marriages. The bride and the groom book this special ride to mark their special occasion. Reportedly, he rents out this Nano-heli at a nominal fare of Rs 15,000 which is a great way to earn from his passion project. Because of high demand, he has 2 helicopters. He also offers to custom build one if people so wish.
You may also like: Is Maruti Suzuki Finally Planning to Bring the Seven-Seater Wagon R?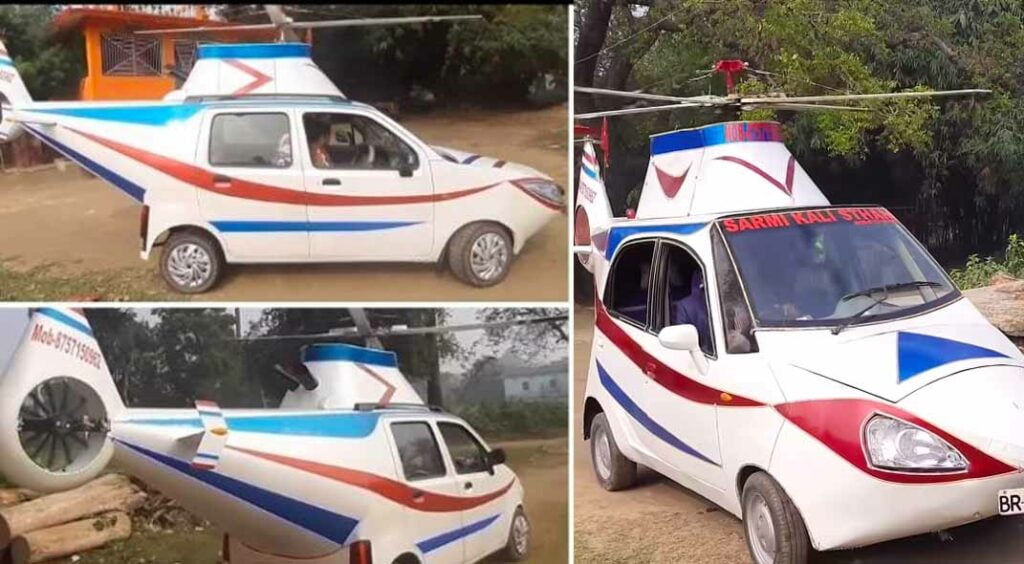 The contact number of Mithilesh has been efficiently designed into the tail of this helicopter which is how one can contact him and order it. It drives like a regular car. If you want it to be a one-time affair, feel free to rent it out. Let us know your thoughts on this Tata Nano helicopter hidden in WagonR garb.
Join our official telegram channel for free latest updates and follow us on Google News here.