You might have seen a million modified Mahindra Thar SUVs, but this one, in particular, is quite something.
You will be amazed to see the modifications and costs of this Mahindra Thar. Thar has become the most common SUV for aftermarket modifications. Its body type and application lend it a great foundation for body shop owners to exercise their innovative ideas. This Thar retains almost no stock elements as every bit of the SUV has been altered. Let us check out the specifics of the modifications in-depth here.
You may also like: Mahindra Thar Seen in Dubai, On World Tour in Rs 20 Lakh
You may also like: Mahindra Thar Driven 2,400 km Non-Stop from West Bengal to J&K
Modifications To Mahindra Thar With Costs
The front end of the Thar has been transformed into something rugged, tough and muscular. There is a brand new bonnet hood with fake air ducts, the front bumper has been replaced with a more rugged unit, the black paint at various places is scratch-proof, there re auxiliary LED bar lights mounted on the roof of the SUV that are controlled via a remote, the headlamps, turn indicators and fog lamps are all new, the front grille is also finished in the black paint. On the sides, the chunky wheel arches are a part of genuine Mahindra accessories, and the 18-inch black-out alloy wheels with bolt finish and all-terrain tyres give a different dimension to the off-roading capabilities.
You may also like: Watch Mahindra Thar Drift on Snow Like PRO
Thar's side profile also features side steps for easier ingress and egress. There are black strips pasted on the door panels to accentuate the side profile. At the rear, the alloy wheel is mounted on the boot, the LED taillamps are smoked, there are Urban Jeep monikers everywhere, which used to be the name of this SUV. Now, it is called Badlands Vehicle. The 5 alloy wheels and tyres alone cost a whopping Rs 3.20 lakh.
You may also like: New Force Gurkha Compared with Mahindra Thar on Harsh Spiti Terrain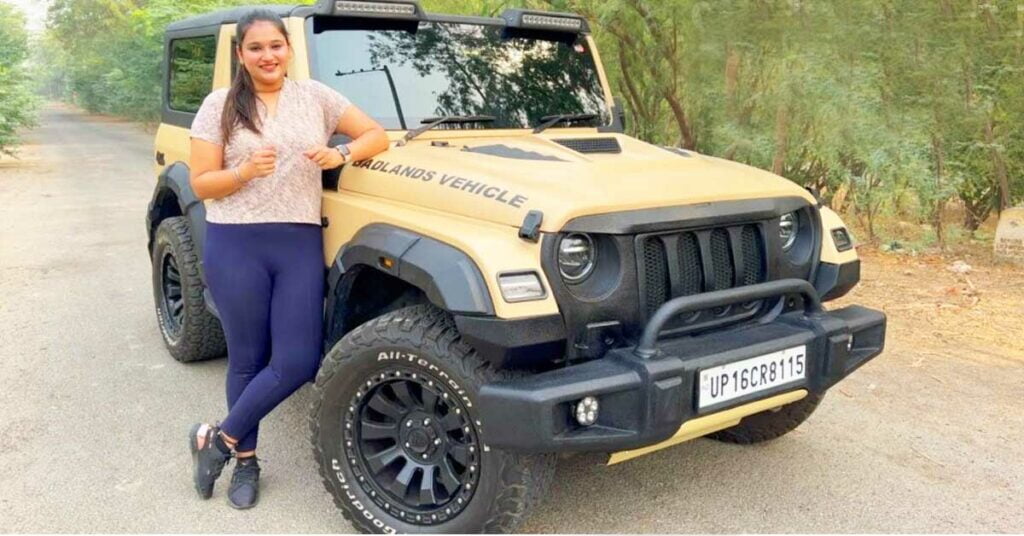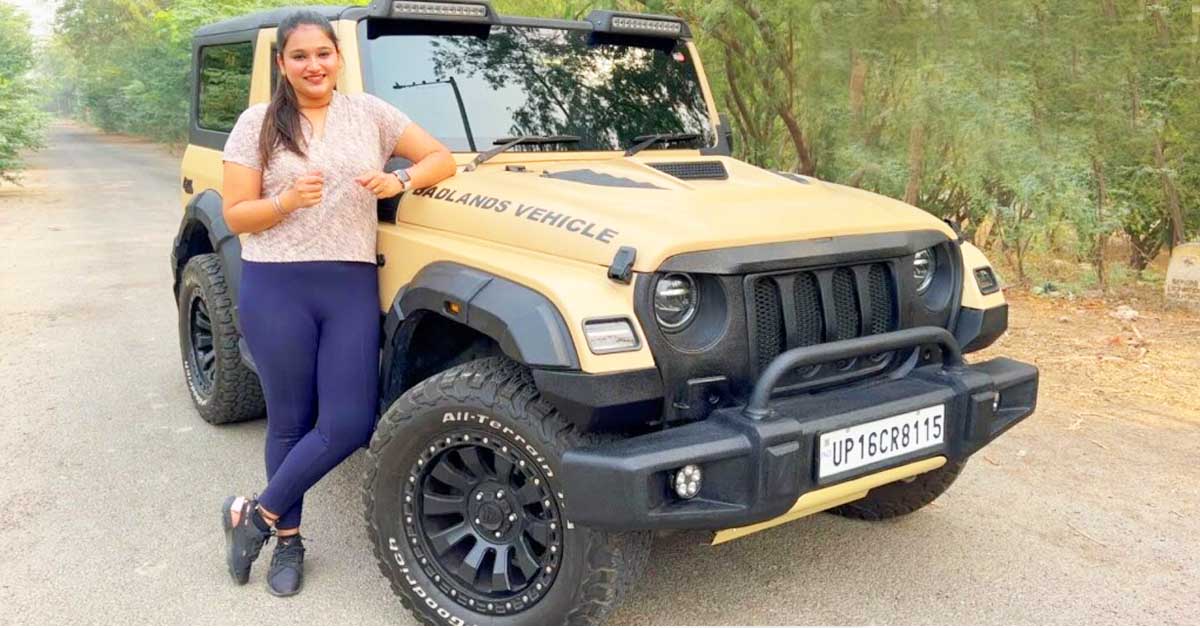 Interior
The modifications have been carried inside the cabin too. The door panels are wrapped in premium soft-touch material in red colour, there are carbon fibre inserts are various places including on the centre console, door handles, AC vents, dashboard, etc. The grab handles are finished in red and the rear cabin has been designed using soft-touch materials as well. For both the rear passengers, there is a dedicated armrest with storage space underneath it with a 12 V charging socket. All in all, the total cost of modifications for this Mahindra Thar is over Rs 8 lakh. However, the YouTuber mentions that the car modifiers can design the Thar according to the needs of the customer.
Join our official telegram channel for free latest updates and follow us on Google News here.