People have been sharing their unique adventure stories with Mahindra Thar SUVs for a long time now and this is certainly among the most challenging journeys undertaken by a family in the lifestyle off-roader.
A family drives 2,400 km non-stop in just 56 hours in their Mahindra Thar. This journey was incepted in Bankura, West Bengal and culminated in Baramulla in Jammu & Kashmir. This family undertook this seemingly impossible task on the back of their capable SUV and passion for driving. There were three members of the family on this marathon road trip; a man and his parents. He mentions at the start of the video that all three of them drive and the plan is to not stop in any hotel during this trip. They have collected food supplies and snacks which they ate while on the journey. They stopped at the restaurants on the highways to get proper meals.
You may also like: Watch Mahindra Thar Drift on Snow Like PRO
You may also like: New Force Gurkha Compared with Mahindra Thar on Harsh Spiti Terrain
Family Drives Mahindra Thar Non-Stop For 56 Hours
The video captures the length of their entire journey compressed in under 30 mins. The began early in the morning at 4 AM. The plan was to drive all morning and afternoon and stop for a quick nap on the highway in their Thar during the broad daylight. This would ensure that they didn't have to stop for rest at night on lonely highways due to safety concerns. During the course of this mega-journey, they crossed 8 states. In the initial phase of this unique expedition, they enter Bihar from Jharkhand and then made their way into Uttar Pradesh. In the beginning, after driving for around 450 km, they picked a spot to take some rest on the side of the highway. After this, there was no stopping for rest.
You may also like: Watch Youtuber Paras Thakral Gift Mahindra Thar To his Wife
They availed of some of the prominent modern highways developed relatively recently including the Purvanchal Expressway, Yamuna Expressway, and Eastern Peripheral Expressway. While these highways certainly are quite impressive and save a ton of time, they had to struggle a bit to get onto these highways at times. They were using google maps which took them through some not-so-great roads to ensure the shortest journey distance. In a bid to do that, they even went through areas where there was deep mud and uneven surfaces. The driver mentions that it became possible to navigate through all that only because of Thar's capabilities to tackle any terrain.
You may also like: Here's India's Best Old Mahindra Thar to New Model Conversion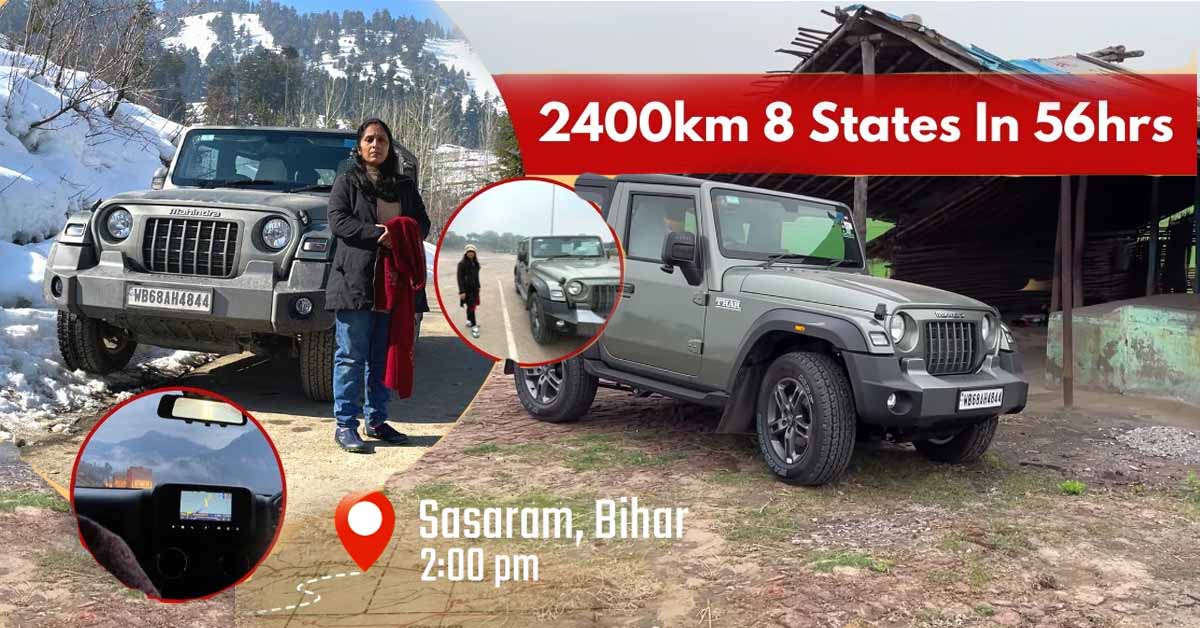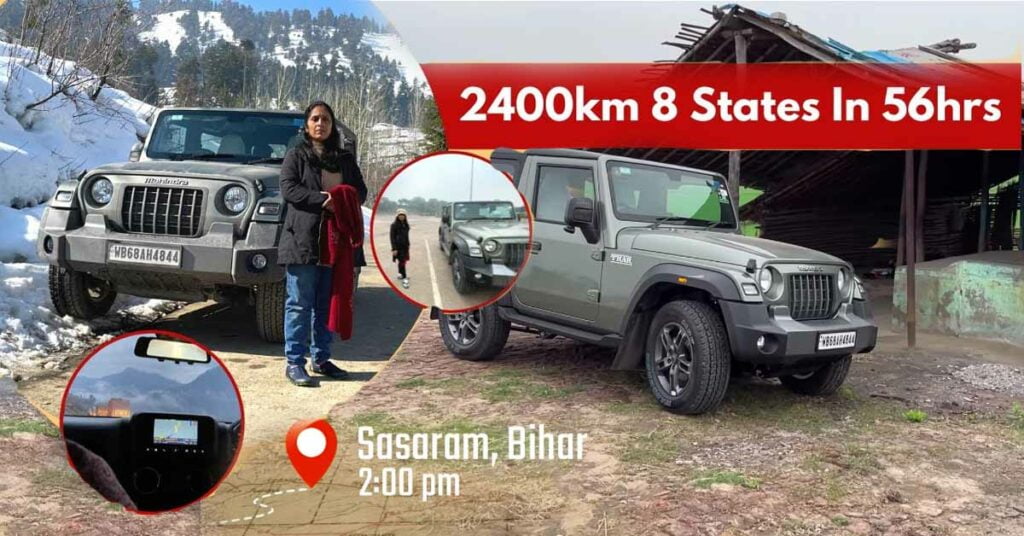 Finally, their SIMs were inactive on entering J&K. They had to rely on the car's in-build navigation system which was a pleasant surprise. They faced no issues with the navigation software and were able to stay on course to Baramulla. Without their cellphones, they asked for help from the Army in the area and called their friend when they were close. In the end, they are all seen enjoying a well-deserved cup of Kashmiri Kahwa. This bold adventure when this family drives non-stop for 56 hours in Mahindra Thar is a testament to the capabilities of the SUV.
Join us for FREE NEWS Updates on our Whatsapp Community or our official telegram channel.