Drunk driving is a menace to society as the consequences of it are never desirable. This latest video proves it beyond doubt.
Here is an unfortunate video of a Kia Seltos catching fire after a drunk driver crashed it on the highway. Seltos is regarded as a decent mid-size SUV with a 3-star NCAP rating. People purchase it for its looks and high-tech features. In its top trims, it comes loaded with safety and functionality features. However, no car can save you if you are overspeeding or driving rash on the roads. This incident proves what happens when you drive in an inebriated state.
You may also like: Kia Seltos Spied in New Blue-White Dual-Tone Paint
You may also like: 2022 Kia Seltos Facelift Spied on its Home Turf
Kia Seltos Catches Fire After Drunk Driver Crashes It
The video has been uploaded on YouTube. According to the information available to the YouTuber, this crash took place in Gurgoan during the night. There were 5 persons in the car who were allegedly drunk. This crash took place near the area which is quite famous for nightclubs. People are often found drunk driving at odd hours in this area. In this case, too, the drunk driver of the Seltos hit two other vehicles on the highway after which the Seltos was set ablaze. Reportedly, two people are in a critical state while the SUV is left in pieces. There is no information regarding the other two vehicles that he hit.
You may also like: Kia Seltos Flips Twice in Horrific Accident, Keeps All Safe
We would like to urge our readers to follow traffic rules and prevent overspeeding and drunk driving at all costs. These two are the most common reasons for creating unfortunate situations on the road causing harm not only to themselves but to others as well. If you find such reckless drivers, make sure to report them to the authorities to ensure that our roads get safer.
You may also like: Watch Kia Seltos Diesel Vs Tata Nexon Electric in Classic Drag Race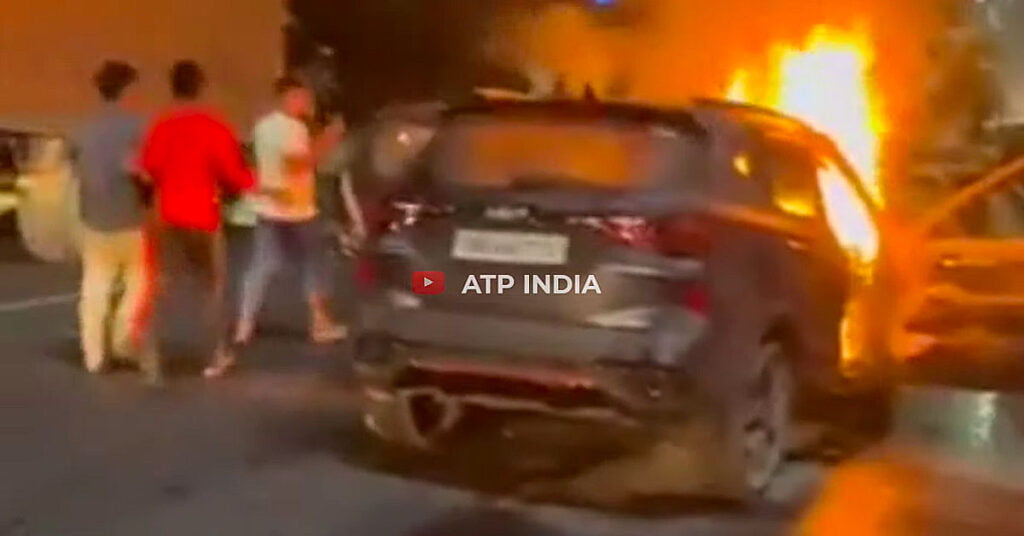 Kia Seltos
The Seltos comes with a 1.5-litre naturally-aspirated petrol, a 1.5-litre turbocharged diesel and a 1.4-litre turbocharged petrol motor. The 1.5-litre motors output 115 PS each, while the turbo-petrol engine belts out 140 PS. Also, all the engines come mated to a 6-speed manual transmission as standard. However, the base petrol engine is optionally available with a CVT, while the diesel and turbo-petrol motors are on offer with a 6-speed torque-converter and 7-speed DCT option, respectively. Currently, the Seltos range between Rs 10.19 lakh and Rs 18.45 lakh, ex-showroom. The updated 2022 Seltos has been spied testing and will make its way into our market soon.
Join our official telegram channel for free latest updates and follow us on Google News here.