While the Australian Kia Seltos scored full 5-Star rating in ASEAN NCAP, the Indian model could manage only 3-stars in Global NCAP tests
Kia Seltos is among the most successful SUVs right now and has all impressed with its looks, features and driving dynamics. On the flip side, it has received flak for managing to score only 3-star rating in Global NCAP tests as against a 5-star rating in ASEAN NCAP by the Australian model. Still, it continues to be one of the most successful offerings and an owner has recently highlighted how the vehicle kept him safe in a high speed accident even after flipping twice.
You May Also Read: Kia Sonet Buyer Cancels Booking and Buys Used Ford Ecosport Instead
You May Also Read: Jeep Compass Annihilates Kia Seltos Totally in Tug of War – VIDEO
As shared by one Rabil Choudhary, the owner of the Kia Seltos you see above, he was travelling late night in his car with 3 friends when a huge truck turned right as it was being overtaken. To avoid a collision, Choudhary steered right and lost control of the vehicle. His car then flipped twice and landed on the other side of the road. The rollover caused severe damage to the vehicle but the important part here is that all the occupants came out of the mangled car totally safe.
Impressed by the crash worthiness of his Seltos, Choudhary goes on to say that he wants to award 5-star score to his vehicle for the high protection it has provided in massive accident. We are really happy that all the occupants of the vehicle were safe in what would have been a life-threatening situation but this accident does go on to show the perils of high-speed driving late night. The crash happened at almost 2:30 AM and visibility, and, often, alertness is pretty low when driving at such a time. Also, this mishap shows how important it is to maintain sufficient distance from large vehicles. Finally, one is even advised to always drive within the speed limit irrespective of the absence of traffic.
You May Also Read: Kia Sonet Rescued by BRO at High Altitude Shows Importance of 4×4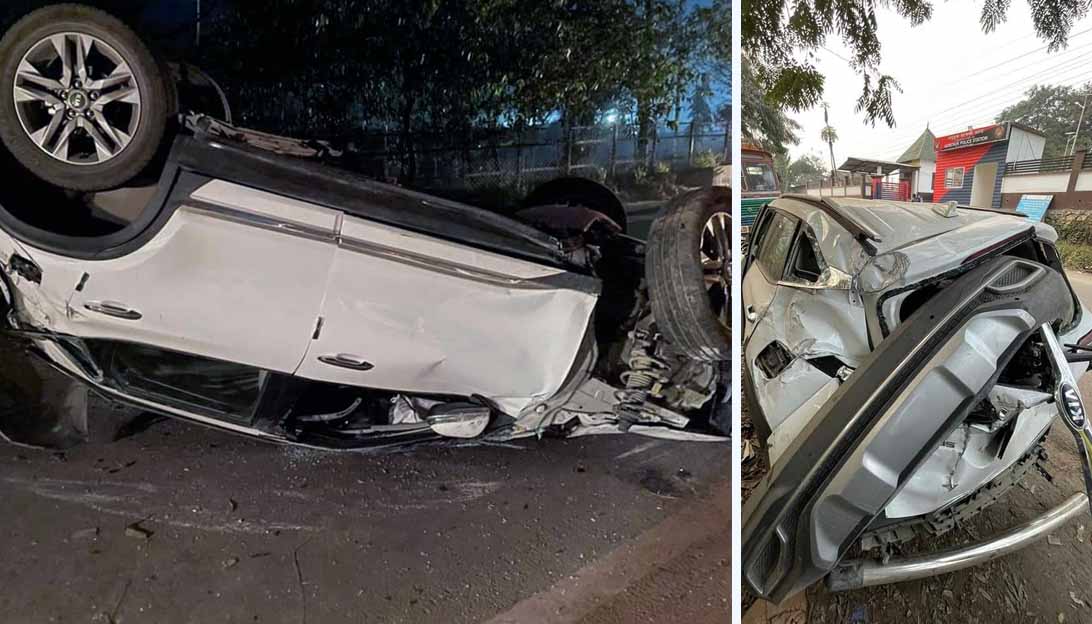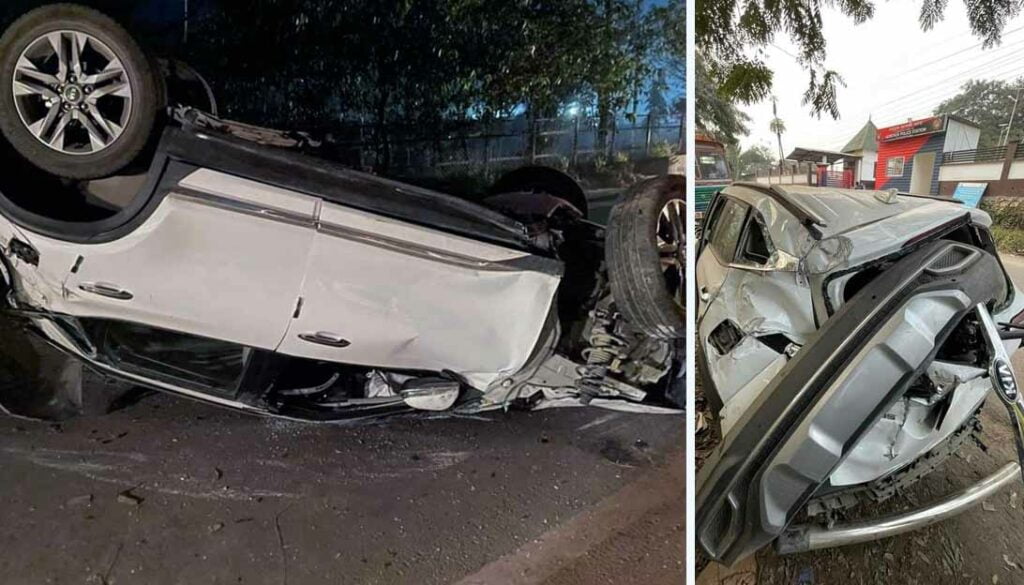 You May Also Read: Mercedes User Reveals Why He Upgraded to Kia Carnival
The Kia Seltos is currently on sale in a price range of Rs 9.95 lakh to Rs 18.19 lakh (ex-showroom). It's available in three engine variants – 1.5-litre naturally-aspirated petrol, 1.5-litre turbocharged diesel and 1.5-litre turbocharged petrol. It's due for a facelift later this year and could gain more features such as Level-1 ADAS and a panoramic sunroof. Accordingly, there could be a slight price hike, too.
Join us for FREE NEWS Updates on our Whatsapp Community or our official telegram channel.