Updated on 19 March 2014
Nissan today launched the Datsun Go, the brands first product in India. The Datsun Go will go up against cars like the Hyundai Eon, Maruti Suzuki Alto 800, Tata Nano, Maruti Suzuki Alto K10 as direct competition. Cars like the Hyundai Santro Xing and Chevrolet Spark can also be considered as competition as their top end models are not very far off in terms of price. Meanwhile check out Datsun Go Detailed Test Drive Review & Video here. The Datsun Go Price is given below.
Price
Datsun has kept the price of all the variants of the Datsun Go below the promised mark of Rs. 4 Lakh, ex-showroom.
Datsun Go D Rs. 3.12 Lakh  
Datsun Go A Rs. 3.46 Lakh 
Datsun Go T Rs. 3.70 Lakh
Datsun Go Test Drive Video Review
What's New?
Standard variant-vise features include:
Silver finish on grille
Wheel cap
Speed sensitive wipers
Closable A/C vents with Silver Finish
Plain fabric seats
Digital tachometer
Drive computer
Follow-me home lamp
Heater
Engine immobilizer
The 'A' variant gets:
Chrome finished grille
Rear overhead grips
Jacquard fabric seats
Bottle holders in front door panels
A/C
The 'T' variant gets the following over the 'A' variant:
Full wheel cover
Body colour door handle
Electric power steering
Front power windows
Mobile docking station
Manual central locking
Some of the optional accessories are as follows:
Leather seat cover : Rs. 4,800
Steering wheel cover : Rs. 484
Roof spoiler : Rs. 2,998
Paint protective film : Rs. 2,550
Reversing camera : Rs. 7,920
Remote locking : Rs. 2,998
Media player : Rs. 7,986
Parcel tray: Rs. 2,490
These accessories can be added to any of the variants of the Datsun Go.
Accessories price source: Autocar.com
Updated on 15th February 2014
Datsun has officially started taking bookings of the Datsun Go hatchback in India. The Dtasun Go can be booked from any of the 150-odd Nissan dealerships across the country. Datsun cars will be displayed and sold from Nissan dealerships across the country as we had reported earlier, each dealership will have a separate area for sales, while servicing area will be shared between Nissan and Datsun cars.
People who want to book the car can do so by paying an amount of Rs. 11,000 at the dealership, the final price of all variants will be below Rs. 4-Lakh, ex-showroom. The Datsun go is powered by a 1.2-litre petrol motor which is mated to a 5-speed manual transmission, and delivers a claimed efficiency of 20.6 KMPL. Nissan will ofer a two-year/unlimited Km comprehensive warranty on the Datsun Go.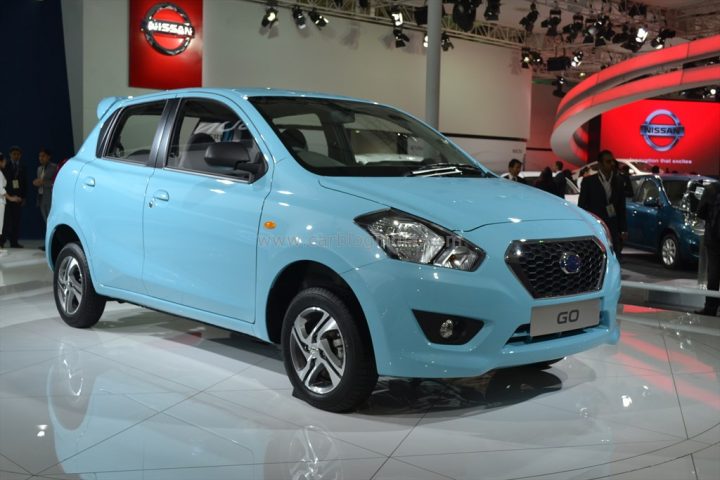 Have you booked a Datsun Go? What was the experience like and which variant/paint did you choose? Let us know in the comments section below.
Video Walk-around Review
Photo Gallery
Updated on 4th February 2014
Datsun India today started rolling out the first Datsun Go hatchbacks from the Nissan-Renault factory in Chennai today. We will update this story as more news comes in. Stay tuned.
Updated on 18th January 2014
Datsun has confirmed that it will start selling the Datsun Go hatchback in India in March 2014, while bookings of the car should officially start from February after its launch at the 2014 Indian Auto Expo.
Updated on 13th January 2014
It is being reported that the Datsun Go Indian assembly will begin a few days before the 2014 Auto Expo starts, on 4th February 2013. The news was first broken online by IndianAutosBlog.com. The car, all variants of which will cost less than Rs. 4 Lakh ex-showroom, will be showcased along with the Go+ MPV and a new Maruti Suzuki Alto 800 rivaling small hatchback code-named the 'I2' at the Auto Expo. We will bring you more info as it comes in. Keep following Car Blog India.
Updated on 29th November 2013
Nissan has announced that cars from it's Datsun brand will be sold in India through Nissan dealerships, and not via separate dealerships as is the norm. Datsun cars will be showcased at Nissan dealerships with special areas reserved for them, the multi-brand showroom idea is similar to the earlier Tata-Fiat venture (but it will hopefully fair better). Datsun and Nissan cars will share servicing space too, Nissan says that this will ensure that Datsun customers get the same premium experience as the customers of Nissan cars. This move would also reduce the capital needed by Datsun to expand its reach in the country.
"Selling the Datsun GO and future Datsun models through Nissan Motor represents a natural evolution of the company's operations in India, which are well recognized in the market. We are excited about launching the iconic Datsun brand in India and look forward to bringing a growing range of bespoke, locally-produced products and high level services to our customers," said Mr. Vincent Cobee, Global Head of Datsun.
Updated on 29th October 2013
Good news folks! The Datsun Go hatchback, the first product to be unveiled by Nissan's low-cost brand has been spotted testing in India. When launched in 2014, the Datsun Go is expected to be priced competitively, Mr. Carlos Ghosn had promised that the car would be priced below the Rs. 4 Lakh mark. This competitive price will be achieved by sharing many parts between the Go and the Nissan Micra Active.
The test mule was spotted testing in  Chennai by a Team-BHP.com member and was surprisingly not covered in camouflage, the company logo and the brand stickers were covered though. The company had revealed the car in July and given us a good idea about how the car would look inside out, so covering up the whole car in camouflage may not have seemed necessary.
Check out the spy shots below:
Updated on 15th July 2013
Nissan India has revealed the new Datsun Hatchback today, it is christened the 'Go'. The Datsun Go will spearhead Nissan's/Datsun's entry into the cut-throat low-cost car market in India.
The Datsun Go will be launched in India in early 2014, and will be priced below Rs. 4 Lakh.
The car was unveiled by Mr. Carlos Ghosn, President and CEO, Nissan Motor Co. "This is an historic day for Nissan Motor Company and for our customers and partners in some of the world's fastest-growing markets. It's also an exciting moment for many women and men here in India who – today – come one step closer to realizing the dream of purchasing a car," he said while unveiling the car.
In Short
These are the details of the Datsun Go:
It's a five door hatchback and can seat five people

It is powered by a 1.2 litre petrol engine which is mated to a five-speed manual transmission, and is front-wheel driven
Dimensions : LxWxH in mm – 3785 x 1635 x 1485
Wheelbase : 2450mm
It will be priced below Rs. 4 Lakh when launched in 2014
Datsun Go Exterior Photos
[slideshow id=13]
Datsun Go Interior Photos
[slideshow id=14]
Datsun Go Video Review & Official Video
Updated on 12th July 2013
Three days to go for the launch of the new Datsun hatchback and we have some news for you. Auto-journalists who have had the chance to see the upcoming small car from Datsun, codenamed the K2, report that the car is revolutionary. It will have a bench seat in the front that can apparently seat three abreast comfortably, because of this configuration the gear-shifter and handbrake lever have been moved onto the dashboard. This is quiet a revelation, imagine six people sitting in a hatchback!
We will bring you more updates of the upcoming Datsun hatchback. Keep following Car Blog India.
Updated on 1st July 2013
Nissan has released the sketch of the upcoming Datsun hatchback.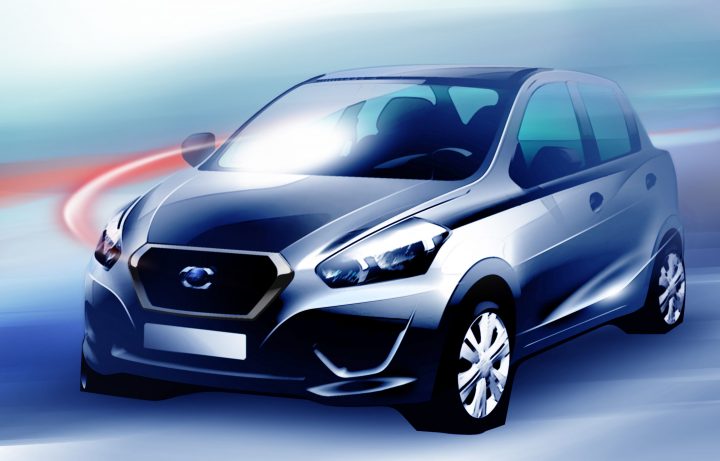 Looks very much like the Nissan Micra doesn't it? Keep following Car Blog India for up to date news on the Datsun hatchback.
Updated on 21st June 2013
The first car from Datsun will be a small hatchback powered by the 1.2 litre, petrol engine that is found on the Micra. No other information about the car is available as of this moment. We will keep you updated as news comes in.
source: Hormazd Sorabjee's Twitter Handle
Updated on 7th June 2013
We have got an invite from Datsun to it's world premiere in India on 15th July, 2013. The brand will debut its car(s) at the Kingdom of Dreams, Gurgaon on the said date.
The invite reads, " When you possess the power of dreams, access and trust……   A generation shall rise to bring a new dawn and a brighter future…..   Be part of the rising at the Datsun world premiere"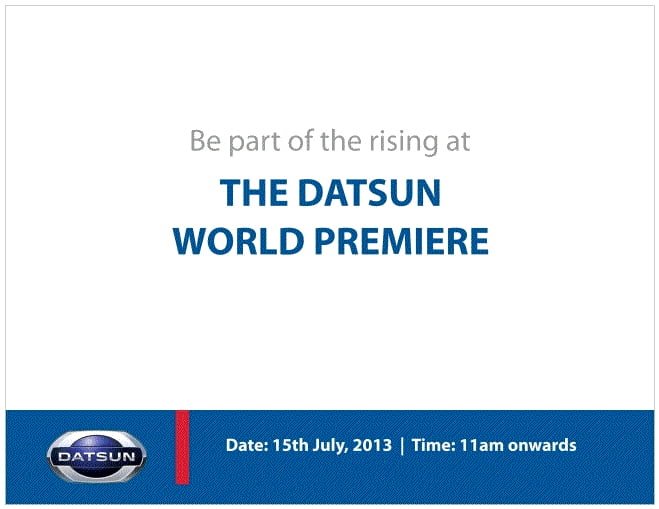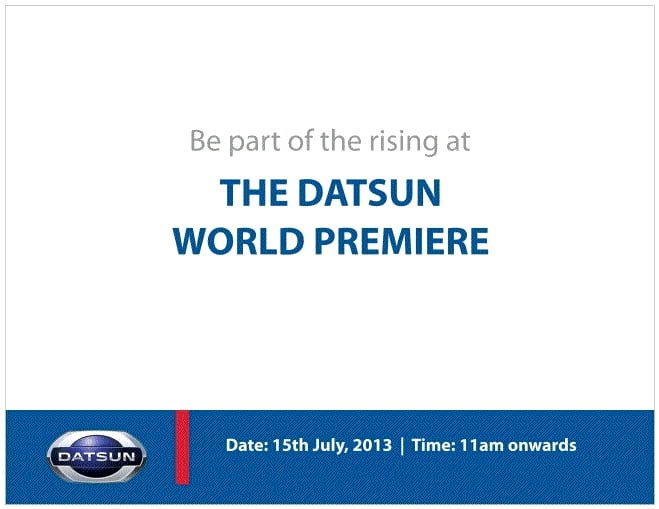 We will update you with the latest news on Datsun as it emerges. Keep following this space.
Updated on 19th December 2012
Nissan is going to bring back the Datsun brand from the oblivion to make a strong and segment leading entry into the Indian market which will also spawn products for the premium sibling Renault but it is Nissan which is going to be garnering the volumes this time around. And why we are bringing you this piece of news is for the reason that Datsun will come into India in mid July 2013 so if you were planning on purchasing a car by then, you better read on.
Carlos Ghosn , the top boss at Renault-Nissan has expressed that India has frugal engineering skills and this will be the right place for them to conduct research and development of their products in a cost effective manner. Renault displayed that it had aggressive plans for India when it entered into a JV with Bajaj to produce a Nano rivaling ultra low cost car. He believes that the country which gave the world it's cheapest car is precisely the right place for them to start their resurrection.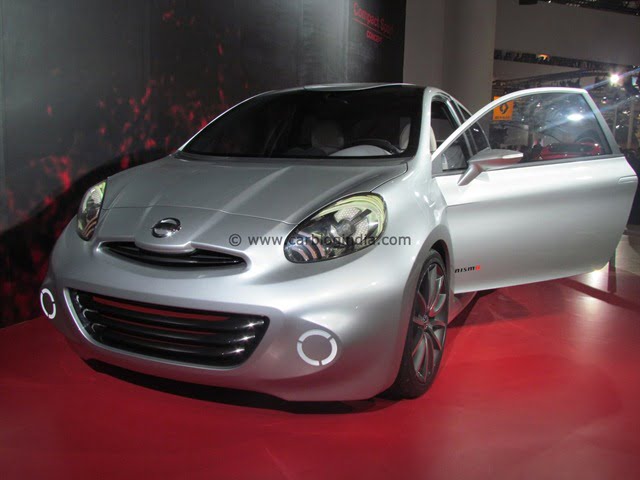 K2 and I2 are the two low cost hatchback prototypes that are being developed in their Chennai R&D facility with the K2 being a B segment flagship for the brand Datsun and the I2 which will be a Eon rival and possibly an Alto gunner too. Talking about the importance of the Indian car market, Businessline has reported that India is so important for them that Ghosn will be visiting India in July 2013 to unveil the K2 prototype with I2 following its elder sibling. Something which might pose an issue will be thee presence of Micra and Pulse in the segment K2 will be positioned but that's not our headache.
The K2 will be a 4 lakh plus hatch while the I2 will be priced in the range of Rs.2 Lakhs to 2.5 lakhs. Also spawning from the K2 will be a 7 seater MPV which will be aimed to be placed below the Ertiga so as to attract more and more customers. It will also be taken to markets like Indonesia and Russia which have a thing or two for MPVs. The three cars are being designed at Renault Nissan Technology & Business Centre India (RNTBCI) in Chennai. And their veteran Detourbet has been working overtime to get things in place for the upcoming brand.
India is the only country in the world to provide such low cost cars as the Nano and the Alto. After Tata and Suzuki, Nissan through its Datsun brand plans to go head to head with the well established giants in the Indian Auto market. What remains to be seen is how well do the Indians receive these so-called low cost products. A value for money car, despite the brand's aspirational value , is always welcome.
Also read – Datsun Working On 3 Small Cars For India
source- Business Line