In the past couple of years, Japanese automaker Nissan has focused intensely on the emerging markets. Its well targeted launches in these markets have won the company a decent market share quickly. In continuation of this effort, Nissan's sub brand Datsun, which is in place to take care of the emerging market needs, is coming up with its second car in less than 2 month's time. The car is going to be unveiled in Indonesia on 17 September, just 2 days prior to the start of Indonesian International Motor Show- 2013.
According to a press release by the parent company Nissan, Datsun has used the local solutions for developing the car along with technical and other help from Nissan. The vehicle targets the segment defined as 'risers' (young people in Datsun talk) and it will cost less than 100 million Indonesian rupiah (approximately $8,900 or Rs. 5.93 Lakh).
Updated on 4th December 2013
Datsun Indonesia through it's twitter handle @ID_Datsun has revealed some details about the upcoming Datsun Go+ MPV:
L x W x H in mm: 3995 x 1635 x 1500
Wheelbase in mm: 2450
Weight in Kg: 794
Seating capacity: 7
Engine: 1.2-litre (1198cc), 3-cylinder, petrol
Performance figures: 67 BHP / 104 Nm
5-speed manual transmission
Wheels: 13-inch, steel
Tyres: 155mm section
Brakes: Discs at front, drums at the rear
Paint Options
Reddish Gold
White Solid
Silver Metallic
Grey Metallic
Black Solid
When launched in India, the Go+ will qualify for the sub-4 metre car excise duty, which should enable Datsun to price it competitively against rivals such as the Maruti Suzuki Ertiga or the Mahindra Quanto. It will also be the lightest MPV in its class, and that should help in terms of mileage. Local production of the car at Nissan's Orangadam plant in Tamil Nadu and Datsun's promise of maximum localisation of components should also lead to a very competitive price.
We will update the details of the MPV regularly, keep following Car Blog India. You check out the brochure scan uploaded by Datsun Indonesia below: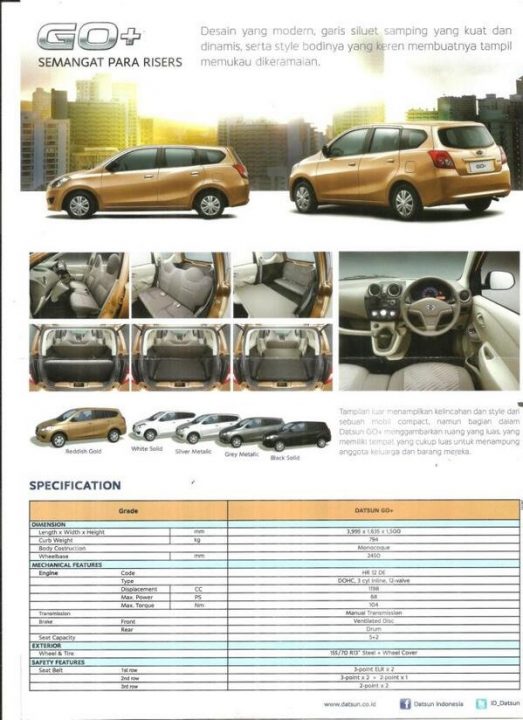 Updated on 18th September 2013
Datsun has revealed the second vehicle in their lineup and it is the Datsun Go+ MPV. It was revealed in Indonesia on 17th September 2013 and will go on sale there in 2014. As we stated earlier, Datsun has said that when launched the Go+ would cost below 100 Million Indonesian Rupiah, which is equivalent to Rs. 5.49 Lakh (as per exchange rates of 1 INR = 182.29 IDR on 18th September 2013). We expect it to be launched in India too, and are waiting for Datsun to confirm the news of the same.
Datsun Go+ Exterior
Datsun Go+ Interior
Datsun Go+ Video
Datsun Go vs. Datsun Go+
Updated on 10th September 2013
We expect it to repeat the promise of Datsun's first car, the Go, which established itself as affordable and connected motoring machine for five in a handsome hatchback body. If the assumptions are to continue further, its again going to be an MPV and may sport engine options from the Indian version of Micra. Hence, in all probabilities, it will have a 1.2-liter 3-cylinder motor found in the recently revamped hatchback.
The MPV would also get the 1.5-liter four-cylinder K9K diesel engine which has been applauded for its efficiency and reliability. You can expect a few features of interiors copied from the previous launches. If these launches perform well in the Indonesian market, it will have a big opportunity to replicate these vehicles in other emerging markets.
Now we wait till the launch or a leak, whichever comes first.