DC Design is the leading car modification house in the country that has been providing premium and luxurious conversions of regular cars for a long time.
Shankar Mahadevan recently got his Kia Carnival modified from DC. The design house is a reputed name in the aftermarket premium modification industry. It has successfully been able to modify all sorts of cars in our market from basic entry-level cars to premium vehicles. Shankar Mahadevan is already acquainted with DC from back in the day when he got his Toyota Innova Crysta modified from them. Now, he has added a Kia Carnival to his fleet and got it customized to suit his needs from DC yet again.
You may also like: DC Modified Kia Carnival Is More Luxurious Than Mercedes V-Class
You may also like: Kia Carnival Modified Into 7 Star Luxury Hotel On Wheels
DC Modifies Shankar Mahadevan's Kia Carnival
Kia Carnival is a premium MPV that offers a ton of room and a luxurious experience to the users at the back. Shankar Mahadevan does a number of tours and concerts for which he needs to be on the road quite frequently. Because of that, he has to conduct meetings or record music on the road which is exactly the kind of target audience of the Carnival. But to get the cabin customised completely to the specific needs, the legendary singer turned to DC. He already has experience with DC from earlier when he got his Toyota Innova Crysta modified and trusts the brand to cater to his needs.
You may also like: Mercedes User Reveals Why He Upgraded to Kia Carnival
The final product lets you know why DC is the biggest name in the Indian modification industry. The cabin oozes luxury with a beige interior theme accentuated by wooden inserts and metallic accents at various places including AC vents, dashboard, side door panels and more. There is ambient lighting which offers a more opulent outlook, as well as creates a great environment for those recording sessions that the singer cherishes. The sliding seats ensure that there is acres of room inside the cabin and offer the utmost comfort to the passengers. Also, there is a multitude of buttons and switches to control everything electronically.
You may also like: Watch India-Bound All-New Kia Carnival Interior & Features – Video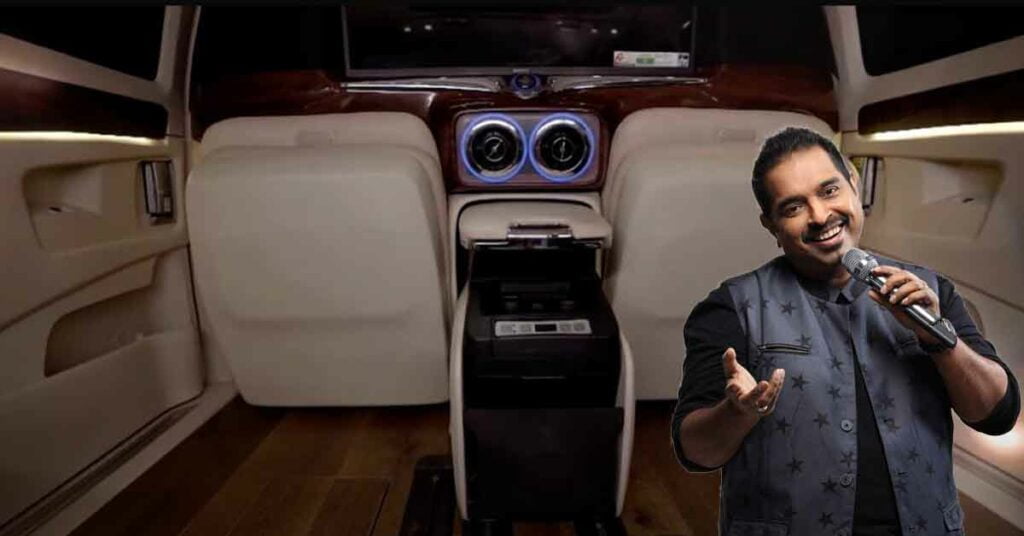 Specs
The regular Kia Carnival comes with a sole 2.2-litre VGT diesel engine belting out 197 hp and 440 Nm of peak power and torque respectively. The transmission duties are carried by a sole 8-speed automatic gearbox. Currently, the Carnival costs from Rs 29.99 lakh to Rs 34.99 lakh, ex-showroom. What do you think about this ultra-luxurious version of the Kia Carnival of Shankar Mahadevan by DC Design?
Join our official telegram channel for free latest updates and follow us on Google News here.