Transport Commissioner of Bangalore Steps Up the Drive to Curb Usage of Defective Silencers on Cars and Bikes
Regulars here would remember our posts on Bengaluru Traffic Cops' drive to nab Royal Enfield motorcycles with illegal exhausts. Now, taking things to a new level, B. Dayananda, Transport Commissioner of Bangalore, has asked the RTO to cancel Registration Certificates of cars and bikes with 'defective silencers' for a period of four months. In case of cancellation, a vehicle will be rendered illegal for use on public roads. The Transport Commissioner went on to direct the traffic police to treat cases of defective silencers at par with those of drunken driving.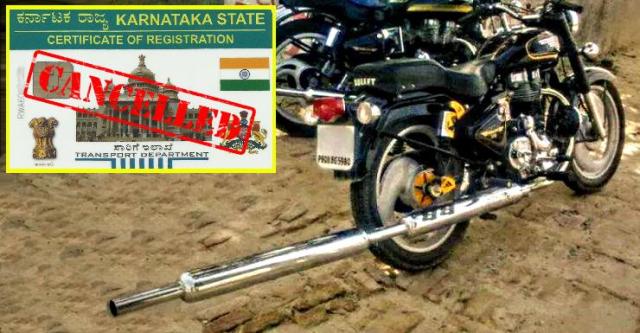 Here's a statement from Mr Dayananda – "We will also ask the traffic police to refer cases for suspension of RCs after filing cases against the owners of vehicles with defective silencers"
The recent strictness is being maintained to curb usage of loud exhausts that create a nuisance. As it's not easy for cops to measure the decibel level of such exhausts, they are considering all modified exhausts as 'defective'. As per Section 52 of the Motor Vehicle Act, it is illegal to modify any part of a car or a motorcycle without permission from RTO.
CIt has come to light that traffic police in the cities of Pune, Mysore, Bengaluru and in some cities of Kerala have started slapping a fine on any motorcyclist with a loud exhaust. Offenders are being fined under the Section 190 (2) of Motor Vehicle Act. Not just this, a recent video from Bangalore shows cops crushing illegal Royal Enfield silencers under a Road Roller.
In Adugodi police station…..

Posted by Sanil Kt on Sunday, December 10, 2017
A new video that surfaced online recently shows Bengaluru traffic police using a new hand-held device to inflict permanent damage to the illegal exhausts of motorcycles that have been impounded. As can be seen in the above video, the device that is being used to damage the exhausts uses a hydraulic press to render the silencers useless.
In another event, Sarang Awad, Deputy Commissioner, Traffic Police, Pune started a noise pollution reduction drive last month. This drive, which lasted three days, saw various offenders being challanned for using loud exhausts. On the first day of this drive, as many as 43 challans were issued, thereby generating a total amount of Rs 11,200 in fines. 88 challans were issued on the second day, which led to the generation of Rs 17,700 in fines. On the third day, 49 challans were issued and a sum of Rs 7,300 was collected in fines.
So, what's your take on recent drives to nab people using defective exhausts on their cars and motorcycles? Share your views with us by penning them down below.
via CarToq
Readers Rating

Rated 3.2 stars




3.2

/ 5 (

Reviewers

)

Good
---