Nissan Sunny Petrol is a new entrant sedan into the Indian automobile markets and holds good potential of sales with an aggressive pricing by Nissan India. In our car comparison series on Car Blog India, we have recently compared the Nissan Sunny With Maruti Dzire and also compared the Petrol Variants of Nissan Sunny and Maruti SX4. In continuation of this series, lets compare the Sunny with one of the highest selling sedans in its segment, the Honda City IVTEC. Although the City is priced on the higher side in the sedan segment, but the two cars do overlap in their price band with the high end model XV of Sunny overlapping with the low end Honda City Sedan.
Nissan Sunny Exteriors Vs Honda City Exteriors
image – Honda City (left) and Nissan Sunny (right)
There is one basic difference between the styling of the Honda and Nissan, which is that Honda has more straight and sharp lines all over the exteriors and Nissan is very rounded and curvy. While the Honda City gives modern and high-tech look, Nissan gives a cute and retro style of look.
I appreciate both design languages and find both these cars to be attractive in their own right. Honda City, which is updated or facelifted very frequently compared to other Indian sedans, has a large fan following who love the way it looks. Some like the older generation City better, while some love this one. There is another minor facelifted lined up in a few months, it will include some minor touch ups at front, grill, alloy wheels and rear, while the shape of the City will largely remain the same. City has sharp, low riding position with ample interior space and a fairly long wheelbase.
Nissan Sunny Dimensions
Overall Length: 4425 mm
Overall Width: 1695 mm
Overall Height: 1505 mm
Overall Wheelbase: 2600 mm
Sunny on the other hand is slightly longer, same in width and taller than the City. Sunny also has an even longer wheelbase. Both City and Sunny have rear sloping roof line which give these cars a sporty look. While the Sunny is more on the elegance side of the aesthetics, City is more on the dynamic and sporty side of it.
Honda City Dimensions
Overall Length: 4420 mm
Overall Width: 1695 mm
Overall Height: 1480 mm
Overall Wheelbase: 2550 mm
Picking between Nissan Sunny and Honda City based on exteriors is a very tough choice to make, so I think I will call it a tie and leave it on you which one you like better in terms of exterior looks.
Nissan Sunny Interiors Vs Honda City Interiors

image- Nissan Sunny Interiors
When it comes to Interiors, the Sunny is slightly more spacious, comfortable and gives a good quality of Interiors and feels nice inside the cabin. The major plus point of Sunny is the rear seat space which is very spacious for the price segment which Sunny belongs to.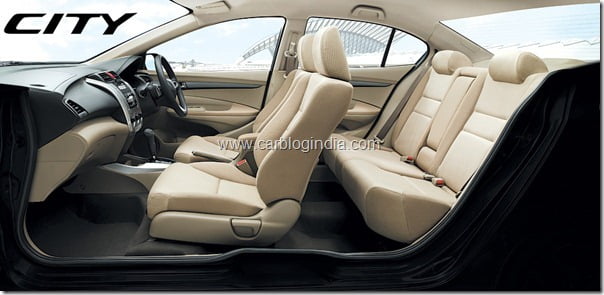 image-Honda City Interiors
Honda City on the other hand is even more premium and high quality on the inside. Honda is known for its good quality fit and finish, high quality of interiors, premium feel and comfort. It gives a more lavish feeling to be inside a City than Sunny.
In this case, my vote goes to City for its premium quality and finish, which is slightly better than the Sunny.
Nissan Sunny Petrol Engine Vs Honda City Petrol Engine
Nissan Sunny Petrol Engine Specifications
Type: HR15DE, DOHC 16 Valves, 4 Cylinder
Displacement(cc): 1498
Maximum Power: 98.6 BHP @ 6000 RPM
Maximum Torque: 134 Nm @ 4000 RPM
Transmission: 5 Speed Manual
ARAI Certified Mileage of 16.95 KMPL
Kerb Weight = 998 Kg to 1027 Kg
Power to weight ratio of 97.6 BHP / 1000 Kg
Honda City Petrol Engine Specifications
Engine Type- 1.5 Litre 4 Cylinder SOHC Petrol Engine with I-VTEC (VVTI) Technology
Max Power- 116.3 BHP @ 6600 RPM
Max Torque – 146 Nm @ 4800 RPM
Transmission Options – 5 Speed Manual Transmission Or 5 Speed Automatic Transmission Option
Honda City with 1.5 Petrol Engine with manual transmission mileage is 16.7 KMPL
Honda City with 1.5 Petrol Engine with automatic transmission mileage is 15.5 KMPL
Kerb Weight = 1100 Kg (MT) and 1155 Kg (AT)
Power to weight ratio of 105.7 BHP / 1000 Kg
The 1.5 Litre iVTEC Engine of Honda is a very refined engine producing a power and torque rating much higher than Sunny. Besides being more powerful, the engine is fuel efficient and delivers almost same mileage as Sunny with the manual transmission option. The City's power to weight ratio also beats Suuny's by around 6%, so in terms of engine, my vote goes to Honda City.
Nissan Sunny Petrol Handling and Performance Vs Honda City Petrol Handling and Performance
Honda City is known for its good handling characteristic with its suspensions tuned towards more sporty side and steering wheel being well weighted. There is very low body roll at the high speed cornering, in handling department, Honda City is better compared to most cars in this price segment except for the new Ford Fiesta 2011.
Nissan Sunny on the other hand is also a very good handling car with quite stable cornering capabilities, but its tuned more towards comfort and the body roll in case of cornering is more compared to the City. Also the steering is on light side at the high speeds when compared to City, so it kind of feels less confident than City at high speeds.
So in handling department, City leads the Sunny.
Nissan Sunny Petrol Price Vs Honda City Petrol Price
Nissan Sunny Petrol Price In India
The ex-showroom Delhi price of Nissan Sunny Petrol in India are as follows:
Nissan Sunny XE Petrol is priced at Rs. 5.78 Lakhs
Nissan Sunny XL Petrol is priced at Rs. 6.88 Lakhs
Nissan Sunny XV Petrol is priced at Rs. 7.68 Lakhs
Honda City Petrol Price In India
The ex-showroom Delhi price of Honda City 1.5 Petrol in India are as follows:
Honda City 1.5 E MT Petrol is priced at Rs. 7.49 Lakhs
Honda City 1.5 S MT Petrol is priced at Rs. 8.19 Lakhs
Honda City 1.5 V MT Petrol is priced at Rs. 8.64 Lakhs
Honda City 1.5 V AT Petrol is priced at Rs. 9.37 Lakhs
Pricing is one area where Sunny seems to be on top with very aggressively priced low end variant. For a justified value for money comparison, lets compare the Nissan Sunny XV priced at Rs. 7.68 with the Honda City E MT which is priced at about Rs. 19,000 lower than it. The Sunny VX have wider tyres of 185/65 R15 size compared to the slightly less wider 175/65 R15 found on the City, however, the Sunny top end comes with alloy wheels while the City base variant comes with steel wheels with full wheel caps. Sunny comes with body coloured door handles and outside mirrors while City E MT has them as black. Nissan Sunny has a music system with Aux-input and 4 speakers while there is no music system as standard in the base variant of the City. The arm rest of City E comes without cup holders while the Sunny has armrest with cup holders. Apart from this Sunny packs keyless entry with intelligent key, and an automatic climate control system with air filter while the City comes with manual air conditioner. Sunny also features rear fan vents for comfort of rear passengers.
Car Blog India verdict – Nissan Sunny Petrol Vs Honda City Petrol
In terms of price, these cars are from different segment, but in terms of features and comfort, both come face to face. If you need a comfortable car for family or being driven at the rear seat, Sunny seems to be a more affordable and practical choice as it comes at much lower price for the base variants. The minor downsides for Sunny are its not-so-sharp handling and interior quality when compared to Honda City.
If you are a spirited driver and want a car with top notch handling, more power and sporty driving, you should shell out more money and get yourself a City. It more premium, comes with good finish and quality and has a status factor attached to it.
Check out more-