Nissan has launched Nisan Sunny Petrol in India on 20th of September and the deliveries for the same will begin in the first week of October 2011. In our car comparison series on Car Blog India, we have already compared Sunny Petrol with the entry level petrol sedan from Maruti, the Maruti Swift Dzire here. Since the Sunny is larger, more powerful and spacious than Dzire, it would be fair to compare it with a larger sedan from Maruti, the Maruti SX4 Petrol. Since the Sunny is available in Petrol only, so we will only compare the petrol variants of these two cars.
Nissan Sunny Exteriors Vs Maruti SX4 Exteriors

Nissan Sunny looks fresh and elegant with non-aggressive and large complacent looks, the side profile looks very rich and elegant while the front has a subtle sophistication. The large wheel-base not only makes it stable, but also give it good looks from the side profile with little overhand ahead of front and behind the rear wheels. From the exterior looks of the side profile of Sunny and SX4, Sunny looks larger and more elegant while in reality SX4 is longer. This difference in perception arises from the slope of the roof on these cars, while the SX4 has a contemporary middle bulge which merges before the start of the boot, the Sunny's roof line goes father making it look larger and adding to more headroom inside the cabin and giving it a sporty look at the same time.
Nissan Sunny Dimensions
Overall Length : 4425mm
Overall Width : 1695 mm
Overall Height : 1505 mm
Overall Wheelbase : 2600 mm
In terms of Exteriors, Maruti SX4 is a worthy competitor of Nissan Sunny. Unlike Maruti Swift Dzire, which looks like an extended Swift, SX4 has a design of its own which looks macho and aggressive. Apart from this, high ground clearance and high ride height of SX4 make it look much better as a sedan with a sporty character. The SX4 looks attractive in terms of its dimensions and high riding looks, but it does not beat the Sunny.
Maruti SX4 Dimensions
Overall Length : 4490mm
Overall Width : 1735 mm
Overall Height : 1550 mm
Overall Wheelbase : 2500 mm
Overall, Nissan Sunny has a slight edge over the Maruti SX4 in terms of exterior looks.
Nissan Sunny Interiors Vs Maruti SX4 Interiors
image – Nissan Sunny Interiors
Nissan Sunny has got good interior space and quality of martials like the dashboard material, plastics, seat fabrics etc.. The space is ample at the front as well as the rear. The colour tone of the cabin makes it look even more spacious. The fit and finish is up to the mark and it feels comfortable at the rear seats of Sunny with Fan vents in the middle alley of the rear seats to comfort the passengers on a hot day. The headroom, legroom, under thigh support and shoulder room is good in Sunny and it does have rear seat adjustable headrests with a foldable middle armrest with cup-holders.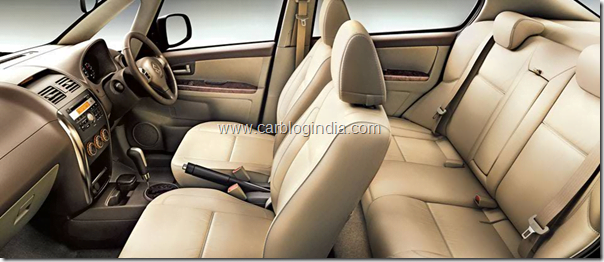 image- Maruti SX4 Interiors
The SX4 is also very nice on the interiors with quality better than the Dzire. The car is spacious from inside and does give a good dual color tone to the Interiors. The seats are more comfortable, there is good legroom at the rear, but not as much as the Sunny. The rear seats do have good cushioning, good under thigh support, adjustable headrests, comfortable back support, foldable armrest without cup holders.
Both cars come very close in terms of Interiors quality and comfort, but Nissan Sunny is our pick for its better interior space and better finishing.
Nissan Sunny Petrol Engine Vs Maruti SX4 Petrol Engine
Nissan Sunny Petrol Engine Specifications
Type: HR15DE, DOHC 16 Valves
4 Cylinder MPFI Petrol Engine
Displacement(cc): 1498
Maximum Power: 98.6 BHP @ 6000 RPM
Maximum Torque: 134 Nm @ 4000 RPM
Transmission: 5 Speed Manual
ARAI Certified Mileage of 16.95 KMPL
Kerb Weight = 998 Kg to 1027 Kg
Power to weight ratio of 97.6 BHP / 1000 Kg
Maruti SX4 Petrol Engine Specifications
Engine Type- 1.6 Litre
4 Cylinder DOHC Petrol Engine VVTI Technology
Max Power- 103.3 BHP @ 5600 RPM
Max Torque – 145 Nm @ 4100 RPM
Transmission Options – 5 Speed Manual Transmission Or 4 Speed Automatic Transmission
ARAI Certified Mileage of 15.50 KMPL
Kerb Weight = 1170 Kg to 1200 Kg (MT) and 1210 Kg (AT)
Power to weight ratio of  87.2 BHP / 1000 Kg
Maruti SX4 is equipped with a larger 1.6 Litre engine which produces more power and torque than the smaller 1.4 Litre Petrol engine of the Sunny, but the kerb weight of these cars put SX4 at a slight disadvantage. The SX4 is about 170 Kg heavier than the Sunny which makes the power to weight ratio of Sunny about 10% better than the SX4. Also with its higher displacement engine and high weight, SX4 is less fuel efficient than the Sunny. So if I have to pick one of these cars based on engine specs, my choice will be Sunny.
Nissan Sunny Petrol Handling and Performance Vs Maruti SX4 Petrol Handling and Performance
Performance and handling of Nissan Sunny is quite good in absolute terms, however, its does lack the well weighted steering feedback at the higher speeds, but its quite stable at high speed cornering with a slight body roll. The stability of the Sunny is also improved by its large wheelbase.
Maruti SX4 with its high ride height and ground clearance, does beat the bad roads very well, but loses out on the high speed cornering because of body roll. This is mainly because of higher center of gravity and smaller wheelbase. However, in absolute terms, its quite ok for most city driving conditions, but the steering feedback is not adequate at high speed like Sunny. So comparing these two on handling and ride quality, I think I would call it a tie.
Nissan Sunny Petrol Price Vs Maruti SX4 Petrol Price
Nissan Sunny Petrol Price In India
The ex-showroom Delhi price of Nissan Sunny Petrol in India are as follows:
Nissan Sunny XE Petrol is priced at Rs. 5.78 Lakhs
Nissan Sunny XL Petrol is priced at Rs. 6.88 Lakhs
Nissan Sunny XV Petrol is priced at Rs. 7.68 Lakhs
Maruti SX4 Petrol Price In India
The ex-showroom Delhi price of Maruti SX4 Petrol in India are as follows:
Maruti SX4 VXi Petrol is priced at Rs. 7.00 Lakhs
Maruti SX4 ZXi Petrol is priced at Rs. 7.75 Lakhs
Maruti SX4 ZXi Petrol with Automatic transmission is priced at Rs. 8.41 Lakhs
Comparing the SX4 ZXi with manual transmission with Nissan XV fully loaded variant on value for money factors, lets see how much these two cars have to offer. The SX4 ZXi comes with wider 16 inch alloys which offer good road grip whereas the 15 inch alloys on Sunny also do a good job. The driver seat adjust is another feature which SX4 offers and Sunny does not. On the other hand, Sunny offers some good features like electrically foldable and adjustable outside rear view mirror which SX4 does not offer, also there is air filter with the climate control system in the Sunny. The Rear fan vents are not provided in the SX4 which Sunny offers which adds a lot to rear seat comfort on hot days. Push button start and intelligent key are also some of the modern features which Sunny offers. On safety side, there is speed sensing automatic door locking and anti-theft alarm system included in the Sunny XV.
Car Blog India verdict – Nissan Sunny Petrol Vs Maruti SX4 Petrol
Both these cars come very close in the competition, however, Sunny has some major advantages in most of the areas, like features, space, handling and overall value. So if you are looking for a modern, good looking and spacious sedan, Sunny would be a better choice.
On the other hand, if you want a car with more aggressive stance, SX4 can please you better. Another strong point of SX4 is the Maruti's strong aftersales service network which Nissan Sunny lacks at this time.
check out more-
Join us for FREE NEWS Updates on our Whatsapp Community or our official telegram channel.